Berlin Ice Cream Week: 25 of the best artisanal ice-cream shops in Berlin are offering a special flavor just for 1€
The tastiness of the artisanal gelato is coming to Berlin with a new event: the Berlin Ice Cream Week.
Sicilian pistachio pesto granita and homemade cocoa bean brittle, honey & lavender, fresh creamy avocado sorbet, peanut & curry, Talisker whisky with fermented Kampot pepper and a pinch of Himalayan salt, dark chocolate with beetroot… If you have never tasted an ice cream that sounds so strange but at the same time so delicious, the first edition of the Berlin Ice Cream Week is the right time! It will include 25 of the best homemade ice cream shops in Berlin, in the week from July 23rd to 29th. It's always ice cream time, especially if it's tasty and handmade with high-quality ingredients. The event is not only about sweetness and tastiness though: thanks to a photographic contest, you can also win a stay for two people plus an Italian language course in the beautiful city of Cefalù in Sicily. And thanks to an offline contest, you can try to win a 50€ ice cream voucher!
Read this article in German or Italian.
Berlin Ice Cream Week: how does it work
We have asked 25 ice-cream makers to think of a special and imaginative flavour just for the event and to create it only with their high-quality ingredients. And there's even more! The special flavour will cost just 1€ per scoop for the whole event week. Taking part to this event will be as easy as eating an ice-cream cone: you just have to go to the ice-cream shops (scroll down for the full list) and ask for the Berlin Ice-Cream Week special flavour. Do you want to try to win the stay in Cefalù? Take a picture with your ice-cream and post it on your Instagram feed (find here all the details about the contest).
Berlin Ice Cream Week: the map of the participating ice-cream shops
How to discover where the participating ice cream shops are located? As usual, there is a map showing the closest metro stations to the ice cream shops. The map is now available in paper format in the ice cream shops as well as in the Berlino Magazine office in Gryphiusstraße 23, Friedrichshain. The online version is available at this link and of course, there is also a Google Maps for the ones who prefer the digital version. But this time it is pretty important to get the paper one: during the event, every time you visit a different ice cream shop, ask for the sticker and stick it next to the ice cream shop name on the flyer. If you collect at least 5 stickers send us a picture of your map at our e-mail marketing@berlinitaliancommunication.com. You can win a 50€ voucher in an ice cream shop of your choice among the event participants!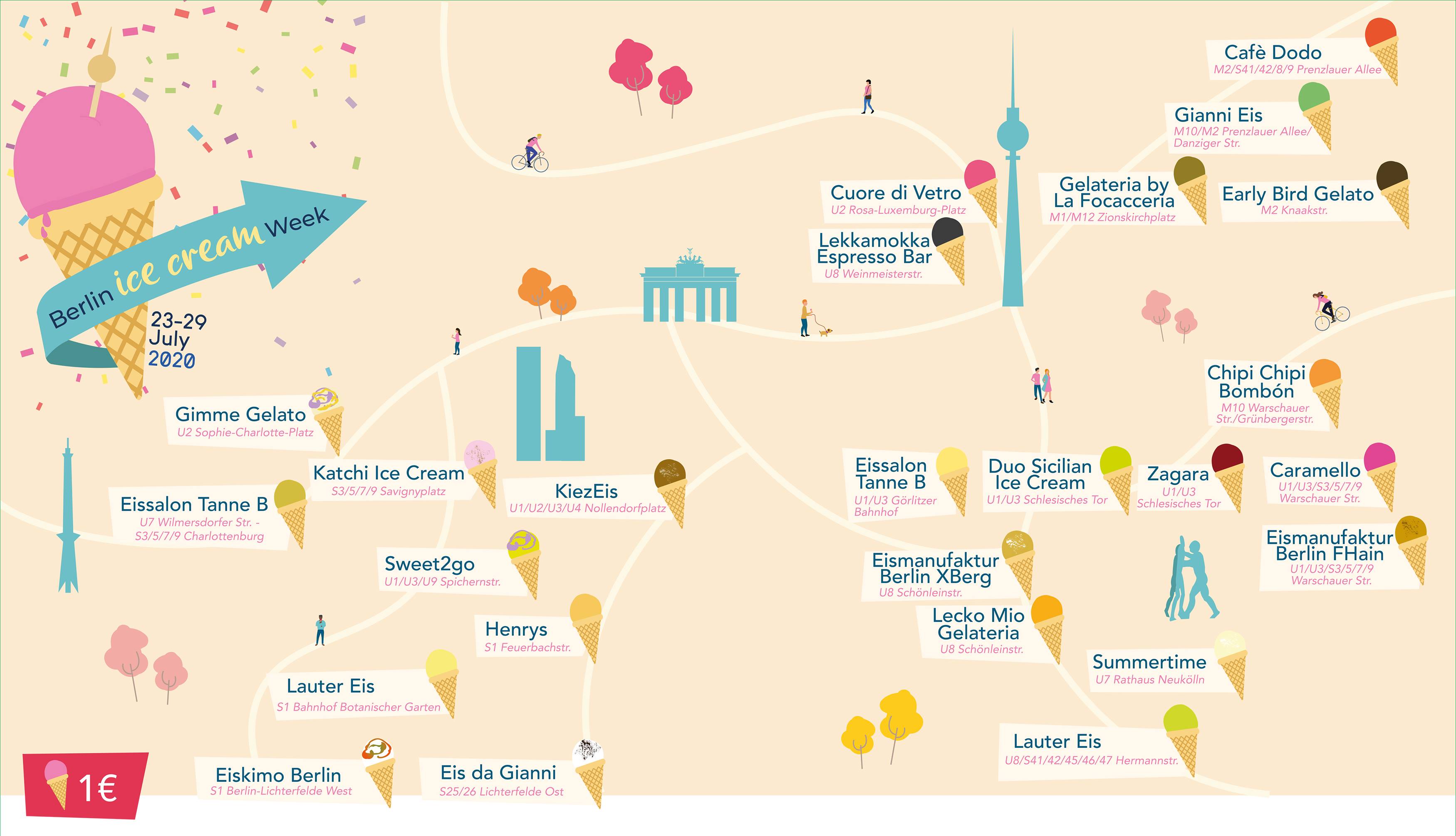 Click here to download the map as PDF file.
Berlin Ice Cream Week, organisers and partners
The event is organised by Berlino Magazine/True Italian and DUO – ice cream consulting in collaboration with Babbi, an Italian leading company in the production of ice-cream cones, wafers and products for master ice cream makers, Eurovanille, a leading company for natural vanilla, Zicaffè, an Italian company with a 90 years tradition in the production of high-quality coffee blend, and Spoontainable, a young German company that patented edible ice-cream spoons and Solemar Academy, an Italian language school located in the wonderful location of Cefalù, Sicily. Media partners of the event are Berlin Loves You, Berlin Amateurs and Berlin Isst Eis.
Why you should prefer an artisan ice-cream instead of the industrial one
When we walk into a bar or into an ice cream shop, our eye falls on the appearance and on the presentation of the ice cream boxes in the freezer. Usually, it's not so difficult to distinguish between the ice cream that comes from the industrial production- characterised by 'fake' colours- from the artisanal one, that has a more natural and simple appearance. Handmade ice cream is characterised by small-scale production, it is usually prepared with fresh milk and cream, without any additives or treatments, and it is directly sold to the customer. That's why the artisanal ice cream is a synonym for a handmade, fresh and genuine taste.
How much ice cream do we eat in Italy and Germany?
In 2017, an adult in Italy ate on average between 6,5 and 7 kilograms of ice cream. German ice cream consumption is not so different from the Italian one. According to statistical data of 2017, 515 million ice cream litres were produced in Germany, against the 595 million in Italy. However, Germany exports more ice cream than Italy: this shows that the artisan ice cream culture prevails in Italy. Italian ice cream is also one of the main attractions for the thousands of tourists that every year are coming to visit the 'Bel Paese'.
Berlin Ice Cream Week
23-29 July 2020
In 25 of the best ice cream shops in Berlin
1€ per scoop of the special flavour of the event
List of the participating ice cream shops with addresses, opening hours and the special flavour for 1€
MITTE
Cuore Di Vetro
Max-Beer-Str. 33, 10119 Berlin
Everyday 12-23
NONPAREILS (hibiscus and cinnamon flowers tea sorbet
with caramelised hibiscus flowers) VEGAN
Lekkamokka Espresso Bar & Eismanufaktur
Rosenthaler Str. 62, 10119 Berlin
Monday-Saturday 12-21, Sunday 14-21
BLACK LEMON (Gluten-free) VEGAN
PRENZLAUER BERG
Café Dodo
Dunckerstr. 12, 10437 Berlin
Monday-Friday 13:30-19, Saturday-Sunday 13:30-20
APEROL-ORANGE (ice cream with Aperol and red-orange juice) VEGAN
(non-alcoholic version available)
Early Bird
Winsstr. 68, 10405 Berlin
Everyday 8-20
CAFFE' DEL PROFESSORE (milk ice cream with espresso and IGP hazelnuts from Piedmont)
Gelateria by La Focacceria
Fehrbelliner Str. 24, 10119 Berlin
Everyday 12-20
WALNUSS-FEIGE (milk ice cream basis with figs and walnuts)
Gianni Eis
Rykestr. 26, 10405 Berlin
Everyday 13-19
AVOCADO (fresh creamy avocado sorbet) VEGAN
FRIEDRICHSHAIN
Caramello
Wühlischstraße 31, 10245 Berlin
Everyday 11-22 (longer with nice weather)
DOPAMINO (with happiness hormones)
Chipi Chipi Bombón – Craft Eis
Warschauer Str. 12, 10243 Berlin
Sunday-Thursday 13-23, Friday-Saturday 13-24
Baked-sweet-potatoes
Eismanufaktur Berlin-Friedrichshain
Gärtnerstr. 33A, 10245 Berlin
Every day 13-18 (longer with nice weather)
Banana with caramelised white chocolate
KREUZBERG
Duo – Sicilian ice cream
Skalitzer Str. 82, 10997 Berlin
Everyday 12-20
Sicilian pistachio pesto granita with a piece of brioche VEGAN
Eismanufaktur Berlin-Kreuzberg
Graefestr. 7, 10967 Berlin
Everyday 13-18 (longer with nice weather)
Peanut ice cream with cocoa chips VEGAN
Eissalon tanne B – Das Eis vom Lausitzer Platz
Eisenbahnstr. 48, 10997 Berlin / Ecke Lausitzer Platz
Everyday 9-20
GRIEß (creamy milk ice cream, with cream and a special twist of semolina)
Lecko Mio – Gelateria
Graefestr. 80, 10967 Berlin
Tuesday-Sunday 13-21, closed on Monday
GOLDEN MILCH (ginger & turmeric ice cream) VEGAN
Zàgara
Köpenicker Str. 4, 10997 Berlin
Everyday 11-21
SCHOKO R&B (dark chocolate with beetroot) VEGAN
NEUKÖLLN
Lauter Eis
Warthestraße 4, 12051 Berlin
Everyday 14-19
Lupin-based pistachio ice cream VEGAN
Summertime Ice Cream
Weserstr. 45, 12045 Berlin
Everyday 13-19
KarMa (milk ice cream with cardamom infusion and candied almonds)
CHARLOTTENBURG-WILMERSDORF
Eissalon tanne B – Das Eis vom Lausitzer Platz
Kantstraße 117a, 10627 Berlin
Everyday 13-22
ERDNUSS-CURRY (peanut curry with organic soy milk.
Creamy, full-bodied and rounded off with fine Madras curry) VEGAN
Gimme Gelato
Wundtstr. 15, 14059 Berlin
Tuesday-Sunday 13-18 (longer with nice weather), closed on Monday
HONIG LAVANDEL (Lobethal organic milk and local honey from Friends & Honey Berlin)
Katchi – Ice Cream Art
Grolmanstr. 14a, 10623 Berlin
Sunday-Thursday 12:30-20, Friday-Saturday 12:30-21
STRAWBET DON'T MINT (coconut gelato layered with strawberry lime sorbet,
topped with crackling mint chocolate) VEGAN
Sweet 2 Go
Pfalzburger Str. 79, 10719 Berlin
Everyday 10-20
ZITRONEN-VERBENEN (sorbet with fresh pressed
lemon juice and fresh verbena leaves) vegan
SCHÖNEBERG
KiezEis
Winterfeldtstr. 46, 10781 Berlin
Everyday 11-19
Talisker whisky with fermented Kampot pepper and a pinch of Himalayan salt
(non-alcoholic version available)
STEGLITZ
Henrys
Schöneberger Str. 11, 12163 Berlin
Everyday 12:30-20
Salty Caramel
LICHTERFELDE
Eiskimo
Curtiusstr. 8, 12205 Berlin
Everyday 10-22
Cucumber-Melon-Cayenne Pepper (vegan)
Lauter Eis
Hortensienstr. 12B, 12203 Berlin
Wednesday-Friday 14-19, Saturday-Sunday 12-19, closed on Monday and Tuesday
Vanilla-Wiskeycaramel and apples
(non-alcoholic version available)
Eis Gianni
Lankwitzerstr. 15, 12209
Everyday 12-19
CIOCCO COCCO (fresh coconut on coconut milk basis and chocolate chips) VEGAN
https://berlinomagazine.com/wp-content/uploads/2020/02/copertina-ice-cream-week.jpg
640
960
Valeria Rigo
https://berlinomagazine.com/wp-content/uploads/2019/12/berlino_magazine_2019.png
Valeria Rigo
2020-02-25 16:32:47
2020-07-23 14:43:27
Berlin Ice Cream Week: 25 of the best artisanal ice-cream shops in Berlin are offering a special flavor just for 1€