72 hrs True Italian Food Festival 2020, the greatest party of the regional Italian cuisine in Berlin
72 hours, 30 Italian restaurants in Berlin, 8€ for an Aperol Spritz together with a small portion of a selected Italian specialty: this is the fifth edition of the 72 hrs True Italian Food Festival.
Homemade ravioli stuffed with ricotta and mozzarella in gorgonzola sauce with parmesan, pecorino from Abruzzo and emmental with a sprinkling of walnuts and truffle, Saltimbocca alla romana (small veal roulade with prosciutto and sage filling), sarde in saor (sweet and sour sardines), pappardelle with wild boar ragout and truffle oil, caponata  (sweet and sour aubergine dish from Sicily) with almonds and basil, parmigiana, polenta balls with bagna cauda, sweet potatoes glazed with Teriyaki sauce and roasted guanciale (cheeck lard), selection of Italian cold cuts and cheese with homemade tigelle (typical Italian thin round shaped bread), focaccia filled with porchetta from Ariccia, Roman pinsa… These are just some of the specialties that you can taste together with a drink (Aperol Spritz or glass of wine depending on the place) for only 8€ from Wednesday, September 23rd until Saturday, September 26th, in 30 selected Italian restaurants in Berlin: this is the fifth edition of the 72 hrs True Italian Food Festival.
Read this article in German or Italian.
The 72 hrs True Italian Food event: how it works
In order to take part in this unique tasting tour, the only thing you have to do is going between Wednesday September 23rd from 5 p.m., to the evening of Saturday, September 26th, in one of the 30 places participating in the event (scroll down to discover them all) and order the True Italian specialty. Choose the dishes that you are more curious to try and enjoy them accompanied by a fresh Aperol Spritz or a glass of wine depending on the place (but in any case it's always possible to ask for a soft drink).  In addition, this year, due to the current situation that limits the number of people allowed in restaurants, almost every place will offer the possibility to take the True Italian specialty also to-go. The event is organized by Berlin Italian Communication within the project True Italian. It's supported by the Italian Cultural Institute of Berlin and sponsored by Aperol, Acqua Panna, San Pellegrino and Movi.
72 hrs True Italian Food Festival, the map
In order to facilitate your tasting tour, we created the 72 hrs True Italian Food map: a metro map that indicates the location of every place participating in the event. It will allow you to check all the restaurants' addresses, as well as their opening times and their True Italian speciality. The map is available both as a PDF file and on Google Maps. Soon you will find it also as a printed flyer in all the participating restaurants or at the True Italian office in Gryphiusstr. 23, Berlin Friedrichshain. This year we recommend you to a have a personal one: whenever you visit one of the 30 places taking part in the initiative and you order the specialty of the event, ask for the 72 hrs sticker and place it on your flyer. If you collect 5 or more (from different restaurants) send us a picture of the map (with your name on it) at trueitaliancontest@gmail.com before midnight September, 28th. You can be extracted as the winner of one of the two gift voucher worth 60€ each to spend on the website Movi, which offers high quality Italian product.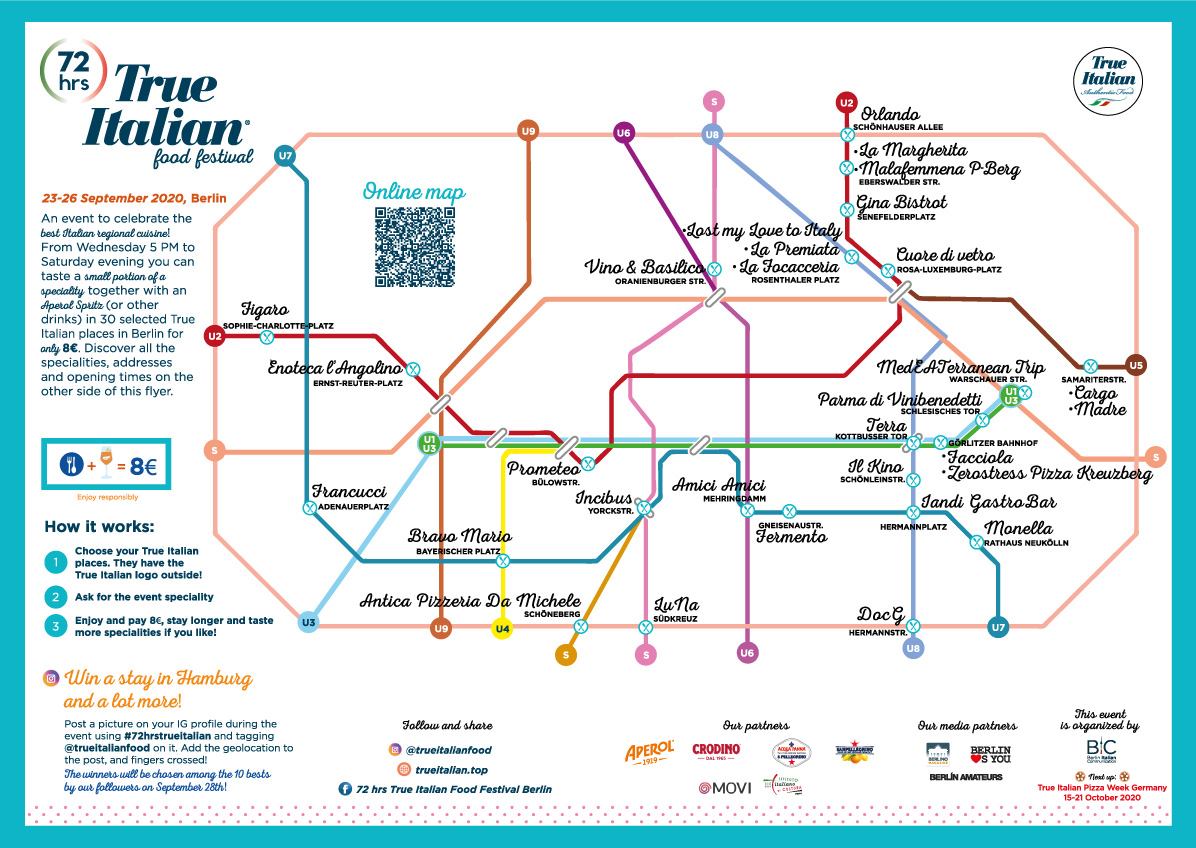 72 hrs True Italian Food Festival, the Instagram contest
But there is even more: the 72 hrs True Italian prizes are not finished yet! As always it will be possible to participate also in the Instagram contest. How? Just visit one of the 30 restaurants taking part in the initiative, take a picture during the event and post it on your Instagram profile before Saturday, September 26th at 11p.m using the hashtag #72hrstrueitalian, tagging @trueitalianfood in the picture and localizing the restaurant where the picture was taken. Our special jury will select the 10 most beautiful and creative pictures among all and these 10 will be posted on the @trueitalianfood Insta-stories on September 28th, where the audience will be able to vote the best three through a poll. You can win two stays in wonderful hotels in Hamburg (one of which also includes a three-course dinner), a massage in a prestigious hotel in Berlin and an entrance to a beautiful spa still in Berlin (all the prizes are for two people). More info here.
The True Italian Project
True Italian is a network that aims to preserve authentic Italian restaurants found in Germany through its brand (registered in the Deutsches Patent und Markenamt, the German patent and trademarks office), as well as a number of other initiatives and events held throughout the year. The project is pursued by Berlin Italian Communication/Berlino Magazine, a point of reference for the Italians and all those passionate about Italy who find themselves in Berlin. True Italian is made up of all the ambassadors of Italian cuisine who, starting from the produce selection, show their passion for spreading the culture of "good eating". When we talk about True Italian, not only we do focus on the chef/owner's nationality but also on their approach to food. Creativity in the recipes and high quality ingredients: these are the key focus points for True Italian restaurants. Other successful True Italian events are: the Italian Street Food Festival, the True Italian Pizza Week and the True Italian Pasta Week.
72 hrs True Italian Food Festival Berlin 2020
From Wednesday September 23rd, 5 p.m., to the evening of Saturday, September 26th
In 30 Italian restaurants in Berlin
Participating restaurants, addresses, opening times and specialties
MITTE
Cuore Di Vetro
📍 Max-Beer-Str. 33, 10119 Berlin
🕠 Wednesday 17-23, Thursday-Saturday 12-23
🍴 Selection of Italian cold cuts and cheese with tigelle (typical Italian thin round shaped bread) + 🍹
Offer available ALSO TO-GO
Gina Bistrot
📍 Zionskirchstr. 77, 10119 Berlin
🕠 Closed on Wednesday, Thursday-Saturday 11-17
🍴 Focaccia filled with porchetta from Ariccia. Veggie: focaccia with burrata, tomatoes and oregano + 🍹
Offer available ALSO TO-GO
La Focacceria
📍 Fehrbelliner Str. 24, 10119 Berlin
🕠 Wednesday 17-20:30, Thursday-Saturday 12-20.30
🍴 Focaccia 4 formaggi (gorgonzola, ricotta, parmesan, mozzarella) + 🍹
Offer available ALSO TO-GO
La Premiata Ditta
📍 Weinbergsweg 4, 10119 Berlin
🕠 Wednesday 17-21:30, Thursday-Saturday 16-21.30
🍴 Lucan cold cuts and cheese + 🍷
Offer available ONLY TO-GO
Lost My Love To Italy
📍 Torstr. 165, 10115 Berlin
🕠 Wednesday 17-23, Thursday-Friday 9-23, Saturday 10-23
🍴 "Sicilian Kepulpo": cold octopus with parsley and lemon + 🍷
Offer available ALSO TO-GO
Vino & basilico
📍 Tucholskystr. 18/20, 10117 Berlin
🕠 Wednesday 17-23, Thursday-Friday 12-14.30 and 17-23, Saturday 17-23
🍴 Sandwich with Italian sausage and truffle parmesan cream + 🍹
Offer available ONLY TO-GO
PRENZLAUER BERG
La Margherita
📍 Danziger Str. 35, 10435 Berlin
🕠 Wednesday-Saturday 17-22
🍴 Italian fried mix: ham and mozzarella croquettes, codfish croquettes, rice arancino filled with meat ragout, rice arancino filled with ham and peas + 🍹
Offer available ALSO TO-GO
Malafemmena – Prenzlauer Berg
📍 Danziger Str. 16, 10435 Berlin
🕠 Wednesday-Saturday 17-23
🍴 Aubergine trio: parmigiana roulade, aubergine roulade filled with ham and provola and aubergine ball. Veggie: melanzane a funghetto instead of the ham and provola roulade + 🍹
Offer available ALSO TO-GO
Orlando Berlin
📍 Rhinower Str. 10, 10437 Berlin
🕠 Closed on Wednesday, Thursday-Saturday 12-20
🍴 Caponata (sweet and sour aubergine dish from Sicily) with almonds and basil + 🍹
Offer available ALSO TO-GO
FRIEDRICHSHAIN
CARGO gastronomia
📍 Samariterstr. 37, 10247 Berlin
🕠 Wednesday 17-22, Thursday-Friday 12-22, Saturday 17-22
🍴 Saltimbocca alla romana: small veal roulade with prosciutto and sage filling. Veggie: tomatoes stuffed with rice + 🍹
Offer available ALSO TO-GO
Madre
📍 Gärtnerstr. 12, 10245 Berlin
🕠 Wednesday-Saturday 18:30-23
🍴 A revisited version of Peperonata with tomatoes and hazelnuts accompanied by a mini homemade curcuma pita + 🍹 (Campari Spritz)
Offer UNAVAILABLE TO-GO
Medeaterranean Trip
📍 Gabriel-Max-Str. 19, 10245 Berlin
🕠 Wednesday 17-23, Thursday-Saturday 12-23
🍴 Porcini mushrooms soufflé + 🍹
Offer available ALSO TO-GO
KREUZBERG
Amici Amici
📍 Mehringdamm 40, 10961 Berlin
🕠 Wednesday 18-22, Thursday-Saturday 12-18
🍴 Aubergine parmigiana Sicilian style with scamorza cheese + 🍹
Offer UNAVAILABLE TO-GO
Facciola
📍 Forster Str. 5, 10999 Berlin
🕠 Wednesday-Saturday 17-22
🍴 Polenta balls with bagna cauda + 🍷
Offer available ALSO TO-GO
Fermento Wine
📍 Friesenstr. 21, 10965 Berlin
🕠 Wednesday 17-21, Saturday 16-21
🍴 Aubergine Parmigiana + 🍹
Offer available ALSO TO-GO
InCibus
📍 Monumentenstr. 26, 10965 Berlin
🕠 Wednesday-Saturday 17-23
🍴 Pizzella with pumpkin, Tuscan sausage, provola cheese and bacon chips + 🍹
Offer available ALSO TO-GO
PARMA di Vinibenedetti
📍 Wrangelstr. 90, 10997 Berlin
🕠 Wednesday 17-24, Thursday-Saturday 12-24
🍴 Tomato focaccia with rocket, chili and lardo from German saddle pig (vegetarian and vegan option available) + 🍹
Offer available ALSO TO-GO
Terra
📍 Grimmstr. 1, 10967 Berlin
🕠 Wednesday 17-23, Thursday-Friday 15-23, Saturday 13-23
🍴 Piadina with Parma ham, caprino cheese, figs and vin santo + vegan sweet crespella (oat milk from Brandenburg) with figs and honey + 🍹
Offer available ALSO TO-GO
Zerostress Pizza
📍 Lausitzer Pl. 10, 10997 Berlin
🕠 Wednesday-Saturday 17-22
🍴 Focaccia filled with raw ham and mozzarella. Veggie: focaccia with peppers, smoked scamorza, spicy onions, rocket, olives and cherry tomatoes + 🍹
Offer UNAVAILABLE TO-GO
NEUKÖLLN
DocG-Berlin
📍 Emser Str. 120, 12051 Berlin
🕠 Wednesday-Saturday 18-23
🍴 Homemade ravioli stuffed with ricotta and mozzarella in gorgonzola sauce with parmesan, pecorino from Abruzzo and emmental with a sprinkling of walnuts and truffle + 🍹
Offer available ALSO TO-GO
Iandi GastroBar
📍 Lenaustr. 21, 12047 Berlin
🕠 Wednesday-Saturday 17-23
🍴 Panzanella: Tuscany chopped salad of soaked bread, vegetables, oil and vinegar + 🍷
Offer available ALSO TO-GO
IL KINO Berlin
📍 Nansenstr. 22, 12047 Berlin
🕠 Wednesday 17-1, Thursday-Friday 10:30-1, Saturday 13:30-1:30
🍴 Arancino with meat + 🍹
Offer available ALSO TO-GO
Monella
📍 Weichselstr. 17, 12045 Berlin
🕠 Wednesday-Saturday 17-23
🍴 "Saltimbocca Monella": panuozzo stuffed with fiordilatte, mortadella, zucchinis and rocket + 🍹
Offer available ALSO TO-GO
CHARLOTTENBURG
Enoteca L'Angolino
📍 Knesebeckstr. 92, 10623 Berlin
🕠 Wednesday 17-23, Thursday-Saturday 12-23
🍴 Sarde in saor (sweet and sour sardines) + 🍹
Offer available ALSO TO-GO
Figaro WINE • FOOD
📍 Schloßstr. 33, 14059 Berlin
🕠 Wednesday-Saturday 17-22
🍴 Pappardelle with wild boar ragout and truffle oil. Veggie: tagliolini with truffle + 🍹
Offer available ALSO TO-GO
Francucci Ristorante
📍 Kurfürstendamm 90, 10709 Berlin
🕠 Wednesday 17-23, Thursday-Saturday 12-23
🍴 Sweet potatoes glazed with Teriyaki sauce and roasted guanciale (cheeck lard) + 🍹
Offer available ALSO TO-GO
SCHÖNEBERG
L'Antica Pizzeria Da Michele Berlin
📍Fritz-Reuter-Straße 7, 10827 Berlin
🕠 Wednesday-Saturday 17-23,
🍴 Fried panzerotto filled with fiordilatte, pork crackling, tomato and basil. Vegan option: fried panzerotto filled with melanzane a funghetto, basil and pepper + 🍹
Offer available ALSO TO-GO
Bravo Mario
📍 Wartburgstr. 17, 10825 Berlin
🕠 Wednesday 17-20, Thursday-Friday 12-20, Saturday 15-21
🍴 Half Roman pinsa with tomato sauce, mozzarella, bacon and pecorino cheese. Veggie: Half pinsa with gorgonzola, pears and walnuts + 🍹
Offer available ALSO TO-GO
Pizzeria LuNa
📍 Gotenstraße 18, 10829 Berlin
🕠 Wednesday 17-23, Thursday-Friday 12-23, Saturday 16-23
🍴 Fagottini of fresh pasta stuffed with carbonara on a bed of cacio cheese and pepper + 🍹
Offer available ALSO TO-GO
Prometeo
📍 Goebenstraße 3, 10783 Berlin
🕠 Wednesday 17-22, Thursday-Saturday 12-22
🍴 Mediterranean fried chicken bites breaded with parsley + 🍹
Offer available ALSO TO-GO
Studia tedesco o italiano a Berlino o via Zoom/Skype con lezioni private o collettive, corsi da 45 ore collettivi (max 8 persone) a 192 €. Scrivi a info@berlinoschule.com o clicca sul banner per maggior informazioni

Non perderti foto, video o biglietti in palio per concerti, mostre o party: segui Berlino Magazine anche su Facebook, Instagram e Twitter
https://berlinomagazine.com/wp-content/uploads/2020/09/copertina-72-hre.jpg
462
820
Benedetta De Vico
https://berlinomagazine.com/wp-content/uploads/2019/12/berlino_magazine_2019.png
Benedetta De Vico
2020-09-07 16:32:44
2020-09-21 15:22:02
72 hrs True Italian Food Festival 2020, the greatest party of the regional Italian cuisine in Berlin