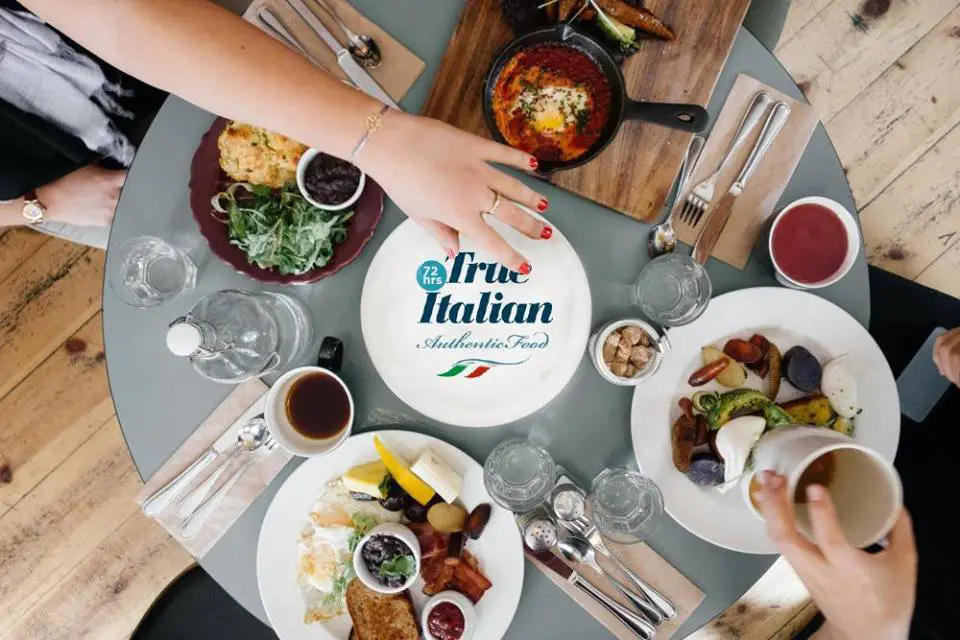 58 Italian restaurants, four days, one single price of 7€: it is the long-awaited third edition of the 72 hrs True Italian Food.
Aubergine parmigiana, caponata, pasta all'Amatriciana, pasta alla carbonara, homemade gnocchi and ravioli, creamy salted codfish, Sarde in saor (sweet and sour sardines), boar meatballs, risotto with wild mushrooms and taleggio cheese, tagliatelle ricotta and 'nduja, porchetta (savoury, fatty and moist boneless pork roast), tigelle, selection of Italian cold cuts and cheeses, panuozzo, Bagna Càuda (warm dip typical of Piedmont), Sicilian cannoli, pistachio cream, and much more: a big party with the tastes of the true italian cuisine is about to take over Berlin. Starting on Thursday, September 27th until Sunday, September 30th, 58 Italian restaurants, pizzerias, wine bars and cafès will offer their own specialities to give to all the Berliners a tour of the best true Italian tastes. Anywhere you go, the price is going to be the same: 7€ for a glass of tasty wine, a Spritz, a beer or a soft drink (depending on the restaurant) and a small portion of the speciality of the restaurant. Our goal is to spread the Italian culinary culture abroad, with a focus on special dishes that are not so well known outside of Italy.
Read this article in German or Italian.
The 72 hrs True Italian Food event
In order to try one of the 50 different combinations of specialities in our True Italian restaurants, the only thing you have to do is going to one of them, between Thursday and Sunday, and order the True Italian speciality. All these places will also offer their regular menu dishes. Every client will have the chance to choose to stay and try something else or switch to another True Italian restaurant. The event is organized by Berlin Italian Communication within the project True Italian. It's supported by the Italian Cultural Institute of Berlin and sponsored by Acqua Panna, San Pellegrino, Amaro Lucano, Limoncetta and Olio Costa. Media partners are Berlino Magazine, Buongiorno Italia and I Heart Berlin.
The map
In order to facilitate the tasting tour, we created the 72 hrs True Italian Food map: a metro map that indicates the location of every place participating in the event. It will allow you to check all the restaurants' addresses, as well as their opening times and their True Italian speciality. The map is available both as a online PDF file and as a flyer in all the participating restaurants or at the True Italian office in Gryphiusstr. 23, Berlin Friedrichshain. Here you can find the map on Google Maps.
Click here to download the map as PDF.
The True Italian project
The True Italian project's aim is to create a network that promote and add an extra value to the Italian tradition in Germany. In fact, every True Italian place has a sticker with the project logo (filed with Deutsches Patent-und Markenamt) on its window proving its participation in the network. True Italian is also a dynamic platform which involves different events, tasting and cooking workshops. The project has been created and carried out over the years by Berlin Italian Communication. True Italian are all those Italian cuisine ambassadors that, starting form the choice of ingredients, prove every day the dedication to the high quality of their dishes. To be clear: when we talk about True Italian, we don't simply refer to the chef or owner's nationality, but we talk about the way they approach to the cuisine. Unique recipes and care about ingredients' quality: these are the keywords of every True Italian restaurant.
72 hrs True Italian Food
27th September – 30th September 2018
In every True Italian restaurant in Berlin
7€ for a True Italian speciality and a glass of wine,  a Spritz, a beer or a soft drink
Participating restaurants, opening times and specialities
Mitte
Caffè Focacceria San Francesco
Kastanienallee 64, 10119 Berlin
Thu, Fri, Sat and Sun 8-23:30
Sicilian aperitif (squids with chickpea cream, caponata, arancine, panelle and focaccia) + Spritz or cedroSpritz
Cappuccino Grand Café
Tucholskystraße 36/Ecke Auguststraße, 10117 Berlin
Thu, Fri and Sat 11:30-21, Sun 11:30-20
Penne alla Sorrentina (tomato sauce and mozzarella) + wine or soft drink
Cecconi's
Torstraße 1, 10119 Berlin
Thu and Fri 11:30-23, Sat and Sun 11-23
Risotto with wild mushrooms and taleggio cheese + wine or soft drink
Cuore Di Vetro
Max-Beer-Straße 33, 10119 Berlin
Thu 19-23, Fri 12-23, Sat and Sun 10-23
Selecition of Italian ham and cheese with tigelle (typical Italian thin round shaped bread) + wine or soft drink
Gina Bistrot
Zionskirchstr. 77, 10119 Berlin
Thu 11-17, Fri 11-22, Sat 16-22, Sun 14-21
Gnocchi with meat sauce or with "cacio e pepe" (vegetarian) or with truffle sauce (vegan) + wine or soft drink
Lost My Love To Italy
Torstraße 165, 10115 Berlin
Thu and Fri 8-24, Sat 10-24, Sun 15-22
Sicilian specialities trio: two arancini and a mini cannolo + beer or orange juice
Marina Blu
Weinbergsweg 8a, 10119 Berlin
Thu, Fri and Sat 18-24, Sun 15-22
Aubergine parmigiana + wine or soft drink
Mozzarella Bar & Bottega
Auguststraße 34, 10119 Berlin
Thu, Fri and Sat 12-24, closed on Sun
Pasta all'Amatriciana + wine or soft drink
Ruben & Carla
Linienstrasse 136, 10115 Berlin
Thu and Fri 12-24, Sat 17-24, closed on Sun
Fried beef meatballs with pane carasau (traditional flatbread from Sardinia) + wine or soft drink
Prenzlauer Berg
AtayaCaffe 100%Vegan
Zelterstraße 6, 10439 Berlin
Thu, Fri, Sat 11-19, closed on Sun
Vegan gnocchi and ravioli filled with mushrooms and sun-dried tomatoes, smothered in tomato sauce + soft drink
Birra – Italian Craft Beer
Prenzlauer Allee 198, 10405 Berlin
Thu, Fri, Sat and Sun 18-24
Sandwich with mortadella and artichokes + Italian craft beer or wine or soft drink
Caravaggi Naturwein
Lettestrasse 3, 10437 Berlin
Thu, Fri, Sat and Sun 18-24
Polenta with meat sauce or vegetarian ragout + natural wine
COME VA' VA'
Danziger Str. 144, 10407 Berlin
Thu, Fri, Sat and Sun 13-22:30
Homemade potato gnocchi with ricotta and walnuts pesto + wine or soft drink
Esse – Osteria
Prenzlauer Allee 41, 10405 Berlin
Thu and Fri 12-22, Sat 17-23, closed on Sun
Pasta all'Amatriciana + wine or soft drink
Fabbrica Del Gusto
Pappelallee 36, 10437 Berlin
Thu, Fri, Sat and Sun 11:30-23:30
Special pasta alla carbonara with guanciale and egg cooked at low-temperature and then fried + wine or homemade lemonade
La Premiata Ditta
Kopenhagener Straße 12a, 10437 Berlin
Thu and Fri 12-23, Sat 17-23, closed on Sun
Tagliatelle with squid ink, shrimps and cherry tomatoes on a bed of white beans cream + wine or soft drink
Orlando Berlin
Rhinower Str. 10, 10437 Berlin
Thu, Fri and Sat 17-23, closed on Sun
Aubergine parmigiana with buffalo mozzarella, fresh tomato sauce and basil + wine or soft drink
Pasta Bar
Schönhauser Allee 186A, 10119 Berlin
Thu, Fri and Sat 11-21:30, closed on Sun
Vitel tonnè "alla Sarda" (veal with tuna sauce and capers from Pantelleria) served with homemade bread + wine or soft drink
Pizzare Prenzlauer Berg
Eberswalder Str. 21, 10437 Berlin
Thu, Fri, Sat and Sun 11:30-23
Panuozzo filled with Norcia's black truffle sauce, mozzarella and mushrooms (VEGAN +2€) + wine or soft drink
Friedrichshain
Bye Bye Cavaliere
Proskauer Straße 28, 10247 Berlin
Thu, Fri, Sat and Sun 17-22
Venetian aperitif: soppressa de Casada (a type of salami), Bibanesi breadsticks, Latteria cheese and focaccia mix + white Spritz
Cento Passi Vino & Specialità
Krossener Str. 36, 10245 Berlin
Thu, Fri and Sat 17:30-24, closed on Sun
Aubergine caponata (sweet-and-sour Sicilian dish made of fried aubergines, capers, olives, raisins and celery) + wine or soft drink
Mama Maria's
Due to personal reasons this restaurant won't participate in the event
Medeaterranean Trip
Gabriel-Max-strasse 19, 10245 Berlin
Thu and Fri 12:30-22, Sat and Sun 14-23:30
Tricolour ravioli (one with spinach and ricotta, one with cheese and figs and one with meat) + wine or soft drink
Niederbarnimstr. 13, 10247 Berlin
Thu, Fri, Sat and Sun 12-24
"Bocconcini di pizza" (small pieces of pizza in different flavours) + wine or soft drink
The Winery
Warschauer Str. 85, 10243 Berlin
Thu, Fri and Sat 16-23, closed on Sun
Original pasta alla carbonara with guanciale and pecorino romano cheese + wine or soft drink
Kreuzberg
Altrovino
Grimmstraße 17, 10967 Berlin
Thu, Fri and Sat 14-24, closed on Sun
Apulian aperitif: smoked scamorza, peppers filled with tuna, wild onions Lampascioni, green olives, grilled artichocke, taralli with fennel seeds, crostino with turnip tops cream + wine
Ammazza che Pizza
Maybachufer 21, 12047 Berlin
Thu and Fri 17-22:30, Sat and Sun 14-22:30
Italian deep-fried street food: zucchini flowers filled with mozzarella and anchovies, olives from Ascoli, truffle arancini                         + wine or soft drink
Marheinekeplatz 3-4, 10961 Berlin
Thu, Fri and Sat 11-23, Sun 15-23
Orecchiette with sausage ragout and turnip tops + wine or soft drink
Duo – Sicilian ice cream
Skalitzer Straße 77, 10997 Berlin
Thu 12-20, Fri and Sat 12-22, Sun 12-20
Ice cream or Sicilian cannolo with pistachio + a jar of homemade Bronte pistachio cream to go
Facciola
Forster Str. 5, 10999 Berlin
Thu 19-01, Fri-Sat 18-02, Sun 18-22
Bagna càuda (warm dip typical of Piedmont – classic or vegan) served with polenta + wine or soft drink
InCibus
Monumentenstraße 21, 10965 Berlin
Thu, Fri, Sat and Sun 12-23
Tagliatelle with white sausage ragout + wine or soft drink
Osteria Uno
Kreuzbergstr. 71, 10965 Berlin
Thu, Fri, Sat and Sun 12-24
Ravioli filled with radicchio and mascarpone in a parmesan sauce with toasted almonds + wine or soft drink
Köpenicker Str. 18-20, 10179 Berlin
Thu, Fri, Sat and Sun 14-22
Pizzetta with Italian sausage, potatoes and truffle oil + beer
Terra – Terracruda
Grimmstraße 1, 10967 Berlin
Thu and Fri 16-24, Sat and Sun 12-24
Homemade tagliatelle with salty ricotta, 'nduja (spicy salami) and fresh chili or vegan orecchiette with rucola pesto, sun-dried tomatoes and roasted pinenuts + wine or soft drink
Tirelli's
Kreuzbergstr. 29, 10965 Berlin
Thu and Fri 11-22, Sat and Sun 16-22
Fresh tortelloni filled with porcini mushrooms + wine or soft drink
Neukölln
Babbo Bar
Donaustraße 103, 12043 Berlin
Thu, Fri and Sat 18-23:30, closed on Sun
Rosette (oven roasted puff pastry rolls stuffed with mountain cheese and cooked ham) + wine or soft drink
Barettino
Reuterstraße 59, 12047 Berlin
Thu, Fri, Sat and Sun 9-24
Polpette al sugo della nonna (meatballs with tomato sauce) serverd with homemade bread + wine or soft drink
Iandi GastroBar
Lenaustraße 21, 12047 Berlin
Thu, Fri, Sat and Sun 12-02
Polpi alla Luciana (squids with tomato sauce) + wine or soft drink
IL KINO Berlin
Nansenstraße 22, 12047 Berlin
Thu and Fri 15:30-23, Sat 13:30-23, Sun 11:30-23
Homemade lasagne with meat sauce (or vegetarian) + wine or soft drink
La Gatta – Berlin
Selchower Str. 33, 12049 Berlin
Thu, Fri and Sat 13-22:30, Sun 10-22
Antipasti plate with cold cuts (mortadella, spicy salami, raw ham) and cheese (spicy provolone, pecorino d'Angiò and caciocavallo) with Calabrian panzanella and cherry tomatoes + Spritz
La Pecora Nera
Herrfurthpl. 6, 12049 Berlin
Thu, Fri, Sat and Sun 18-23
Baccalà (codfish) from North to South: Sicilian and Venetian combination + wine or soft drink
Sala da Mangiare
Mainzerstraße 23, 12053 Berlin
Thu, Fri, Sat and Sun 18:30-23
Mix of first courses: cappelletti with saffron sauce and tagliatelline with pork ragout + wine or soft drink
Charlottenburg
Enoteca L'Angolino
Knesebeck Straße 92, 10623 Berlin
Thu, Fri and Sat 16-24, closed on Sun
Sarde in saor (sweet and sour sardines) + wine or soft drink
Figaro WINE • FOOD
Schloßstraße 33, 14059 Berlin
Thu, Fri, Sat and Sun 16-22:30
Homemade lasagne with meat sauce (or vegetarian) + wine or soft drink
Francucci Ristorante
Kurfürstendamm 90, 10709 Berlin
Thu, Fri, Sat and Sun 12-23:30
Boar meatballs with tomato sauce and wild herbs + wine or soft drink
LimaLima Café-Bistro, Ristorantino
Schlüterstraße 74, 10625 Berlin
Thu 13-22, Fri and Sat 17-23, closed on Sun
Aubergine parmigiana + wine or soft drink
Rosso Berlin
Helmholtzstraße 24, 10587 Berlin
Thu and Fri 11:30-21, Sat and Sun 16-21
Pinsa (crunchy pizza) with fennel salami and broccoli or with mushrooms and taleggio (a type of cheese) + wine or soft drink
Vadoli
Kantstraße 55, 10627 Berlin
Thu, Fri, Sat and Sun 11-23
Handmade tagliatelle with sun-dried tomatoes, Montoro onions, rocket salad, spinach, garlic and parmesan + soft drink
Schöneberg
Kolonnenstraße 54, 10829 Berlin
Thu and Fri 7:30-18, Sat 9-17, closed on Sun
Sandwich with mortadella, scamorza and grilled artichokes + fresh orange juice and espresso
Malafemmena +39 Berlin
Hauptstraße 85, 12159 Berlin
Thu, Fri, Sat and Sun 12-17:30
Sicilian fried "crostini": one filled with ragout and one with besciamella, mushrooms and provola + wine or soft drink
Olio Sale Pepe
Willmanndamm 15, 10827 Berlin
Thu, Fri, Sat and Sun 12-24
Gramigna (typical pasta from Modena) with sausage ragout + wine or soft drink
Trattoria Pizzeria LuNa
Gotenstraße 18, 10829 Berlin
Thu and Fri 12-23, Sat and Sun 14-23
Original pasta alla carbonara with guanciale and pecorino romano cheese + wine or soft drink
Prometeo
Goebenstraße 3, 10783 Berlin
Thu, Fri, Sat and Sun 17:30-22:30
Porchetta Ariccia style served with wood-fired oven focaccia + wine or soft drink
Ristorante Café Aroma Photogalerie
Hochkirchstraße 8, 10829 Berlin
Thu, Fri and Sat 18-24, Sun 11-24
Pasta alla boscaiola (guanciale, mushrooms and olives) + wine or soft drink
Trattoria Muntagnola
Fuggerstraße 27, 10777 Berlin
Thu, Fri, Sat and Sun 17-24
Bruschetta with burrata and red aubergines from Rotonda + wine or softdrink
Tempelhof
Trattoria Lauretta
Burgemeisterstraße 74, 12103 Berlin
Thu, Fri and Sat 17-23, Sun 12-23
Buffalo mozzarella filled with olives cream, sun-dried tomatoes and pine nuts on a bed of rucola cream + wine or softdrink
Wedding
S P Λ Z I O – Italian Bistrot
Torfstraße 15, 13353 Berlin
Thu, Fri, Sat and Sun 12-23
Fried aubergine balls with parmesan, Neapolitan ragout and bruschetta with Colonnata lard + wine or soft drink
Supersonico
Bernauer Straße 71 – 72, 13355 Berlin
Thu and Fri 12-24, Sat and Sun 11-24
Fried panissa (crispy chickpeas cubes with parsley cream and pecorino romano cheese) + wine or soft drink
[adrotate banner="39″]

SEGUI TUTTE LE NEWS SU BERLINO, SEGUI BERLINO MAGAZINE SU FACEBOOK
[adrotate banner="34″]
https://berlinomagazine.com/wp-content/uploads/2018/07/72-hrs-copertina-facebook.jpg
640
960
Giulia Donatelli
https://berlinomagazine.com/wp-content/uploads/2019/12/berlino_magazine_2019.png
Giulia Donatelli
2018-08-27 16:22:46
2018-09-27 17:19:12
72 hrs True Italian Food: in Berlin the third edition of the biggest Italian food festival abroad