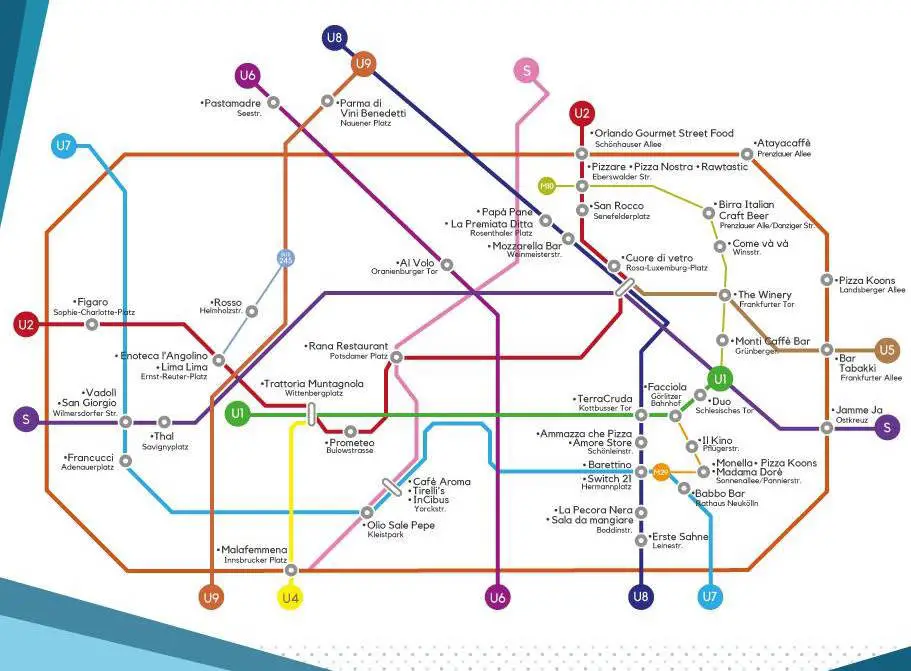 72 hrs True Italian Food: the longest happy hour of the best Italian food in Berlin
Are you looking for the article about the event in 2018? Click here!
A big party with true Italian gastronomy in Berlin: starting on Thursday evening, September 28th until Sunday evening, October 1st, more than 50 Italian restaurants, pizzerias, wineries and cafès will offer their own specialities to all the Berliners for only 7€.
The price includes a glass of a tasty wine, a beer or a soft drink (depending on the restaurant). 72 hours to discover true Italian tastes: aubergine Parmigiana, Montanara (fried pizza with tomato sauce and mozzarella), homemade gnocchi filled with ricotta cheese and aubergine, Bagna Càuda (warm dip typical of Piedmont), creamy salted codfish, Sarde in Saor (sweet and sour sardines), slices of pizza and focaccia, porchetta (savoury, fatty and moist boneless pork roast), linguine with Genoese pesto, selection of Italian cold cuts and cheeses, pistachio cream, bignè and much more. These are only some of the specialities that can be tasted during the event. Our goal is to spread the Italian culinary culture abroad, with a focus on special dishes that are not so well known outside of Italy. This is the second edition of our event and after last year's success we decided to add also workshops and tastings. 72hrs True Italian is organized by Berlin Italian Communication with the support of the Italian Cultural Institute, Itkam (Italian Chamber of Commerce for Germany) and DE.S.A (Germany Sommelier Association). The event is sponsored by ENIT, Tannico, Quandoo, Segafredo, Olio Costa, Rancilio, Feudi di San Gregorio, Distilleria Bonaventura Maschio, Quomi and Berlinecoputzen. Our media partner are Berlino Magazine, I Heart Berlin, Berlin Amateurs and Buongiorno Italia.
You can read this article in German or Italian.
The 72 hrs True Italian Food event
In order to try one of the 50 different combinations of specialities in our different places, the only thing that you will have to do is going to one of them between Thursday and Sunday and order the True Italian speciality. All these places will also offer their regular menu dishes. Every client will have the chance to choose to stay and try something else or switch to another True Italian restaurant.
The map
In order to facilitate the tasting tour, we created the 72 hrs True Italian Food map: a metro map that indicates the location of every place participating in the event. It will allows you to check all the restaurants' addresses, as well as their opening times and their True Italian speciality. You can download it here or ask for it in the participating restaurants.
You can download the map as PDF here.
Workshops
During the event there will be True Italian workshops and seminars offered by Pastamadre, a healthy food school based in Malplaquetstraße 37, 13347 Berlin. This school offers Italian cuisine workshops all year long, but during our event 72 hrs True Italian Food they will offer three special workshops: the first is about sourdough pizza and will take place on Friday September 29th at 6:30 PM. The second and the third are homemade pasta workshops: one about Orecchiette, on Saturday September 30th at 5 PM, and one about Ravioli, on Sunday October 1st at 5 PM. After the workshop there is always a dinner all together where you can taste what you have prepared during the lesson. For info and booking you can write an e-mail to info@pastamadre.de or call the number 0157.87633216. Every workshop costs 45 € including dinner and wine.
Why True Italian?
Italian cuisine is versatile and it is open to different interpretations, but there are many "Italian" restaurants in Berlin that have nothing to do with Italian cuisine: you only need to take a look at some menus to find spelling mistakes and wrong recipes, which in Italy simply don't exist. And not to mention cooking or promotional videos that totally change traditional recipes that Italian people consider part of their cultural identity. Luckily, Berlin has several places owned by people that work hard everyday to serve authentic Italian food. Some of them import high quality products directly from Italy, others have trustworthy suppliers that allow them to buy fresh or bio products in Germany. They became taste ambassadors and deserve a recognition for the high quality of their cuisine. To be clear: when we talk about True Italian, we don't simply refer to the chef or owner's nationality, but we talk about the way they approach to the cuisine. There are several cases in which non-Italian people deeply respect our cuisine and his tradition, sometimes even more than our fellow countrymen. Respect for the products and care about ingredients' quality: these are the keywords of every True Italian restaurant.
The True Italian project
The True Italian project's aim is to create a network that promote and add an extra value to the Italian tradition in Germany. In fact, every True Italian place has a sticker with the project logo (filed with Deutsches Patent- und Markenamt) on its window proving its participation in the network. True Italian is also a dynamic platform which involves different events, tasting and cooking workshops.
72 hrs True Italian Food
28th September – 1st October 2017, from Thursday evening to Sunday evening
In every True Italian restaurant in Berlin
7€ for a True Italian speciality and a glass of wine / beer / soft drink
Participating restaurants, opening times and specialities
Mitte
Al Volo
Torstraße 165, 10115 Berlin
Filled focaccia: vegetarian (Sicilian walnut-flavoured pecorino cheese, fresh cheese, turnip tops cream, mozzarella cheese, artichokes) or with classic : (Trentina spianata or Napoli Salami and smoked scamorza cheese, artichokes cream, fresh cheese) + wine/beer/spritz/soft drink
Thur 19-00, Fri-Sat-Sun 09-00
Cuore Di Vetro
Max-Beer-Straße 33, 10119 Berlin
Mix antipasti with tigelle (typical Italian thin round shaped bread) + glass of wine/soft drink
Thur 19-23, Fri 12-23, Sat-Sun 10-23
La Premiata Ditta
Weinbergsweg 4, 10119 Berlin
Aperitivo plate with selected products from Basilicata + glass of red wine from Basilicata / soft drink
Thur 19-23, Fri-Sat 12-23, Sun 13-22
Mozzarella Bar & Bottega Al Contadino Sotto Le Stelle
Auguststraße 34, 10119 Berlin
Homemade tagliatelle with mushrooms and Italian sausage + soft drink
Thur 19-23.30, Fri-Sat 12- 23.30, closed on Sunday
Papà Pane di Sorrento
Ackerstraße 23, 10115 Berlin
Bruschetta with homemade bread, pecorino, honey, thyme and Cardoncelli mushrooms + Bellini cocktail
Thur 19-00, Fri-Sat-Sun 12-00
Giovanni Rana Restaurant Berlin
LP12 Mall of Berlin – Food Court – 2 OG., Leipziger Platz 12, 10117 Berlin
Tortelloni filled with Parma ham, with bolognese ragout + glass of wine/soft drink
Thur 19-21, Fri-Sat 10-21, Sun 13-19
Prenzlauer Berg
AtayaCaffe
Zelterstraße 6, 10439 Berlin
Culurgiones (Sardinian Ravioli) with potatoes, tomato sauce and bio pecorino from Sardinia or Malloreddus (Sardinian Pasta) with bolognese ragout + soft drink
Fri-Sat-Sun 10-19
Birra – Italian Craft Beer
Prenzlauer Allee 198, 10405 Berlin
Sandwich with mortadella and artichokes + Italian craft beer/soft drink
Thur 19-01, Fri-Sat 18-02, Sun 18-01
COME VA' VA'
Danziger Str. 144, 10407 Berlin
Spaghetti with rum, gorgonzola cheese and black pepper OR with rum, bacon and black pepper+ glass wine/soft drink
Thur 19-22.30, Fri-Sat-Sun 11- 22.30
Orlando Berlin
Rhinower Str. 10, 10437 Berlin
Sicilian anelletti (baked pasta) with ragout or tomatoes and fried aubergines OR Caponata (sweet-and-sour Sicilian dish made of fried aubergines, capers, olives, raisins and celery)+ glass of Nero D'Avola or Catarratto (Sicilian wines)/soft drink
Thur 19-22, Fri-Sat 17-22, closed on Sunday
Pizzare Prenzlauer Berg
Eberswalder Str. 21, 10437 Berlin
Pizza Regina Margherita with Pachino's cherry tomatoes (vegan pizza available) + soft drink, espresso and Amaro Lucano digestive shot
Thur 19-23.30, Fri-Sat-Sun 11.30- 00.30
Pizza Nostra
Lychener Straße 2, 10437 Berlino
Mini-pizza with spianata calabrese (spicy Calabrian sausage) and black olives from Gaeta or with cherry tomatoes, fresh rocket, parmesan + soft drink
Thur 19-21, Fri-Sat-Sun 17-21
Rawtastic
Danzigerstraße 16, 10435 Berlin
Vegan Cacio e pepe (Kelp noodles, daikon, cashew black peppercorn sauce served with mixed salad) + glass of wine/beer/soft drink
Thur 19-23, Fri-Sat 11-23, Sun 12-22.30
San Rocco Restaurant Berlin
Greifswalder Str. 227, 10405 Berlin
A cocktail of your choice based on Gin Barmaster, Gin Puro or Prime Uve prepared by awarded barman Fabio Brusco
Thur-Fri-Sat-Sun 19-21
Friedrichshain
Bar Ristorante L'Orologio (ex Bar Tabakki)
Müggelstrasse 22, 10247 Berlin
Risotto with radicchio, gorgonzola cheese and walnuts
Thur 19-23, Fri-Sat 10-23, Closed on Sunday
Jamme Ja
Neue Bahnhofstraße 7B, 10245 Berlin
Pasta alla Norma (tomato sauce, aubergines, basil, mozzarella) + glass of wine/beer/soft drink
Thu 19-22.30, Fri 12-23, Sat 18-23, closed on Sunday
Kuchen Von Gaia
On Saturday: Boxhagener Platz food market, Grünberger Str. 75, 10245 Berlin
Bignè and tiramisù for 5 €
MONTI Caffe' BAR
Simon-Dach-Str. 3, 10245 Berlin
Gnocchi with ricotta and aubergines + glass of wine/beer/soft drink
Fri-Sat-Sun 9-18
Pizza Koons
Ebertystr. 4 , 10249 Berlin
Pizza margherita or marinara + soft drink
Thur 19- 23, Fri-Sat-Sun 15-23
The Winery
Warschauer Str. 85, 10243 Berlin
Aubergine parmigiana + glass of wine/beer/soft drink
Thur 19-23.45, Fri-Sat 16-23.45, closed on Sunday
Kreuzberg
Duo – Sicilian ice cream
Skalitzer Straße 77, 10997 Berlin
Ice cream and a jar of homemade Bronte pistachio cream + coffee
Thu 19-22, Fri-Sat-Sun 10-22
Facciola
Forster Str. 5, 10999 Berlin
Bagna Càuda (warm dip typical of Piedmont), traditional or vegan, and polenta + glass of wine/soft drink
Thur 19-01, Fri-Sat 18-02, Sun 18-22
InCibus
Monumentenstraße 21, 10956 Berlin
Homemade ravioli filled with radicchio and Italian sausage + glass of wine/beer/soft drink
Thur 19-23, Fri 11-23, Sat-Sun 15-23
Kuchen von Gaia
On Thursday evening: Markhalle Neun, Eisenbahnstr. 42/43, 10997 Berlin
Bignè and tiramisù for 5 €
Terracruda
Grimmstraße 1, 10967 Berlin
Black tagliatelle with broccolo romano, anchovies and pecorino (vegan and veggie option available) + glass of wine/beer/soft drink
Thur 19-00, Fri-Sat 12-00, Sun 11-23
Tirelli's
Kreuzbergstrasse 29, 10965 Berlin
Buffalo mozzarella from Campania and tomatoes and a selection of Italian cheese and salami + glass of wine/soft drink
Thur 19-22, Fri-Sat 10-22, Sun 16-22
Neukölln
Ammazza che Pizza
Maybachufer 21, 12047 Berlin
Roman-style fried-plate (zucchini flower, supplì, 3 Ascolana olives) or homemade special focaccia + glass of wine/beer/soft drink
Thur 19-20:30, Fri-Sat 11:30-21, Sun 11:30-20:30
Amore Store
Sanderstraße 12, 12047 Berlin
Aperitivo plate with sourdough homemade bread, Salami, Mortadella, Prosciutto + glass of wine/soft drink
Thur 19-20, Fri 12-20, Sat 12-18, closed on Sunday
Babbo Bar
Donaustraße 103, 12043 Berlin
Rughetta, lemon and ginger salty granita and an aubergine, pecorino cheese patty + glass of Tormena (aromatic wine)
Thur 19-00, Fri-Sat 18-00, closed on Sunday
Barettino
Reuterstraße 59, 12047 Berlin
Focaccia with mortadella + glass of wine/beer/soft drink
Thur 19-22, Fri-Sat-Sun 9-22
ErsteSahne – Otivm
Kienitzer Str. 116, 12049 Berlin
Take away pastries-box (mini Profitterol, mini Mont Blanc, Nuts-apple creamy mousse with wildberry icing, mini Bio-chocolate-roll with homemade jam, mini Torta Paradiso  with coffee custard)
Thur. 19-22, Fri 14-22, Sat-Sun 10-22
IL KINO Berlin
Nansenstraße 22, 12047 Berlin
Lasagne (with vegetarian option) + glass of wine/beer/soft drink
Thu 19-01, Fri 15.30-01, Sat-Sun 11.30-03
La Pecora Nera
Herrfurthpl. 6, 12049 Berlin
Polenta with baccalà (codfish) "alla vicentina" and Sicilian style + glass of wine/soft drink
Thur 19-00, Fri-Sat-Sun 18-00
Madama Dorè
Pannierstraße 9A, 12047 Berlin
Homemade spaghetti "alla carbonara" + glass of wine/soft drink
Thur 19-23.30, Fri-Sat-Sun 18-23.30
Monella
Weichselstraße 17, 12045 Berlin
Montanara (Neapolitan fried pizza with tomato sauce and mozzarella) + glass of wine/soft drink
Thur 19-01, Fri-Sat 18-01, Sun 18-01
Pizza Koons – EX Cicciolina
Pannierstr. 6, 12047
Pizza margherita or marinara + soft drink
Thur 19- 23, Fri-Sat-Sun 15-23
Sala da Mangiare
Mainzer Str. 23, 12053
Pasta stuffed with Buffalo ricotta and roasted almonds with saffron sauce or bio-ragout + glass of wine (Sangiovese or Albana) / soft drink
Thur-Fri-Sat-Sun 19-23
Switch 21
Lenau Straße 21,12047 Berlin
Polpi alla Luciana (squids from Santa Lucia's port) + glass of wine/beer/ soft drink
Thur 19-02, Fri-Sat 10-02, closed on Sunday
Charlottenburg
Enoteca L'Angolino
Knesebeck Straße 92, 10623 Berlin
Sardines in Saòr (typical Venetian recipe with sardines) + glass of wine/soft drink
Thur 19-01, Fri-Sat 12-01, closed on Sunday
Figaro WINE • FOOD
Schloßstraße 33, 14059 Berlin
Caponata (sweet-and-sour Sicilian dish made of fried aubergines, capers, olives, raisins and celery) + glass of wine/soft drink
Thur 19-22, Fri-Sat-Sun 11-22
Francucci Ristorante
Kurfürstendamm 90, 10709 Berlin
Boar meatball with sauce and wild herbs + glass of wine/beer/soft drink
Thur 19-00, Fri-Sat-Sun 12-00
LimaLima Café-Bistro, Ristorantino
Schlüterstraße 74, 10625 Berlin
Appetizers with Provolone cheese and Napoli salami or onion pie and bruschetta + glass of Prosecco wine with peaches
Thur 19-22, Fri-Sat 13-22, closed on Sunday
San Giorgio
Mommsenstraße 36, 10629 Berlin
Homemade pappardelle with cooked ham in curry-gorgonzola cream + glass of wine (Montepulciano or Trebbiano)/beer/soft drink
Thur 19-23, Fri-Sat 12-23, closed on Sunday
THAL
Wielandstraße 38, 10629 Berlin
Veal meatball with tomato and ricotta salata + glass of wine/soft drink
Thur 19-00, Fri-Sat 17-00, closed on Sunday
Vadoli
Kantstraße 55, 10627 Berlin
Gourmet pizza at your choice: Pizza Pesto Presto (homemade Genoese pesto) or Pizza Salsiccia Prime (sausage and friarielli) + soft drink
Thur 19-23, Fri-Sat-Sun 11-23
Moabit
Rosso Berlin
Helmholtzstraße 24, 10587 Berlin
Pinsa (typical Roman pizza) amatriciana or carbonara style + glass of wine/soft drink
Thur 19-21, Fri 11-21, Sat 15-21, closed on Sunday
Schöneberg
Malafemmena +39 Berlin
Hauptstraße 85, 12159 Berlin
Pacchero (Neapolitan pasta) fried and breaded, filled with ricotta, pepper and basilico + drink
Thur 19-23, Fri 11.30-23, Sat-Sun 11.30-00
Olio Sale Pepe
Willmanndamm 15, 10827 Berlin
Arancino, prawn, croquette and grill vegetables + glass of wine/Spritz + coffee cream
Thur 19-00.30, Fri-Sat 11.30-00.30, Sun 16-00
Prometeo
Goebenstraße 3, 10783 Berlin
Pizza margherita, marinara or montanara (fried pizza) + glass of wine/beer/soft drink
Thur 19-23, Fri-Sat-Sun 17.30-23
Ristorante Café Aroma Photogalerie
Hochkirchstraße 8, 10829 Berlin
Pasta alla boscaiola with guanciale, mushrooms and olives + glass of wine/beer/soft drink
Thur 19-00, Fri 17.30-00, Sat 14.30-00.30, Sun 11-00.30
Trattoria Muntagnola
Fuggerstraße 27, 10777 Berlin
Frisella (typical Apulian bread) & burrata + glass of wine/beer/soft drink
Thur 19-00, Fri-Sat-Sun 17-00
Wedding
PARMA di Vinibenedetti
Utrechter Str. 31, 13347 Berlin
Salame di lonza (homemade pork loin salami) with "pizzapane" + glass of wine/soft drink
Thur 19-23, Fri-Sat-Sun 11-23
[adrotate banner="34″]
SEGUI TUTTE LE NEWS SU BERLINO, SEGUI BERLINO MAGAZINE SU FACEBOOK
https://berlinomagazine.com/wp-content/uploads/2017/09/22117790_10214240000663940_1191632771_o.jpg
671
911
Sara Trovatelli
https://berlinomagazine.com/wp-content/uploads/2019/12/berlino_magazine_2019.png
Sara Trovatelli
2017-08-30 16:09:40
2018-09-03 10:05:06
72 hrs True Italian Food: the longest happy hour of the best Italian food in Berlin