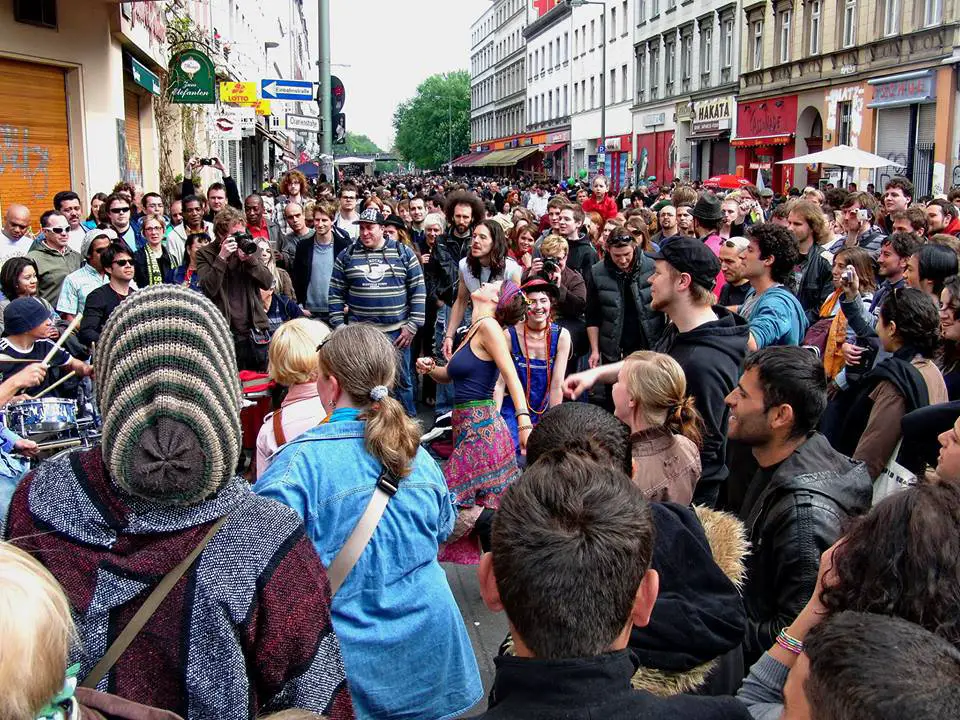 May 2017 events guide in Berlin day by day
The updated day by day guide to the events in Berlin for May 2017.
May has finally arrived and everybody is waiting for the spring to arrive here in Berlin. So, for those who have been waiting to enjoy the real soul of this city, Berlin has plenty of open air events to offer. Here are all the events for the month of May, day by day.
EXHIBITIONS, FAIRS AND FESTIVAL
During this month you can't miss the events in the Martin-Gropius-Bau:
Until 11th June there is the Wiederentdeckte Moderne I by the architecture Friedrich Kiesler ;
Until 5th November Der Luthereffekt 500 Jahre Protestantismus in der Welt;
Until 3th July Juergen Teller. Enjoy Your Life!
The C/O Berlin inaugurates the expositions of the two photographs Harf Zimmermann e William Klein, until 2nd July 2017, both free entry. Moreover the weekend of 6th and 7th May will be dedicated to the Wochenendführungen, guided tours in English from 2 PM to 4 PM in every exposition of the gallery for the price of 5 €.
Another exhibition you can't miss is the one of Tina Berning & Michelangelo Di Battista at Camera Work until 17th June. 
From 8th to 10th May will take place Re:publica, one of the biggest trade on the digital culture, with a lot of media entrepreneurs that will discuss the future of the information and media society.
Until 9th October Berlinische Galerie wil show the  CHRISTINE STREULI paintings, the one who won the Fred-Thieler-Prize for painting in 2017, and until 21th August 2017 the installation of IN THE MOLOCH OF THE PRESENCE OF BEING by John Bock.
From 10th to 14th May, Pictoplasma Berlin, the international design festival of modern characters. It includes conferences, exhibitions and screening plans.
For any of you who have never visited museums in Berlin, 21st May will take place the International Museum Day, a whole day in which a lot of museums will open their doors to everyone to spread culture, through special tours and activities.
From 15th to 28th May will take place the Asia Pacific Weeks Berlin, an exchange between German and Asiatic culture, with a lot of business, society and science events.
For gardening lovers, until 15th October the IGA Berlin 2017 – International Garden Festival begins and their slogan will be "an ocean of colours". Over 186 days (the event will end on 15th October 2017) there will be 5000 events focused on contemporary gardening design, landscape architecture and green urban space in an area of 104 acres.
EVENTS GUIDE DAY BY DAY
Mon 1st May
For the 1st of May there are so many events to choose!
The event that everybody is waiting is defenetely Myfest, if you are here in Berlin you can't miss this date. An open air event in Kreuzberg where you will find live music, demonstrations and plenty of street food together with the thausend of people that animate the streets.
Who prefers to spend their time in Berlin clubs instead, will also find a lot of things to do: in Yaam the whole daylong there will be indoor and outdoor open airs. The event name is The Revolution will not be televised and it will last from monda afternoon until the next day.
Salon zur wilden Renate entertains you with a unique Boat Party with boarding from Treptower Hafen. The spots are limited, therefore our advice is to book your spot here.
For those who love to dance outdoor:
Birgit&Bier organizes the event Festa Open Air (free entry);
Prince Charles with the event Soul Open Air (free entry);
Vabrique organizes 1. Mai Open Air N°9 / Vabrique meets Avotre (free entry);
Hakke Music and it's motto 'life is a peach…' hosts the Blütenzauber Open Air #2 ;
at Sage Beach there will be the Telekollegen Open Air 1. Mai that bill open from 2 PM util 11 PM (in case of bad weather the entry will be postposed at 5 PM).
If you are looking forward to hearing some live music don't miss the Storm Large band performance at the Berliner Philharmonie, you will find the details here.
Lovers of TT (Techno Türken), Turkish-German techno music, will have the chance to dance all day long on both club floor with 10 different djs, click here for the event.
Intensive and evening courses at Berlino Schule:
INTENSIVE COURSES:
A1.1: From 2nd May to 26th May, from Tuesday to Friday, three hours a day (8.45-11.15)
A1.2: From 2nd May to 25th May, from Monday to Thursday, three hours a day (11.40-14.10)
A2.1: From 2nd May to 26th May, from Tuesday to Friday, three hours a day (11.40-­14.10)
A2.2: From 2nd May to 25th May, from Monday to Thursday, three hours a day (8:45-11:15)
B1.2: From 2nd May to 26th May, from Tuesday to Friday, three hours a day (8.45-11.15)
B2.1: From 2nd May to 26th May, from Tuesday to Friday, three hours a day (8.45-11.15)
EVENING COURSES:
A1.2: From 2nd May to 22nd June, Tuesday and Thursday (19.30-21.50)
A2.1: From 15th May to 5th July, Monday and Wednesday (19.30-21.50)
B1.2: From 2nd May to 22nd June, Tuesday and Thursday (19.30-21.50)
From 7 PM to 10 PM at Berlino Schule first lesson of the workshop di SEO & Email Marketing.
From 7 PM to 1q PM at Admiralspalast Berlin concert of The Cranberries, all info here.
From 7 PM to 10 PM Vernissage of the exhibition of the artists Amadeus Lindemann and Chiara Weis, who created music, sculpture and film installations which have as theme the color black, often related to negative things, especially regarding food. Their motto is "Science meets Food Art.". The event will open with live performance, interactive installations and conceptual food.
Wed 3rd May
XJazz Festival 2017 begins (until 7th May at 11 PM).
Shawn Mendes at the Mercedes-Benz Arena Berlin from 7.30 PM, for info and tickets click here.
From 8 PM Claire at  Bi Nuu.
Thu 4th May 
From 7 PM at Cantine Sant'Ambroeus wine tasting with the poets Agata Spinelli, Asmus Trautsch, Nicoletta Grillo and Tobias Roth. The lecture of the poems will be in German and Italian. Four glasses of wine. Four poems. Four poets.  A sommelier combines wine and lyrics. All info here.
"We are all more intelligent than we are capable, and awareness of the insanity of love has never saved anyone from the disease." – Alain de Botton. From 8 PM Alain De Botton at Kino Babylon will talk about love from a philosophic and psychologic point of you. Tickets are from 25 €, for more info click here.
For those who prefer movies, screening of the documentary film "Expedition Happiness – von Alaska nach Mexico" by Felix Starck at Cinestar Treptower Park, all info here.
Fri 5th May
From 5th May at 8 PM to 7th May to 8 PM Kudamm Karree jazz show Bajazzo Road Opera.
At YAAM tribute to the revolutionary Fela Kuti, politic and musician who created the music genre afrobeat and considered one of the most influent african artists of the 20th century. Here all the details.
From 8 PM at Mercedes-Benz Arena Berlin, Enrique Iglesias, click here for all info.  qui tutte le info.
From 11.50 PM Federico Albanese presents his new album  "The Blue Hour" at Emmauskirche.
Sat 6th May 
From 5 PM to 2 AM for those who love nature and barbecues with friends, Südtiroler Stübl hosts the second edition of the Berliner Rockabilly meet & greet. From 6th May at 11 PM at 7th May at 6 PM Dal 6 maggio alle 11:00  Jungpflanzentauschmarkt, the market that offers a great variety of vegetables from farms from all over the region.
From 7.30 PM to 23.59 at Badehaus Berlin, Drive Like Maria in concert.
Like every first Saturday of the month, Musik & Frieden from 11 PM until the following day Drop the Bomb Party.
From 9 PM to 10 PM for jazz lovers, the Festival XJazz hosts Andrea Benini & Gianluca Petrella at Monarch Berlin.
At The Grand Club, 90s in the GRAND House! Urban Classics NON Stop! From 11 PM until the following day.
Sun 7th May
Like every Sunday, flea market and open air karaoke at Mauerpark from morning until late afternoon.
Afternoon at Babylon with the event CinemaAperitivo, Film and Aperitivo for 9 euro. This Sunday there will be the screening of the movie Umberto D., masterpiece by the great De Sica. This neorealist movie is about a poor old person that tries to survive with as much of dignity as possible.
From 4 PM to 9 PM at STATION-Berlin, Pre:publica – Day 0, opening of the Festival re:publica of which we already wrote above.
From 8 PM to 11.30 PM Friedemann's concert at SO36.
Mon 8th May 
From 7.30 PM to 11.30 at Cassiopea Berlin, Darkest Hour, Venom Prison e Greaf.
From 8 PM at Kantine am Berghain concerto of The Big Moon.
From 8 PM at Lido Berlin, Periphery in concert.
From 10 PM to 11.30 PM at Kino International, Mongay: Dreams from Strangers, movie that talks about the difficult relationship between two homosexual guys. Third feature film of the Italian director and producer Roberto Cuzzillo, watch the trailer here.
Tue 9th May
From 8 PM to 11 PM at Festsaal Kreuzberg, Ásgeir will introduce his new album.
From 6 PM at Salon- Zur wilden Renate, HiP.inside 10er.
From 9th May at 10.30 AM to 10th May 12.20, at Berliner Festspiele, "Explorer / Prometheus unbound", a performance that uses a 3D technology.
Wed 10th May
From 7 PM to 11 PM at Birgit&Bier, Baum Haus Comedy Showcase.
From 8 PM to 11.30 PM at Lido Berlin, Record Release Show of "Sugar Cane & The Lost Amigos".
From 10th May at 11.55 PM at 11th May at 10 PM at Watergate, the Stil vor Talent – New Waves event, no tickets required.
Thu 11th May
From 9 AM at 8 PM at Deutsches Technikmuseum, conference based on artificial intelligence, Rise of AI – the Future of Humanity.
From 11th May at 7 PM at 13th May at 7 PM at DOCK 11 3 hours of "E-rase M E-go" interactive experience with multimedia elements that focus on the human body and its capability to express itself.
From 8 PM to 11 PM at Badehaus Berlin concert of Leila Akinyi – Morgenkämpfer Tour 2017.
Fri 12th May
Birgit&Bier turns 2 years old! For this occasion they will celebrate with 3 days of non stop music. From 12th May at 10 PM at 14th May at 2 PM, techno, house and pop music indoor and outdoor. All details here.
From 8 PM to 11 PM at Lido Berlin live performance live of Jake Isaac.
From midnight, techno party at OHM of Resident Advisor.
From 12th May at 2 PM at 14th May at 2 PM, Klunkerkranich organizes the event Zuhause Soli Festival 2017 | Blütezeit.
Sat 13th May
From 2.30 PM to 4.30 PM ArtNight: Frida Kahlo.
From 13th May at 11 PM to 14th May at 10 PM K E T T E C H N O | Leigh Johnson – Dekai – Big Maschine's  enjoy tecno music in a  'secret underground location', check more about it here.
From 8 PM to 23.59 PM at  Funkhaus Nalepastraße live perfromance of RBMA x CTM  and Schrei 27 Installation and the vocalist Diamanda Galás.
From 7 PM to 23.55 at Festsaal Kreuzberg, concert of Love A.
Sun 14th May
At 10 will take place the marathon through the west side of Berlin with its finishing point at Olympiastadion Berlin.
From 14th May at 12 PM to 15th May at 5 AM at 'ELSE second edition of the event Keinemusik Open Air at ELSE. 
At 8 PM at  Tempodrom the show thats sweeping the world, Circus meets Michael Jackson, with plenty of dance and singing performances.
From 8 PM to 23.59 PM at  silent green Kulturquartier, live release concert of J.A.W with Avishai Cohen Quartet (ECM). 
Mon 15th May
From 8 PM to 11 PM J Balvin's concert at Columbia Halle.
From 8 PM to 11 PM Elvis in Concert – The Wonder of You musical at Mercedes-Benz Arena Berlin. 
Tue 16th May
From 7 PM to 9 PM, if you don't want to miss a debate about French election, you can go to Rosa-Luxemburg-Stiftung, where the conference "Welcher Zukunft entgegen? Frankreich hat gewählt" is going to take place.
From 8 PM to 11 PM at Astra Kulturhaus Berlin the pop artist Stormzy is going to perform.
From 6 PM at Bohnengold, as every Tuesday, it's possible to play ping pong in a friendly environment with music and food. Here the official event.
Wed 17th May
From 7 PM to 11.55 PM at Arminiusmarkthalle – Markthalle Moabit is 11. Lange Nacht der Weine night, wine and chit-chat with 10€ entrance per person, plus 5€ Pfand.
From 7 PM to 9 PM is going to take place the Ride of Silence cycling demonstration in order to promote road safety. The ride is going to start from the Brandenburg Gate.
From 11 PM at Bohnengold, the new Wednesday, I'm in Love season is going to start, with pop, electronic, indie and house music.
Thu 18th May
From 8 PM The Kooks's concert at Columbia Halle.
From 5 PM Ambiq + Ricardo Villalobos live at Funkhaus Berlin.
From 18th May at 1 PM until 19th May at 23.59 Das erste Kaufhaus der Barkultur – The House of Thomas Henry at Kaufhaus Jandorf, an event dedicated to the latest cocktail trends surrounded by the best european bartenders.
Fri 19th May
For those who loves cinema, don't miss Berlin Film Nights, starting at 8 PM on May 19th until 24th May at 10 PM. During the event, organized by Mobile Kino and iHeartBerlin.de, with movies, tv series and short film that are connected with Berlin.
From 7.30 PM to 11.30 PM a dinner with traditional gipsy music and dances at Clärchens Ballhaus. Here all the infos.
From 11 PM at Electro Swing Revolution – Swing Thing, Papa Django uvm at Frannz Club. 
Sat 20th May
From 11 PM for those who are a bit nostalgic of the 90's, 90's Breakout | die verrückte 90er Party an der Spree at Spindler & Klatt.
From 9 PM, if you can't live without reggae music, at YAAM Berlin there is the Michael Prophet & The Magic Touch live.
From 6 PM at house of weekend there is going to be the Rooftop opening by Berlinizer – New Location & Date.
Sun 21st May
From 8 PM to 11 PM, Natalie Imbruglia's acustic concert  at Columbia Theater Berlin.
From 8 PM Trümmer w/ Ilgen-Nur + Highest Sea's concert at Kantine am Berghain.
From 12 AM to 10 PM, Zurück zu den Wurzeln *Open Air*#1, to enjoy some music in the middle of the nature with no entrance fee.
From 1 PM to 4.30 PM, Macramé Workshop with California Dreaming inside Hallesches Haus: two different interior design workshops, one aimed to teach different techniques to hang plants, the other one focused on hanging up object on the walls.
Mon 22nd May
From 10 PM with the motto "EVERYTHING IS POSSIBLE!" Scandal! is going to be the week starter at Matrix Club Berlin
From 9 PM, Tom Riddle's Montagsjazz at Jazzclub Schlot.
From 8 PM to 11 PM, for folk-soul lovers, Overcoats exhibition at Maze.
Tue 23rd May
From 7 PM to 8.30 PM, Tomislav Perko, writer and one of the most famous TEDx' speakers, is gonna talk about how it is possible to travel all over the world without money at l'Audimax TU-Berlin. Free event.
Wed 24th May
Starting at 11 PM until 9 AM at MOON Club, 3 floor's FullMoonParty with several DJs.
From 8 PM to 11 PM Tiny Fingers' night at Cassiopeia Berlin.
Thu 25th May
As any other Thursday, MarkthalleNeun's Cassiopeia Berlin will offer you Street Food in a friendly environment.
From 25th May 11 PM until 26th May at 2 PM at The House of Red Doors #9: A N I M A L at Wilden Renate.
From 25th May at 11 PM until 26th of May at 9 AM Italo Disco Electro night – Synth Waves von Dreams of Neon at Humboldthain Club.
Fri 26th May
From 7 PM to 11 PM at PRIVATCLUB Berlin indie concert of Apples In Space, Support: Sam&Sara.
From 8 PM to 11 PM at Mercedes-Benz Arena Berlin: Bruno Mars: 24K Magic World Tour.
From 6 PM at Hofbräu Partynacht mit Mickie Krause, Tobee und Flottn3er, drinks, food, music: all the ingredients for a perfect happy evening.
Sat 27th May
From 27th May at 3.30 PM to 28th May at 8 PM at Mammutmarsch, a 100km hike to do within 24 hours.
From 27th May at 2 PM at 28th May at 4 AM, at Zwei Drei Raum, CRAFTRAD celebrates S O M M E R F E S T for it's second anniversary.
From 8 PM to 11 Pm at Musik & Frieden, concert of Morlockk Dilemma • Hexenkessel Tour 2017.
Sun 28th May
Typical Sunday lunch directly from Naples at Ristorante Malafemmena, where you can taste plenty of Italian typical dishes and pizzas of the highest quality.
From 8 AM Global Bubble Parade, a worldwide event which has only one aim: bring plenty of positivity and smiles.
From 7 PM to 11 PM at Astra Kulturhaus Berlin, Simple Plan in concert.
Mon 29th May
From 7.30 PM to 10.30 PM at Mercedes-Benz Arena Berlin concert of Tim Bendzko + Band.
From 8 PM to 11 PM at Watergate: Kulturradio Klassik Lounge.
Tue 30th May
From 6.30 PM to 23.59 PM at Waldbühne Berlin, Aereosmith live with their #AeroVederci Baby! Tour.
From 8 PM to 23.59 PM at Musik & Frieden performance of Will Joseph Cook, pop music in 3D.
Festival Jazzdor Berlin begins. It will take place until 2nd June at Kesselhaus Berlin.
Wed 31st May
From 8 PM at Acud Kunsthaus performance of the post-punk italian band SOVIET SOVIET.
From 7 PM to 11 PM at Birgit&Bier, Baum Haus Comedy Showcase, the open air terrace will be open from 2 PM but the show will take place at 8 PM and the entry costs 10€.
[adrotate banner="34″]
SEGUI TUTTE LE NEWS SU BERLINO, SEGUI BERLINO MAGAZINE SU FACEBOOK
Immagine di copertina: © Facebook @myfestkreuzberg
https://berlinomagazine.com/wp-content/uploads/2017/04/10405302_801937013205675_2455780562347634491_n.jpg
720
960
Iole Basello
https://berlinomagazine.com/wp-content/uploads/2019/12/berlino_magazine_2019.png
Iole Basello
2017-04-28 19:00:58
2017-05-02 11:27:52
May 2017 events guide in Berlin day by day