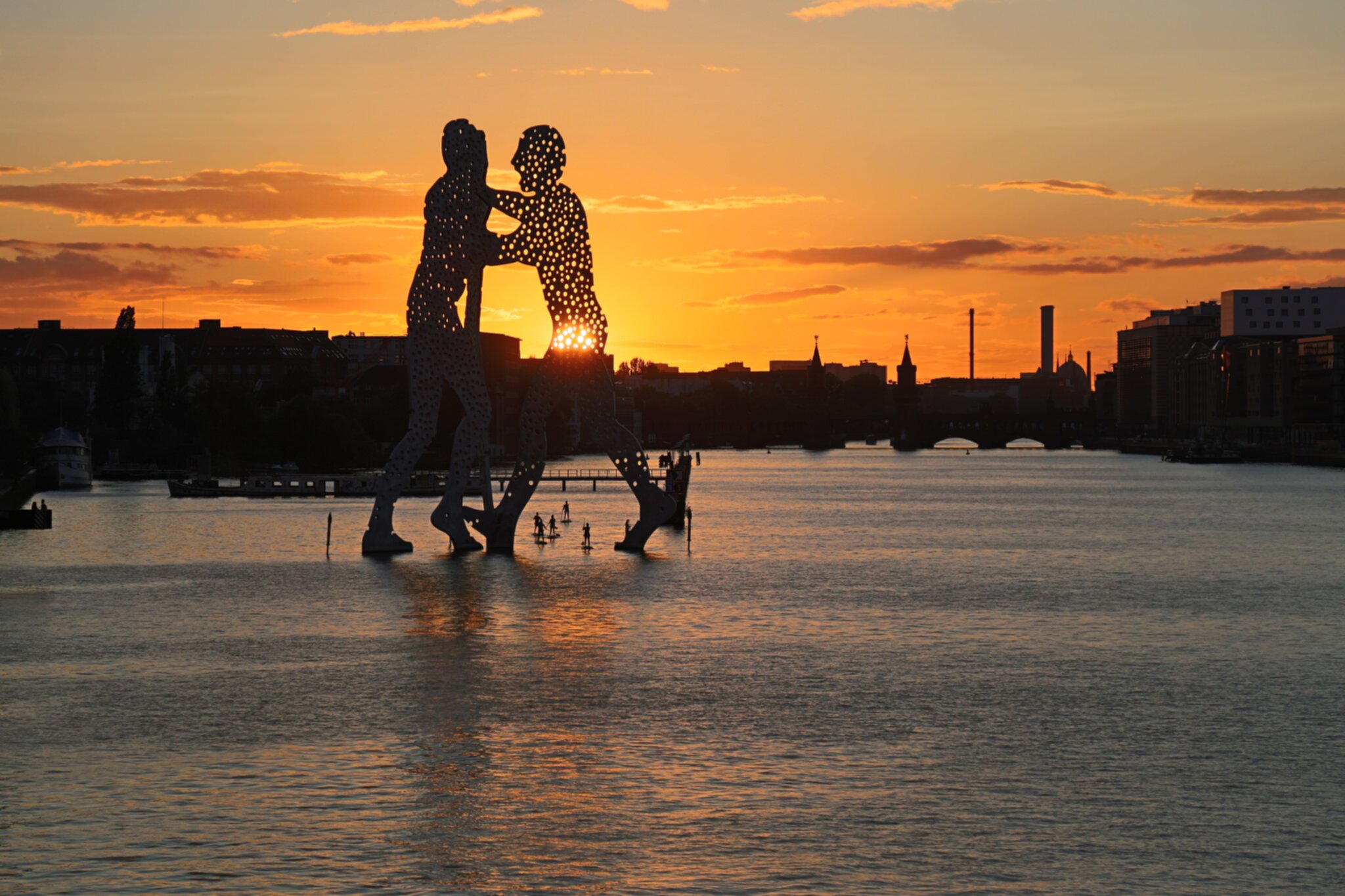 March 2017 events in Berlin day by day
March 2017 events in Berlin day by day
1st March
Wie fange ich an? Von kuratieren bis indiemagazine at Kulturfoerderpunkt Berlin
Artists and enterpreneurs meet to share their experiences and opinions on starting projects or start-ups in Berlin. They will be giving advice and answering questions.
New Jazz Vocal Workshop by singer Tamara Soldan
From 18.30 to 19.30 at Kreuzkölln you can join this workshop and learn all the secrets and techniques that Jazz music has to offer.
From 18.30 to 20.30 at DaWanda the artist Verena offers the chance to paint with him surrounded by music, drinks and food for those looking to spend their evening differently.
From 20.00 to 23.00 at KINO Cinephila – surprise movie#15 will be shown. Every month the cinema chooses a movie worthy to watch on the big screen but which, at its time of release, was not as successful as expected. The title will be revealed at the moment of the showing. Surprise!
From 23.55 to 11am Watergate presents Meet: You & O.
2nd March
From 20.00 to 00.00 at Ausland, do not miss the pop band Radula concert.
From 20.30 to 22 at Studio Я, Kosmos² Labor #11: Illustration and Visual Arts, an art show by artists who left their hometown to find success in Berlin.
From 21 to 1.00 the band Capannone will perform their last album "L'ultimo esperimento" (the Last Experiment) at OHM Berlin.
3rd March
From 11 to 15 we give you the chance to try our german courses with a free trial lesson at Berlino Schule.
From 18.00 to 20.00 at Madama Dorè, highlight of the event Art Night: Frida Kahlo in Neukölln. The artist Aura Raja Semran will show you how to create a piece of art with your hands.
From 19.00 at Adlershof theater, Franziska Trögners presents Szener einer Ehe: a performance with the best marriage scenes.
At Schiller theater from 19.30 the Staatsballet Berlin will perform Herrumbre.
From 20.00 to 23.00 at BKA-Theater the show by Kaiser & Plain Liebe in Zeiten von so lala will take place.
4th March
Ich cucino (I cook) Stammtisch Italo-Deutsch mit Lasagne and cannelloni. From 11 to 15 you can try the free trial cooking lesson by Berlino Schule in collaboration with the italian restaurant Jamme Ja (where the lesson will take place). You can learn to cook the Italian way and practice the language.
From 16.00 to 17.00 at Theater Jaro Berlin, the puppets show for families Waschtag bei Familie clown.
 The musical Planet OZZ (journey in the city of Emerald) will be shown from 16.00 to 18.00 at Zeiss-Grossplanetarium.
At 19.30 at Komische Oper Berlin a 5-act opera called Les Contes d'Hoffman will be performed. An opera in French and German about an artist lost in his fantasy.
From 20.00 to 23.00 Max Raabe & Palast Orchester will present his opera Das hat mir noch gefehlt at Admiralspalast Berlin.
From 19.00 to 1.00 at Arena Berlin free entry for the Spirit of Instanbul Festival 2017 organised by Yeni Raki. A festival to celebrate the bond between Berlin and Istanbul with Turkish fast food, photography exhibition and live cooking.
At P.A.N.D.A. Theater the russian poet Gorokhov will present the show Sometimes it's all so cool.
5th March
From 11:00 to 17:00 the Stoffmarkt Holland with more than 140 stands at Landsberger Allee/Ferdinand-Schultze-Strasse.
At 20.00 Macy Gray in concert with the only German date of her tour at Astra Kulturhaus Berlin
From 20.00 to 23.00 "DANCE\\\ Ruption" will choose dancers company to become choreographers.
6th March
6th-8th March from 19.30 to 20.30 the French circus "Nebula" will be at Berliner Festspieler.
From 20.00 to 22.00 Ingo Oschmann will show Quatsch Comedy
The Theatersport Berlin is an improvvisation show where actors take inspiration from the public suggestions. It is from 20.00 to 23.00 at BKA- Theater.
7th March
At Mehringhof-theater Marc-Uwe Kling will read the first chapters of his new novel "Quality Land" at 20.00 til 22.00.
8th March
8-12 March 2017 ITB:International Tourism Fair at Funkturm. From 10.00 to 18.00 one of the most famous Market trends and Innovation fairs.
8-12 March "Cantaricanta" 7 singers from Sardegna, Calabria and Corsica will be our guests in Berlin at Berlino Magazine.
From 19.00 to 22.00 i order to celebrate women's day, at the Evangelist church St. Johannis there will be the concert "konzert der 7 Säugerinner Traditionelle Vokalmusik".
9th March
Drake live: The Boy Meets world tour 2017 in concert from 20.00 at Mercedes-Benz Arena Berlin.
Max-Schmeling-Halle Berlin will host the show Lindsey Stirling at 20.00.
From 23:00 to 6:00 at Tube Station the Official OVO After Concert Party hosted by DVSN.
10th March
At 20.00 at Max-Schmeling-Halle Berlin the concert Broilers 2017 – Berlin.
From 20:00 at the Zeiss-Großplanetarium, Hörspielkino will present the show In 80 Tagen um die Welt (Around the world in 80 days).
From 20:00 to 23:00 the Version C band will perform at  KafèKöpenick.
From 20:00 to 6:00 at urban Spree the International Women's day will be celebrated with a music festival, Pink WAVES
11th March
10:00/17:00 at Gemäldegalerie the cultural debate Iran un die kunst der Moderne about International trends and traditions of Iranian culture in the 1960s and 1970s. Free entry and English language.
At 20 Columbia Halle presents TEESY- Wunschdirwas Tour 2017 Berlin.
From 23:00 to 11:00 at Ritter Butzke the Karneval de Purim (survival) the Jewish tradition meets Berlin techno music for a crazy night full of fun and alcohol.
At OHM Berlin Creamcake presents Smerz/Spinee/GIL/Keiska/Larry from midnight.
From 23 at Music & Frieden, GönnDir presents HipHop Party Berlin for its second birthday.
12th March
Nachspiel invites you all to Die Sonntags Afterhours at MAXXIME all day long.
From 14:00 to 20:00 at Wild at Heart there is a Rockabilly and Punk Flohmarkt.
The italian Raffaele Viviani will present his comedy musical about the "common" people of his city, Naples describing their passions and their pain. At Grüner Salon at 18.
At 19 don't miss the final concert at Ev. Kirche St. Johannis Mehrstimmige Gesänge Südeuropas by the 7 singers from Calabria, Sardinia and Corsica with Le Fazzolette (Hamburg), DonniSò and LaChorDi (Berlin) chorus.
From 23 to 8am Techno Party Reisegruppe Sonnenschein at Suicide Circus Berlin.
13th March
At 20 at Friedrichstadtpalast, the Irish folk music concert Maite Kelly – Seben Leben für dich (seven lives for you).
14th March
From 19:30 and on March 18th from 22:30 at Heimathafen Neukölln theater the doku-show Die NSU-Monologue.
Kehlani concert at Astra Berlin from 19:00.
Tinariwen concert from Lybia at Heimathafen Neukölln at 20:00.
15th March
Sabaton Concert starts at 19 at UFO Velodrom.
At 19 J Alvarez concert at Astra Berlin.
From midnight to 12pm Tresor.Berlin presents Tresor New Faces.
At 20:00 concert Dirk & Das Glück- Zöllner trifft Karma (album release tour) at Union Filmtheater.
[adrotate banner="34″]
16th March
From 19:30 at theater O-TonArt the Swedish actress and singer Zarah Leander presents the show World of Ludique! Zarah – die Sünde der liebe, about her life, to celebrate her birthday.
At 21:00 Huxleys Neue Welt and Trinity Music presents the Miliard concert (postponed).
17th March
At 20 the concert Betontod Revolution Tour at Huxley Neue Welt.
At Columbia Theater the show Berlin Blonde Redhead starts at 20:00.
Schnipo Schranke concert at Festsaal Kreuzberg at 20:00.
SO36 will host Clubmädchen Aumento from 20:00 till early morning.
Celebrate St. Patrick's Day at Badehaus Berlin from 21:00 to 4:00 with live music by Cobblestones ans The Rathmines.
From midnight to 6:00 at Sisyphos the show Pleasurekraft ׀ Drumcode/Kraftek.
18th March
Don't miss our free trial photography and street photography lesson at Berlino Schule from 14:30 to 17:00.
At 20 We Are The Ocean band will be in concert for their last performance together at Musik & Trieden.
The mime show Abschlussgala Mime will start at 19 at Acud Kunsthaus.
At 20:30 enjoy an hour of dancing by Modjan Hashemian. The show, Yeki bud yeki nabud is about myths and fairy tales at Studio Я.
At Adagio club the spring party Milica Pavlovic by Partibrejkers from 23:00 to 6:00.
19th March
From 18 and 22nd – 25th March at 19.30 at Deutsche Opera Berlin Benjamin Britten will present his 2-act play Death in Venice.
At the O-TonArt theater the show André Fischer: Maman und ich about gender identity will start at 18:00
From 14:00 to 17:00 at Geselleschaft zur Förderung der Gehörlosen Schon wieder kuckuck show for deaf people.
20th March
At SO36 old school club Rollerdisko on roller skates from 19 to 00.
At 19.30 and on 21st March at 21.30 at Theater im Palais the show Liberté mon amour: Monologe on Nizza beach about women with burqa at the beach.
21st March
Future Island in Berlin at Columbia Halle from 20:00.
Kollegah rap concert "Imperator Tour 2017" from 20:00 at Tempodrom.
You Me at Six from 19:00 to 22:00 at Columbia theater.
22nd March
From 19:00 to 21:00 at Studio Я Talking about backlash, debate about human rights.
Ein Abend in Nobelhart & Schmutzig mit Ame, Innervisions from 19:00 to 1:00 at Nobelhart & Schmutzig.
23rd March
From 23rd to 25th March at 18:00 the contemporary political and cultural debate Now is the time of Monsters – What comes after Nations? At Haus der Kulturen der Welt.
At 20 Tory Lanez concert at Astra Berlin.
24th March
40 showmen will entertain you at the Berliner Frühlingfest 2017 at Kurt-Schumacher Damm from 12 to 23:00.
Watergate party Mobilee back to back tour 2017 from 00 til 11am.
From 21:00 to 00:00 Golden Disko Ship, Condrad Schnitzler Schneider TM at Kantine am Berghain.
25th March
Kid Ink in concert at Columbia theater from 19.
At YAAM Berlin the party Mo:Dem Festival teaser Berlin 2017 from midnight.
Cantus Domus at Vollgutlager, Alte Kindl Brauerei presents Le Roi David KonzeptKonzert. Story of King David with music by Arthur Honegger, choreography by Christopher Winkler and dancers Ahmed Soura and Aloalii Naughton Tapu. From 20:00.
26th March
Discourse on immigration Kuenstlergesprach by Hasan Aksaygin and Yener Bayramoglu in English at 16:00 at Schwules museum.
27th March
Ed Sheeran concert at Mercedes-Benz Arena from 18:30.
19:30 at Astra Kulturhaus, Children of Bodom.
19:00 at Madame Claude the concert Experimontag: Anemone Tube/Monocube/ Ondula.
Birdy Nam Nam in concert at Lido Berlin at 20:00.
28th March
Korn concert at Velodrom starts at 18:0. Special guests: Heaven shall burn & Hellyeah.
At 20:00 the history of Audre Lorde in Berlin at Ballhaus Naunynstrasse In-between Performative Films.
Acud Macht Neu will host Dead Ladies Show at 20:00.
29th March
Lindsey Stirling concert at Zenith Strasbourg starts at 19:00.
At Cassiopeia the event Fences + Pauwel de Meyer at 19:00.
20:00 at Fabriktheater Moabit, the Premiere of Stormwinds of Passion.
Bilderbuch Magic Life tour at Columbia Halle from 20:00 to 23:00.
30th March
Hamburger Banhof will host Malkunst im IX Jahrhundert – Die Sammlung der Nationalgalerie (The new IX century collection of the National Gallery) from 10:00 to 23:00.
Giegling im Funkhaus from 18:30 at Funkhaus Berlin.
18:30 the OCEAN FILM tour will be shown at Cinemaxx in Potsdamer Platz.
TheVitalic party at GRETCHEN club from 20:00 to 00:00.
31st March
At the Nomad Gallery the Eröffnung "Body Mechanic" von Vaughn Beneteau and his strong passion for Art starts at 19:00.
[adrotate banner="34″]
SEGUI TUTTE LE NEWS SU BERLINO, SEGUI BERLINO MAGAZINE SU FACEBOOK
Cover photo: © Pascal Volk CC BY-SA 2.0
https://berlinomagazine.com/wp-content/uploads/2014/02/28823856321_21d4bd58e2_k.jpg
1365
2048
costanza
https://berlinomagazine.com/wp-content/uploads/2019/12/berlino_magazine_2019.png
costanza
2017-03-01 12:25:04
2017-07-19 12:45:26
March 2017 events in Berlin day by day