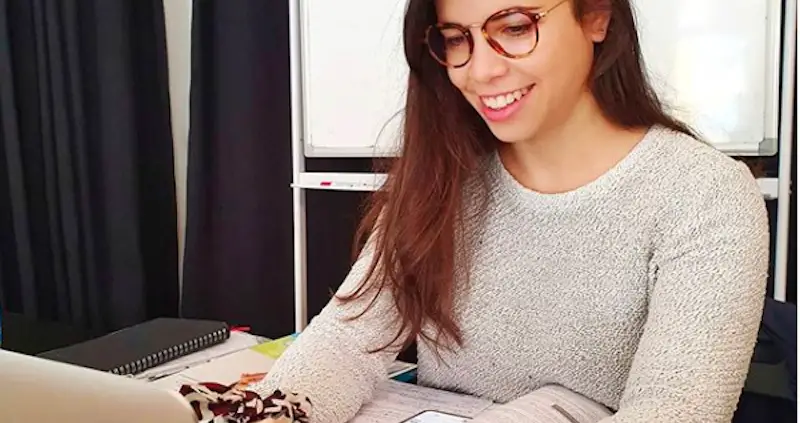 Berlino Schule
Intensive German courses for small groups on Skype until April 3rd: 192€ with a certificate of attendance for your resume
Berlino Schule, one of the best online-rated language schools in Germany
, is offering Skype German courses
Make the best out of your free time at home and learn or improve your German with one of the best language schools in Berlin. Berlino Schule, well known for its Google (4.9/5) and Facebook (5/5) high ratings and positive reviews, is giving you the chance this month to do it comfortably from your couch. Since the very beginning, the school has been working with proper classes based in Berlin and on Skype, helping hundreds of people to make their first steps into the German working scene. But German isn't useful only abroad. Even in your own country, this is something that can give a kick to your personal and professional life.
At the small price of €192, you will have the chance to follow a 45 hrs course and complete a half language level (by half language level we mean A1.1, A1.2, A2.1 and so on).
The available levels
Berlino Schule offers a whole range of levels, from the very beginners (A1.1) to the most advanced ones (C2), as well as guided preparation for the TELC exam (a high requested certification from every German university).
Language certification: for your resume or your university CFU
After every online course, Berlino Schule releases a certificate of attendance that can be attached to your personal resume and sometimes cover some university language credits.
Berlino Schule Skype courses
For the next few weeks, Berlino Schule is offering two different kinds of German classes.
Private lessons: 28€ for single classes or 25€ (each) for a package of 10 units.
The first available option is the standard private class offer. The price is 28€ for each academic hour (a didactic unit consists of 45 minutes). For everyone going for the 10 units package, you can receive a discounted price of 25€ each. A trial class for 25€ is also provided if you decide to continue with the 10 units offer. Private classes can be scheduled in advance at any time of the day, from Monday to Saturday.
Intensive German courses for small groups: 192€ for a 45 hours class.
Intensive German courses on Skype for 192€. It's the Berlino Schule new offer starting from March 19th until April 3rd. A total of 45 academic hours (45 minutes each) from Monday to Friday. Each course can accept a maximum of 8 students. The teacher goes online with the students of the course, covering topics such as grammar, conversation, vocabulary and exercises. Every student will be able to interact and write during the whole lesson.
The Skype collective classes are taking place from March, Thursday 19th until April, Friday 3rd.
Available courses:
A1.1 (beginners): from 2:30 pm to 5:20 pm
A2.1: from 2:30 pm to 5:20 pm
B1.1: from 9:30 am to 12:20 pm
C1.1: from 2:30 pm to 5:20 pm
How to book your class
Send an email to info@berlinoschule.com and ask for details. Pay via bank transfer or with your credit card.
Read the Italian version of the article!

Non perderti foto, video o biglietti in palio per concerti, mostre o party: segui Berlino Magazine anche su Facebook, Instagram e Twitter! 
https://berlinomagazine.com/wp-content/uploads/2020/03/Schermata-2020-03-16-alle-13.39.36.png
709
800
Francesca Caglio
https://berlinomagazine.com/wp-content/uploads/2019/12/berlino_magazine_2019.png
Francesca Caglio
2020-03-16 16:31:11
2020-03-16 18:11:41
Intensive German courses for small groups on Skype until April 3rd: 192€ with a certificate of attendance for your resume