True Italian Pizza Week: enjoy a pizza and a spritz at 12€ for a whole week in the 30 best pizzerias of Berlin
30 pizzerias, one week, one fixed price: True Italian Pizza Week Berlin is a celebration of the best and authentic pizzas in Berlin.
Pizza with salsiccia, friarielli and cacio cavallo cheese or with fior di latte and lardo; with yellow tomatoes sauce, anchovies, nduja and pecorino; with mortadella, chopped pistachios and buffalo stracciatella; even with pumpkin strips, walnuts and mascarpone or a calzone with ricotta, provola cheese, bacon and spicy salami: these are just a few of the pizzas offered during this year True Italian Pizza Week. But the real scoop of this year is the location, in fact, the 2020 event is taking place in 8 other cities in Germany alongside Berlin: Hamburg, Cologne, Leipzig, Frankfurt, Düsseldorf, Stuttgart and Munich! When? from October 15th until the 21st. The aim of the event is to celebrate and show everyone tone of the main symbola of the Italian gastronomic culture, which since 2017 – in its Neapolitan form- is a Unesco World Heritage.  The number of involved pizzerias, ingredients and types of doughs used are huge but we always stick to one easy equation: one authentic italian pizza – to be choosen between two –  along with a glass of Aperol Spritz for 12€ only.
Read this article in Italian or German.
True Italian Pizza Week, how it works
the 4th edition of the True Italian Pizza Week Berlin will take place from October 15th until October 21st in all of the 30 participating restaurants (and simultaneously in Hamburg, Cologne, Leipzig, Frankfurt, Düsseldorf, Stuttgart and Munich). Taking advantage of the offer is so easy: visit one of the participating restaurants during the event's week and ask for the True Italian Pizza Week menu with two different pizza varietions (a vegetarian or vegan option is always available), and an Aperol Spritz or an alcohol-free drink for 12€ only. Scroll down to read the full list of the participating restaurants. But that's not even all! By taking part in our event it's also possible to win a trip to Naples (flights and hotel for 2 people). You just have to post a picture on your Instagram profile. More info coming soon!
True Italian Pizza Week, the map
During the True Italian Pizza Week's 7-days festival, Berliners will be provided with a city metro map in which the stations are replaced by the pizzerias taking part with their pizza offer. On the front of the flyer, you can also find the list of the participating restaurants together with their opening times, addresses and pizza offers. The map will be available in all participating restaurants and in our office in Gryphiusstr. 23 in Friedrichshain starting from 10 days before the event, as a JPEG at this link, and on Google Maps. Save the map for your next pizza nights, also outside the event!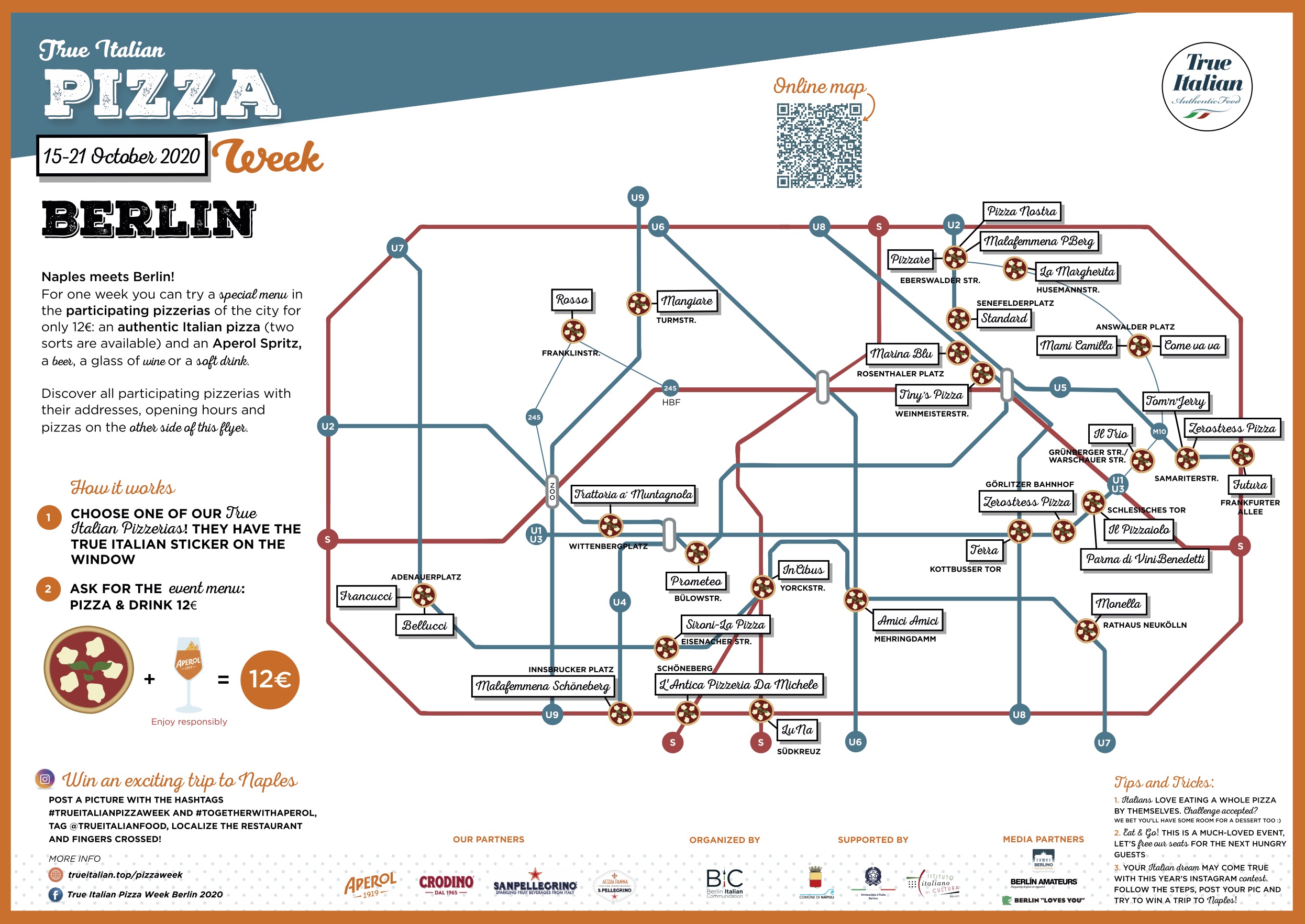 True Italian Pizza Week, organizers and partners
The event is organized by Berlin Italian Communication within the project True Italian in collaboration with Campari Deutschland. It is also supported by the Italian Embassy in Berlin, the Municipality of Naples and the Italian Culture Institutes of Berlin, Hamburg, Munich, Cologne and Stuttgart. Partners in Berlin are also Acqua Panna and San Pellegrino.
The True Italian Project
True Italian is a network that aims to preserve authentic Italian restaurants found in Berlin through its brand (registered in the Deutsches Patent und Markenamt, the German patent and trademarks office), as well as a number of other initiatives and events held throughout the year. The project is pursued by Berlin Italian Communication/Berlino Magazine, a point of reference for the Italians and all those passionate about Italy who find themselves in Berlin. True Italian is made up of all the ambassadors of Italian cuisine who, starting from the product selection, show their passion for spreading the culture of "good eating". When we talk about True Italian, not only do we focus on the chef/owner's nationality but also on their approach to food. Creativity in the recipes and high-quality ingredients: these are the key focus points for True Italian restaurants.
True Italian Pizza Week Berlin
15th – 21st October 2020
Facebook event – Facebook page – True Italian website
Participating restaurants, addresses, opening times and offers
 MITTE 
Marina Blu

Weinbergsweg 8a, 10119 Berlin

Everyday 12-23

White pizza with porcini mushrooms and taleggio cheese OR Pizza with salsiccia, friarielli and cacio cavallo fondue
Standard

Templiner Str. 7, 10119 Berlin

Tuesday-Friday 17-19, Saturday-Sunday 17-19 (upon reservation only)

Pizza Salami with tomato sauce, fior di latte and Napoli salami OR Pizza Vegana with tomato sauce and mixed seasonal vegetables
Tiny's Pizza @ Piccolo Giardino

Rosenthaler Str. 36, 10178 Berlin (Rosenhöfe)

Monday-Saturday 17-22, closed on Sunday

Marinara Pecorino & Parmigiano with tomato sauce, cherry tomatoes, oregano, basil, garlic, olive oil, parmigiano and pecorino (vegan option available) OR Margherita Salsiccia with tomato sauce, fior di latte, basil, parmigiano, fennel salsiccia and olive oil
MOABIT
Mangiare

Arminiusstr. 2-4, 10551 Berlin (in the Arminius Markthalle)

Everyday 12-18, from 18 to 23 only to-go

Pizza with fior di latte and Caserta black pork lard OR Pizza Ortolana with fior di latte and baked eggplants, zucchini and peppers (also available vegan) + unfiltered Ichnusa beer
CHARLOTTENBURG
Bellucci

Brandenburgische Str. 35, 10707 Berlin

Monday-Saturday 11-17.30, Sunday 17-24

Pizza with tomato sauce, mozzarella, fresh eskarole and lard from Colonnata OR white pizza with mozzarella, walnut cream, duck carpaccio and pistachios from Bronte
Francucci

Kurfürstendamm 90, 10709 Berlin

Monday-Saturday 12-23, Sunday 16-22

Focaccia alla zucca with roasted bacon, pumpkin sticks, walnuts and mascarpone OR Focaccia melanzane e bufala spicy eggplants with buffalo mozzarella and extra-virgin oil
Rosso

Helmholtzstr. 24, 10587 Berlin

Monday-Friday 11:30-14:30 and 18-21, closed on Saturday and Sunday

Pinsa with salami from Calabria and broccoli OR Pinsa Arrabbiata with hot tomato sauce, pecorino cheese, garlic and chillies + red or white wine or soft drink
PRENZLAUER BERG
Come va va

Danziger Str. 144, 10407 Berlin

Tuesday and Saturday 17-23, Wednesday-Friday 12-23, Sunday 14-22, closed on Monday

La Piccantina with tomato sauce, mozzarella, spicy spianata romana salami and 4 cheese cream OR La Contadina with tomato sauce, mozzarella, mushrooms, artichokes und cherry tomatoes (also vegan without mozzarella)
La Margherita

Danziger Str. 35, 10435 Berlin

Tuesday-Sunday 17-23, closed on Monday

La Ligure with mozzarella, basil pesto and cherry tomatoes OR La Zuccotta with mozzarella, pumpkin cream, bacon, ricotta and zucchini
Malafemmena PBerg

Danziger Str. 16, 10435 Berlin

Monday and Wednesday-Sunday 16-23, closed on Tuesday

Pizza with goat cheese cream, caramelized Tropea onions, provola cheese and rocket OR Pizza with tomato sauce, mozzarella, spicy spianata salami and ricotta flakes
Mami Camilla

Hufelandstr. 36, 10407 Berlin

Monday-Friday 17-23, Saturday-Sunday 12-23

Pizza with pumpkin cream, fior di latte, salsiccia and gorgonzola OR Pizza Marinara with vegetables and salted ricotta
Pizzare

Eberswalder Str. 21, 10437

Thursday-Sunday 17-22:30, closed on Monday, Tuesday and Wednesday

Pizza Porcini e Patate with porcini mushroms sauce, rosemary roasted potatoes, mozzarella Fior d'Agerola and Parmigiano Reggiano (24 months aged) OR Pizza Porcini e Salciccia di Norcia with porcini mushroms sauce, Norcia's sausage, mozzarella Fior d'Agerola and Parmigiano Reggiano (24 months aged)
VEGAN OPTION: Vegan Pizza Porcine e Patate (+3 €) with porcini mushroms sauce, rosemary roasted potatoes, bio vegan mozzarella
Pizza Nostra

Lychener Str. 2, 10437 Berlin

Everyday 17-21

Pizza with mozzarella, ricotta cream, salami, scamorza cheese and pepper OR Pizza with mozzarella, ricotta cream, zucchini, rocket and pepper + soft drink or beer
KREUZBERG
Amici amici

Mehringdamm 40, 10961 Berlin

Everyday 15-22:30 (upon reservation only)

Pizza with tomato sauce, mozzarella, porcini mushrooms, scamorza cheese and sausage OR Pizza with tomato, mozzarella, fresh spinach, gorgonzola and walnuts
Il Pizzaiolo

Schlesische Str. 28, 10997 Berlin

Everyday 12-22

Donna Sophia with zucchini cream, fior di latte, anchovies and yellow Piennolo tomatoes from Vesuvio OR Positana with pumpkin cream, smoked provola, salsiccia and thyme
InCibus

Monumentenstr. 26, 10965 Berlin

Tuesday-Sunday 17-23, closed on Monday

Pizza with mozzarella, Norcina salsiccia, sautéed Chiodini mushrooms and raw parmesan OR pizza with mozzarella, soft goat cheese, beetroot cream and walnuts
Parma di ViniBenedetti

Wrangelstraße 90, 13347 Berlino

Everyday 12-24

Pizza with mozzarella, rocket, fresh tomato, pecorino cheese and pancetta OR Pizza with tomato, mozzarella and peppers
Terra

Grimmstr. 1, 10967 Berlin

Monday-Friday 15-22, Saturday 13-22, Sunday 12-22

The Black Pecorina with yellow tomato sauce, anchovies' nduja and pecorino OR Die Heiße Vegane with green sauce, season veggies, garden herbs, almond ricotta and hot chili + beer
Zerostress Pizza

Lausitzer Platz 10, 10997 Berlin

Everyday 17-22

Calzone Tradizionale with ricotta, provola, pancetta and spicy salami OR Calzone Primavera with ricotta, rocket, dried tomatoes, olives and pecorino
FRIEDRICHSHAIN
Futura

Bänschstr. 91, 10247 Berlin

Offer available on: Tuesday-Thursday 17-23 (upon reservation only), Friday-Sunday 17-19, closed on Monday

Pizza Futura with San Marzano tomato sauce, buffalo mozzarella, provolone del Monaco and basil OR Pizza Salame with San Marzano tomato sauce, mozzarella, basil and Napoli salami
Il Trio

Simon-Dach-Str. 39, 10245 Berlin

Everyday 12-24

White pizza with mortadella, pistachio grains and buffalo stracciatella OR Pizza Bufalina with buffalo mozzarella, cherry tomatoes and basil
Tom 'n' Jerry

Proskauer Str. 13, 10247 Berlin

Everyday 16-23

Pizza Calabria with fiordilatte mozzarella, tomato sauce and salami from Calabria OR Pizza Vegi with fiordilatte mozzarella, tomato sauce and grilled vegetables
Zerostress Pizza

Colbestraße 3, 10247 Berlin

Everyday 17-22

Pizza Bufala Lovers with tomato sauce, buffalo mozzarella, artichokes and coppa OR Pizza Veggie Bufala with tomato sauce, buffalo mozzarella, artichokes and olives
NEUKÖLLN
Monella

Weichselstr. 17, 12045 Berlin

Monday and Wednesday-Sunday 18-24, closed on Tuesday

Pizza Monella with San Marzano tomatoes, fior di latte mozzarella from Agerola, Pachino tomatoes, fresh basil and buffalo mozzarella OR Pizza Zio Pepe with fior di latte mozzarella from Agerola, caciocavallo, pecorino and burratina
SCHÖNEBERG
L'Antica Pizzeria Da Michele

Fritz-Reuter-Str. 7, 10827 Berlin

Monday-Saturday 17-23, Sunday 15-23

Fried pizza in the oven with tomato sauce, mozzarella, cicoli, raw ricotta flakes, pecorino and basil OR Pizza Ortolana with tomato sauce, mozzarella, fried aubergines, peppers and friarielli (also available vegan)
LuNa

Gotenstr. 18, 10829 Berlin

Monday-Friday 12-23, Saturday-Sunday 16-23

Pizza with fior di latte, pumpkin cream, gorgonzola and fennel sausage OR Pizza with fior di latte, pecorino cream, mushrooms and radicchio
Prometeo

Goebenstr. 3, 10783 Berlin

Tuesday-Sunday 12-22, closed on Monday

Pizza Tuscania with tomato sauce, mozzarella, homemade fennel sausage and Tuscan pecorino ODER Pizza Bufala&Pomodorini with tomato sauce, buffalo mozzarella and fresh cherry tomatoes
Sironi – La Pizza

Goltzstraße 36, 10781 Berlin

Everyday 12-19

Pizza Salina with tomato sauce, anchovies and capers OR Pizza Sironi Special with mozzarella, saffron and sausage
Trattoria a' Muntagnola

Fuggerstraße 27, 10777 Berlin

Everyday 17-23

Pizza with mozzarella, mortadella and pistachio pesto OR Pizza with pumpkin cream, pesto from Basilicata and figs
Malafemmena Schöneberg

Hauptstr. 85, 12159 Berlin

Monday and Wednesday-Friday 16.30-23, Saturday-Sunday 12-23, closed on Tuesday

Pizza Papaccelle with fiordilatte, papacelle (typical Neapolitan peppers), olives, capers, anchovies and basil (also vegetarian) OR Fried pizza in the oven with nduja cream, ricotta and basil
Studia tedesco via Zoom/Skype con lezioni private o collettive, corsi da 45 ore collettivi (max 8 persone) a 192 €. Scrivi a info@berlinoschule.com o clicca sul banner per maggior informazioni

Non perderti foto, video o biglietti in palio per concerti, mostre o party: segui Berlino Magazine anche su Facebook, Instagram e Twitter
Immagine di copertina: True Italian
https://berlinomagazine.com/wp-content/uploads/2020/09/copertina-true-pizza-week.jpg
1365
2048
Francesca Caglio
https://berlinomagazine.com/wp-content/uploads/2019/12/berlino_magazine_2019.png
Francesca Caglio
2020-09-20 10:30:02
2020-10-16 11:21:07
True Italian Pizza Week: enjoy a pizza and a spritz at 12€ for a whole week in the 30 best pizzerias of Berlin