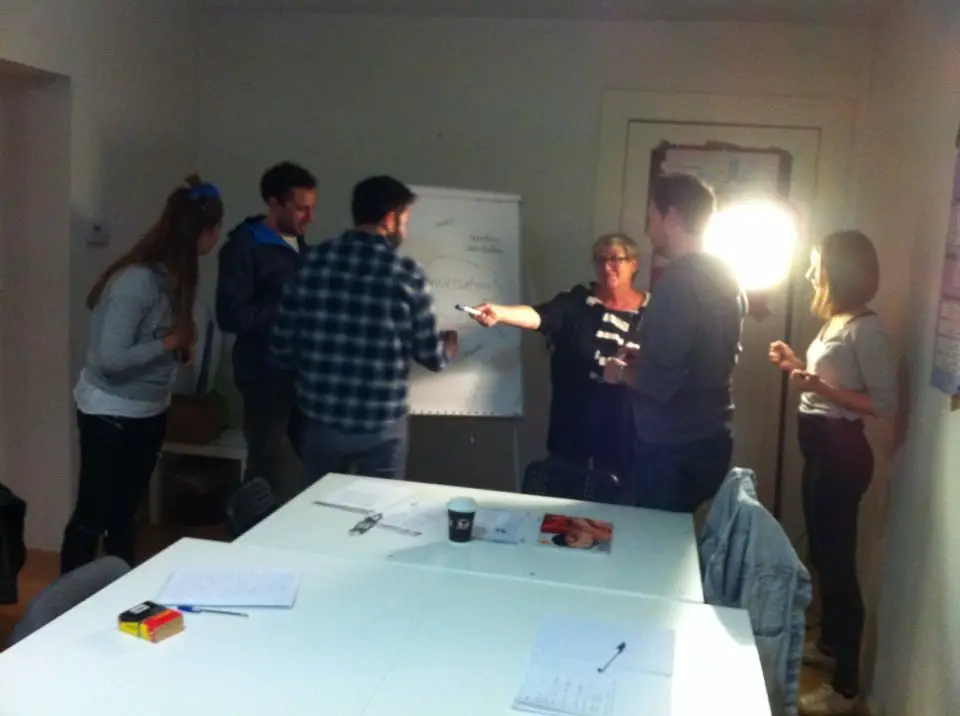 Improve your German – probably already enough to live in Berlin, but not to feel fully integrated in the dinamics of the city – with two lessons a week, Tuesdays and Thursdays from 18:30 to 21:00. A new evening course of Berlino Schule (German school in Berlin C & P Magazine) then, for achieve the B1.1. The first lesson will take place on Tuesday the 6th of October and scheduled to end on December 10. The teacher, Rainer Blankenbur, is a native speaker and a former professor of the Volkshochschule with years of experience in teaching languages. The group will be a maximum of 6 people. Anyone who participate will have discounts and benefits to all events of Berlino Cacio e Pepe Magazine, the language/cooking tandem Ich cucino, theater shows and so on.
Here all the details:
EVENING COURSE OF GERMAN LANGUAGE – B1.1
From the 13th of October to the 17th of December
48 hours total. Every Tuesday and Thursday from 18:30 to 20:45
Program :The evening course in German language provides 48 hour total of teaching, divided into two evenings class a week (Tuesday and Thursday) with 3 hours lessons. As like every language schools for hours it means units of 45 minutes (defined by the Common European Framework of Reference for Languages)
Hours: 18:30 – 20:45
Dates :The German course B1.1 will take place from Tuesday September 29 to Thursday December 10.
Target: The course's goal is to learn quickly the basics to understand and use the everyday expressions and to be able to communicate and interact through concepts and complex grammatical constructions.
For who is the course: If you arrive in Berlin with the aim of reaching as soon as possible a good level of German. Or for those who work in the evening hours and needs a crash course that takes place in the morning.
Certificate: At the end of the course you will receive a certificate of attendance.
Skills required: A previous knowledge of German (having already taken the course at A2.2 to Berlino Cacio e Pepe Magazine school or other language schools)
Where: At the headquarters of Berlin Cacio e Pepe Magazine (Gryphiusstr. 23) in the neighborhood of Friedrichshain – one of the most beautiful, vibrant and safe district of Berlin- just few steps from the East Side Gallery, the longest consecutive stretch of wall still standing, among the major attractions of the the city.
The teachers: Classes will be taught by native teachers. At the head of the teachers is a native German speaker with 15 years of experience of teaching at the Goethe Institut that will alternate with an another teacher with proven experience and ability.
Prices and Subscriptions: Language course: 240 Euro including VAT (Cost pro hour: 5 Euro)
Entry fee: (valid for all courses of Berlino Cacio e Pepe Magazine): 20 Euro *
For registrations and more informations please contact: redazione@berlinocacioepepemagazine.com
* The 20 euro fee of registration is valid for the whole year from September 2015 to June 2016. You only pay once for whatever course you want to follow from the entire choice Berlin Cacio e Pepe Magazine courses (theater, photography, creative writing etc..). The payment of these 20 € will be issued the card "Berlino Cacio e Pepe Magazine" which provides also discounts at various businesses affiliated Berlin (restaurants and cafes).
https://berlinomagazine.com/wp-content/uploads/2015/10/12019916_10206453399546391_7193781660318173664_n.jpg
716
960
Giulia Baroni
https://berlinomagazine.com/wp-content/uploads/2019/12/berlino_magazine_2019.png
Giulia Baroni
2015-09-30 09:33:53
2017-07-27 17:16:55
The German evening course B1.1 in Berlin. Maximum 6 participants. Here all the info