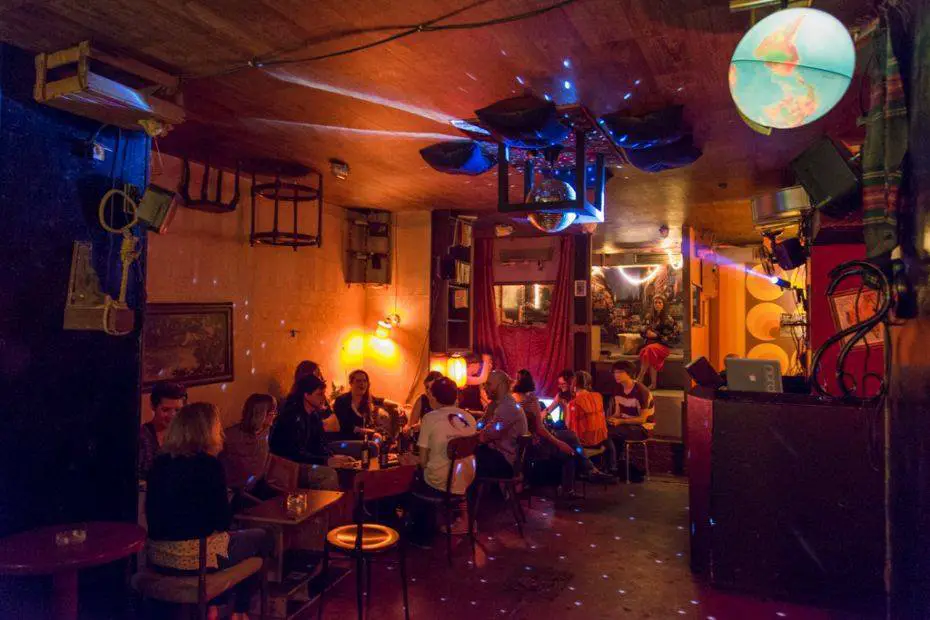 In the heart of Kreuzberg lies one of Berlin's most fascinating bars.
Once upon a time a brothel, but today one of the city's trendiest bars, Madame Claude is exactly the sort of hidden gem you would hope to find when in Berlin. Located in the trendy neighbourhood of Kreuzberg this place is going to flip you upside-down, literally. The bar can be found on Lübbener Straße, not far from Schlesisches Tor and was opened in 2008 by three friends who decided to quit the rat race and move to the German capital turning everything they had ever known on its head. The bar has one of the most interesting interior designs in the city, it is decorated like a flat with bookshelves, tables and chairs and even shoes lying around; there's just one small catch… everything's on the ceiling.
Come for the decor, stay for the vibe
Madame Claude has one of the most interesting interiors you could wish for but it doesn't stop there. Open 7 days a week the bar/music-club organises different events every night of the week ranging from Monday's Experimontag to Sunday's Open Mic. The bar's slogan is "bar for common people" and it's just that; to enter you are asked to make a small donation that can be anything from 1 to 5 euro and there is a decent selection of drinks to choose from at very competitive prices. The place prides itself on its music and it's right to. With an impeccable sound-system and a variety of genres that go from indie rock to folk there is always something for everyone.
What to expect?
Whatever you expect to find you are in for a hell of a lot more, as you go down the steps you already get the feeling that you're in for a surprise. The atmosphere is incredibly chilled making you feel at home from the word go, the first thing that hits you is the table and chairs stuck to the ceiling but it doesn't stop there. As you sip your beer and take in your surroundings you begin to notice one quirky detail after another, a pair of shoes catches your eye stuck to the roof in the corner, then you notice a book, a set of keys, and before you know it you are searching the room eyes wide open counting how many perky details you can spot. While ordering your drinks you notice beer bottles on the ceiling, the security video is the wrong way round and the list is just never ending.
Whatever tickles your fancy, at 19 Lübbener Straße Madame Claude has something for everyone, even for those who prefer just chilling at home on their ceiling.
Lübbener Str. 19, 10997 Berlin
Opening times: everyday from 7 pm on
E-Mail: mme.claude@gmail.com
[adrotate banner="34″]
SEGUI TUTTE LE NEWS SU BERLINO, SEGUI BERLINO MAGAZINE SU FACEBOOK
Foto di copertina © Madame Claude Facebook page
https://berlinomagazine.com/wp-content/uploads/2017/03/11043007_1036746443019442_8468255362113466410_n.jpg
620
930
joshua
https://berlinomagazine.com/wp-content/uploads/2019/12/berlino_magazine_2019.png
joshua
2017-04-04 12:07:28
2017-07-27 17:27:50
Madame Claude, Berlin's upside down bar