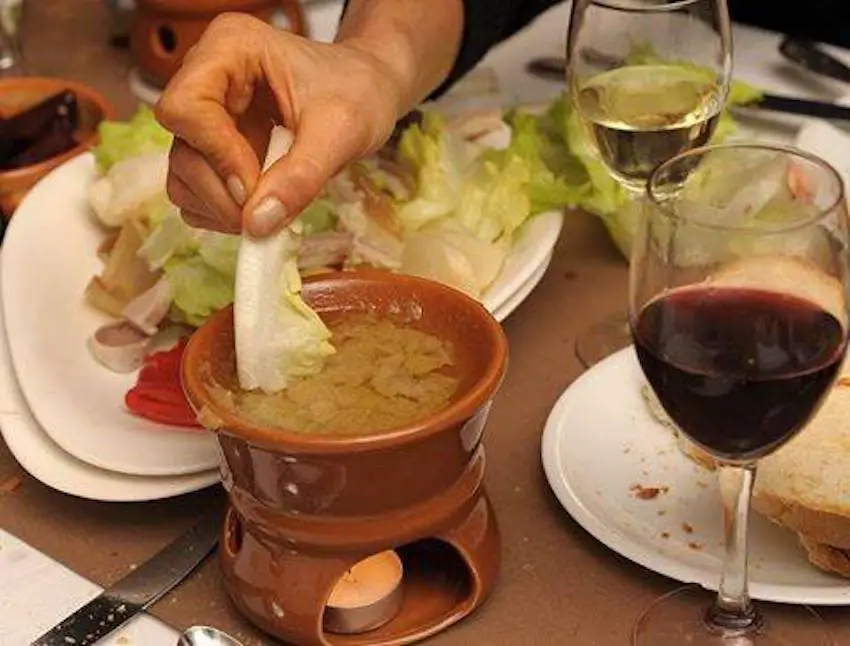 Bagna Cauda Day arrives in Berlin. At Facciola you will lick your chops
Berlin will feel like Italy, especially like Asti, Monferrato, Roero, Langa, Val d'Aosta, Liguria and Piemonte regions more in general. The Bagna Cauda Day is coming to the German capital as well. It is a big event that wants to celebrate the Piedmontese recipe. For more than 25 hours, starting from 7pm, from Friday night, November 25th to Saturday night, November 26th at Facciola, a cozy wine bar in the heart of Kreuzberg, you can accompany that typical dish with a glass, or even a bottle of a good wine (Facciola will offer some bottles of Barbera d'Asti PI-CIT 2015, canteen "La Montagnetta" for only 13€). The procedure to partecipate is easy: for 20€ you can have a bagna cauda with vegetables, a glass of Barbera (0,1l), a malox to aid digestion and a vademecum about Bagna Cauda.
The event will be held in many Italian cities at the same time (logically in the north and north-west) with a high concentration around the Asti area. Facciola is the only European bar to participate out of the "Bel Paese", meanwhile around the world the Bagna Cauda will be celebrated also by Pane e pizza Don Carlo (Heredia, Costa Rica), Roby Anne's Lodge (Nuku'alofa, Regno di Tonga), B&B Villa Cavour (Point Vernon Hervey Bay Queensland, Australia), Trattoria I Bologna (Wakayama, Giappone) and Osteria Stefano Lubiana (Tasmania, Australia).
The Bagna Cauda's history. Facciola describes it to us. "It's a modest, poor dish, typic of the colder seasons of the year. It appeared for the first time in Piemonte, made with two common ingredients: garlic and anchovies. There, salt and olive oil (or nuts oil, as the legend says) were very spread. Many merchants and artisans used to walk through Provenza and Rodano, taking with them some salty anchovies. At the beginning the "bagna cauda" was not appreciate from high class people because of the smell that leaves in the mouth. So it was a really poor dish, reserved to peasantries. Someone says that it is the successor of "sapor rusticorum", a typic medieval warm dish, which was creamy and dense as bagna cauda is. Today there are many different variation of the dish, more or less heavy than the ancient recipe. Now the Bagna Cauda is back on the table of lots of people all around the world.
The place. Facciola opened in January 2015 and it is a wine bar with one of the most interesting menu, for the quality  and quantity of its offer. Aurora, the founder, is able to engage everyone when it comes to wine or when it is time for a toast or for having a nice happy and convivial evening with glasses full of wine, and regardless of the language used, Italian (she is from Piemonte region), English or German. After all, to be Ambassador of a very "sociable" dish as Bagna Cauda is, it could not be any different.
Bagna Cauda Day – Berlin
Friday 25 November from 7 pm onwards
Saturday 26 November from 6 pm onwards
c/o Facciola
Forster Str. 5, 10999 Berlin – Kreuzberg
Advanced booking is recommended calling 0176 30368903 or by email: info@facciola-berlin.de
Price: 20€ per person, included Bagna Cauda with no limits vegetables, a glass of Barbera wine (0.1l), a Malox pill to aid your digestion and a Vademecum about Bagna Cauda. With 5€ more you can buy a gag made for the event.
[adrotate banner="34″]
Photo © http://www.rivistae20.com/
https://berlinomagazine.com/wp-content/uploads/2016/11/bagnacauda-1.jpg
646
850
Alessandra Giacopini
https://berlinomagazine.com/wp-content/uploads/2019/12/berlino_magazine_2019.png
Alessandra Giacopini
2016-11-17 15:26:50
2017-07-19 12:45:29
Bagna Cauda Day arrives in Berlin. At Facciola you will lick your chops