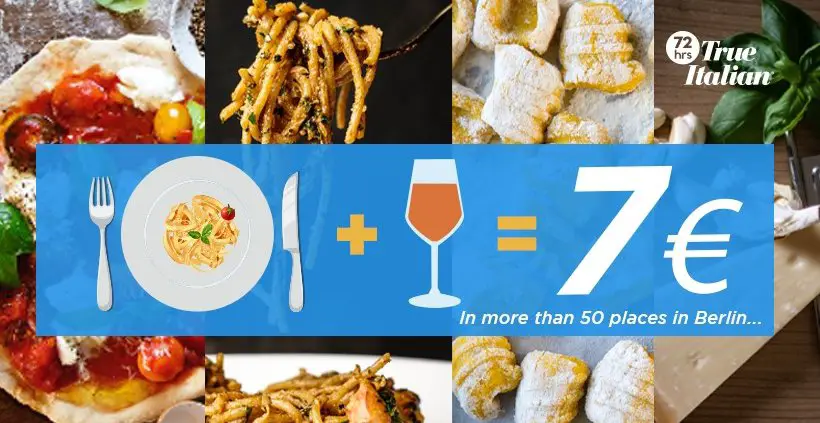 72 hrs True Italian Food Festival, the biggest party of the Italian gastronomy in Berlin (and Hamburg)
55 Italian restaurants, four days and one single price of 7€: it's the long-awaited fourth edition of the 72 hrs True Italian Food Festival.
From Venetian baccalá mantecato (creamy salted codfish) and sarde in saor (sweet and sour sardines), through Piemontese bagna cauda, cappelletti filled with 30 months aged parmesan and tigelle from Emilia Romagna, Roman supplì and pinsa, Apulian focaccia with burrrata and turnip tops, to the Sardinian culurgiones (ravioli filled with pecorino cheese, potatoes and mint) and Sicilian arancini, panelle, caponata, parmigiana di melanzane and much more: a big party of the Italian cuisine is about to take over Berlin! Starting on Wednesday, September 18th at 5 PM, until Saturday evening, September 21st, 55 Italian restaurants, pizzerias and wine bars will offer a small portion of a selected Italian regional specialty together with an Aperol Spritz, Campari Amalfi (or something else to drink) for just 7€. The event's goal is to spread the Italian culinary culture abroad, with a focus on special dishes that are not so well known outside of Italy.
Are you looking for information about the event in Hamburg? Then please follow this link.
Read this article in Italian, German and French.
The 72 hrs True Italian Food event
To try one of the 55 different combinations of specialties in the True Italian restaurants, the only thing you need to do is to visit one of them, between Wednesday and Saturday evening, and order the True Italian specialty. All these places will also offer their regular menu dishes. Every client will have the chance to choose to stay and try something else or switch to another True Italian restaurant. The event is organized by Berlin Italian Communication within the True Italian project. It's sponsored by Campari, Aperol Spritz, Averna, Acqua Panna, San Pellegrino, Moretti Forni, NordCap and PLUS.
The map
In order to facilitate the tasting tour, we created the 72 hrs True Italian Food map: a Berlin metro map that indicates the location of every place participating at the event. On the other side it will allow you to check all the restaurants' addresses, as well as their opening times and their True Italian specialty. The map will is now available as a online PDF file and on Google Maps and soon also as a flyer that you can find in all the participating restaurants or at the True Italian office in Gryphiusstr. 23, Berlin Friedrichshain. Don't throw the map after the event: you can use it all year long to find the best Italian restaurants in Berlin!
Download the map as PDF by clicking here.
True Italian Project
True Italian is a network that aims to preserve authentic Italian restaurants found in Germany through its brand (registered in the Deutsches Patent und Markenamt, the German patent and trademarks office), as well as a number of other initiatives and events held throughout the year. The project is pursued by Berlin Italian Communication/Berlino Magazine, a point of reference for the Italians and all those passionate about Italy who find themselves in Berlin. True Italian is made up of all the ambassadors of Italian cuisine who, starting from the produce selection, show their passion for spreading the culture of "good eating". When we talk about True Italian, not only do we focus on the chef/owner's nationality but also on their approach to food. Creativity in the recipes and high quality ingredients: these are the key focus points for True Italian restaurants.
72 hrs True Italian Food Festival Berlin 2019
From Wednesday September 18th, 5 PM, to the evening of Saturday, September 21st
In 55 Italian restaurants in Berlin
PARTICIPATING RESTAURANTS, ADDRESSES, OPENING TIMES AND SPECIALTIES
MITTE
Cuore Di Vetro
?Max-Beer-Straße 33, 10119 Berlin
?Wednesday 17-23, Thursday-Saturday 12-23
?Selection of Italian ham and cheese with tigelle (typical Italian thin round shaped bread)
Caffè Focacceria San Francesco
?Kastanienallee 64, 10119 Berlin
?Wednesday 17-22, Thursday-Saturday 12-22
?Sicilian Aperitivo (sfincione, panelle, arancina, breaded cuttlefish, tempura prawn, potato croquettes and vegetarian couscous)
Gina Bistrot
?Zionskirchstraße 77, 10119 Berlin
?Wednesday 17-18, Thursday-Saturday 12-18
? Focaccia with porchetta or with burrata and turnip tops
La Focacceria
?Fehrbelliner Str. 24, 10119 Berlin
?Wednesday 17-23, Thursday-Saturday 11-23
?Focaccia with salsiccia, potatoes, mozzarella and parmesan
Lost My Love To Italy
?Torstraße 165, 10115 Berlin
?Wednesday 17-24, Thursday-Saturday 10-24
?Rice salad with seafood + wine or beer (no spritz)
Marina Blu
?Weinbergsweg 8a, 10119 Berlin
?Wednesday-Saturday 17.30-23
?Lasagna with zucchini and shrimps
Mozzarella Bar & Bottega Al Contadino Sotto Le Stelle
?Auguststraße 34, 10119 Berlin
?Wednesday-Saturday 18-23
?Orecchiette alla "pecoraia" with olive oil, black olives, bacon, tomato and sheep's ricotta
WEDDING
S P Λ Z I O – Italian Bistrot
?Torfstraße 15, 13353 Berlin
?Wednesay 17-22.30, Thursday-Saturday 16-22.30
?Parmigiana "scomposta" (skewers of fried aubergines and mozzarella accompanied by fresh tomato sauce with basil)
FRIEDRICHSHAIN
CARGO gastronomia
?Samariterstraße 37, 10247 Berlin
?Wednesday 17-22, Thursday and Friday 12-22, Saturday 17-22
?Handmade spinach strangolapreti with butter, sage and parmesan
Medeaterranean Trip
?Gabriel-Max-Straße 19, 10245 Berlin
?Wednesday 17-23 Thursday-Saturday 16.30-23
?Cocoa ravioli filled with taleggio cheese and truffle, served in a melted butter and sage sauce
PRENZLAUER BERG
antichi_aromi_berlin
?Greifenhagener Str. 38, 10437 Berlin
?Wednesday-Saturday 17-23
?Bucatini with bottarga
Birra – Italian Craft Beer
?Prenzlauer Allee 198, 10405 Berlin
?Wednesday-Saturday 19-23
?Sandwich with mortadella and grilled artichokes + small Italian craft beer (no spritz)
Ristorantino Cotto E Crudo
?Eberswalderstrasse 33, 10437 Berlin
?Wednesday-Saturday 17-24
?Paccheri alla Sorrentina (mozzarella and tomato sauce) with fried aubergines
Enoteca Bertelli
?Kastanienallee 99b, 10435 Berlin
?Wednesday 17-24, Thursday-Saturday 16-24
?Gnocchi alla Sorrentina (mozzarella and tomato sauce)
La Premiata Ditta Weinbar
?Kopenhagener Str. 12A, 10437 Berlin
?Wednesday-Saturday 17.30-23
?Orecchiette with salsiccia ragout and cacio and pepe fondue + wine (no Spritz)
Margherita
?Danzigerstrasse 35, 10435, Berlin
?Wednesday 17-23, Thursday-Saturday 16-23
?Fried mix: 2 croquettes with dried cod, 2 white arancini (with ham and peas), 2 mais panelle
Mercato Famous Pizza
?Danzigerstrasse 16, 10435, Berlin
?Wednesday-Saturday 12-22
?Roman style white pizza with porchetta
Orlando Berlin
?Rhinower Str. 10, 10437 Berlin
?Wednesday-Friday 17-23, Saturday 17-24
?Aubergine parmigiana
Pizzare Prenzlauer Berg
?Eberswalder Str. 21, 10437 Berlin
?Wednesday 17-23.30, Thursday and Friday 11.30-23.30, Saturday 11.30-24
?Panuozzo with Agerola's mozzarella, Norcia's black truffle sauce and porcini mushrooms (vegan +3€)
Trancina – italian style food
?Stargarder Str. 39, 10437 Berlin
?Wednesay-17-21, Thursday and Friday 11-21, Saturday 12-20
?Arancino bolognese or vegetarian and a slice of pizza margherita
KREUZBERG
Altrovino
?Grimmstraße 17, 10967 Berlin
?Wednesday 17-22, Thursday 14-22, Friday and Saturday 14-24
?Tigella (typical Italian thin round shaped bread) with mortadella and green olives paté and tigella with cunza (Modenese pesto with lardo and rosemary) + wine (no spritz)
Amici Amici
?Mehringdamm 40, 10961 Berlin
?Wednesday-Saturday 19-23
?Parmesan pie on pear carpaccio with drops of balsamic vinegar
Antonello's Cevicheria & Street Food
?Nostitzstraße 22, 10961 Berlin
?Wednesday 17-19, Thursday-Saturday 16-19
?Squid ink-arancina and panelle (Sicilian fritters made from chickpea flour)
Facciola
?Forster Str. 5, 10999 Berlin
?Wednesday-Saturday 18-24
?Polenta-balls with bagna cauda (also vegan)
InCibus
?Monumentenstraße 26, 10965 Berlin
?Wednesday-Saturday 17-24
?Fried pizza with tomato, ham and mozzarella or only with tomato and mozzarella
?Spreewaldplatz 6, 10999 Berlin
?Wednesday-Saturday 17-24
?Cacio e pepe lasagna
Piazza papà pane bei Yasmin
?Wilhelmstraße 15, 10963 Berlin
?Wednesday 17-24, Thursday-Saturday 12-24
?Bruschetta mit Auberginen-Caponata
Terra
?Grimmstraße 1, 10967 Berlin
?Wednesday 17-23, Thursday and Friday 16-23, Saturday 12-23
?Bruschetta bis on a base of whole wheat squid ink bread: Porky Bruschetta with meat and seafood or Holy Bruschetta vegetarian and vegan (gluten free option available)
Tirelli's
?Kreuzbergstraße 29, 10965 Berlin
?Wednesday 18-22, Thursday and Friday 12-15 and 18-22, Saturday 18-22
?Ravioli filled with porcini mushrooms seasoned with butter and parmesan
Zerostress pizza The Winery
?Lausitzer Pl. 10, 10997 Berlin
?Wednesday-Saturday 17-22
?Focaccia filled with stracchino, aubergines and salsiccia covered with pecorino cheese
NEUKÖLLN
Ammazza che Pizza
?Maybachufer 21, 12047 Berlin
?Wednesday 17-19, Thursday-Saturday 15-19
?Italian deep-fried street food: potato croquettes, olives from Ascoli, truffle arancini
Barettino
?Reuterstraße 59, 12047 Berlin
?Wednesday 17-24, Thursday-Saturday 9-24
?Handmade fusilloni "alla norma" (with tomato sauce, aubergines and salted ricotta)
Capperi
?Pannierstraße 32, 12047 Berlin
?Wednesday-Saturday 17-23
?Homemade frisellona with datterino tomato, burrata and basil flavored olive oil + wine (no spritz)
DocG-Berlin
?Emser Str. 120, 12051 Berlin
?Wednesday and Thursday 18-22.30, Friday and Saturday 18-23
?Homemade mezzelune filled with porcini seasoned with truffle parmesan cream and guanciale
Iandi GastroBar
?Lenaustraße 21, 12047 Berlin
?Wednesday 17-01, Thursday-Saturday 15-01
?"Pallotte cace e ove" (balls made of pecorino cheese, garlic, eggs, parsley and breadcrumbs in fresh tomato sauce and basil)
IL KINO Berlin
?Nansenstraße 22, 12047 Berlin
?Wednesday 17-23, Thursday-Saturday 11-23
?Red lasagna with meatballs or with aubergines, zucchini, mozzarella and basil
La Pecora Nera
?Herrfurthpl. 6, 12049 Berlin
?Wednesday-Saturday 18-23
?Croquette filled with baccalà mantecato (creamed) Venetian style with potato foam and taggiasche olives powder
Monella
?Weichselstraße 17, 12045 Berlin
?Wednesday-Saturday 18-23
?Montanare trio: one with yellow datterino tomatoes from Vesuvius and Cetara anchovy fillets, one with "Scarpitello" (sautéed datterino tomatoes with oli and basil) and parmesan flakes, one with ricotta cheese, crispy guanciale from black, Casertan piglet and grated lemon zest
Sala da Mangiare
?Mainzer Str. 23, 12053 Berlin
?Wednesday-Saturday 19-23
?Handmade cappellotti filled with parmesan 30 months seasoned with saffron sauce
Trattoria Vigata
?Innstraße 47, 12045 Berlin
?Thursday-Saturday 17-23 (closed on Wednesday)
?Spaghetti "alla vulcanara" with alici, capers, olives, chilli pepper, fresh tomato and a little bit of breadcrumbs
SCHÖNEBERG
Bravo Mario
?Wartburgstr.17, 10825 Berlin
?Wednesday 17-20, Thursday-Friday 12-20, Saturday 17-21
?Roman pinsa with mortadella, truffle cream and mozzarella or with aubergines and zucchini
Lagalante Ristorante
?Grunewaldstraße 82, 10823 Berlin
?Wednesday-Saturday 18-22.30
?Fried stuffed mussels
Pizzeria LuNa
?Gotenstraße 18, 10829 Berlin
?Wednesday 17-23.30, Thursday-Saturday 12-23.30
?Handmade ravioli with lamb meat sauce and with ricotta and spinach
Prometeo
?Goebenstraße 3, 10783 Berlin
?Wednesday 17-22.30, Thursday-Saturday 12.30-22.30
? 2 "supplì al telefono" (Roman style fried ball of rice with tomato sauce and mozzarella)
Trattoria a' Muntagnola
?Fuggerstraße 27, 10777 Berlin
?Wednesday-Saturday 17-24
?Focaccia roll with onions, capers and anchovies
TEMPELHOF
Trattoria Lauretta
?Burgemeisterstraße 74, 12103 Berlin
?Wednesday-Saturday 17-23
?Buffalo mozzarella filled with olives cream, sun-dried tomatoes and pine nuts on a bed of rucola
CHARLOTTENBURG
Bellucci | Ristorante & Bar
?Brandenburgische Straße 35, 10707 Berlin
?Wednesday 17-24, Thursday-Saturday 11-24
?Vitello tonnato (veal with tuna sauce)
Restaurant Da Antonio
?Bismarckstraße 60, 10627 Berlin
?Thursday 16-23, Friday and Saturday 12-19 (closed on Wednesday)
?Homemade culurgiones (typical ravioli from Sardinia) filled with pecorino cheese, potatoes and mint seasoned with butter sauce and sage
Enoteca L'Angolino
?Knesebeckstraße 92, 10623 Berlin
?Wednesday 17-23, Thursday and Friday 16-23, Saturday 14-23
?Sarde in saor (sweet and sour sardines)
Figaro WINE • FOOD
?Schloßstraße 33, 14059 Berlin
?Wednesday 17-23, Thursday-Saturday 16-23
?Risotto with mushrooms, pancetta (bacon) and onions
Francucci Ristorante
?Kurfürstendamm 90, 10709 Berlin
?Wednesday 17-23.30, Thursday-Saturday 12-23.30
?Vegan balls with almonds and mint seasoned with tomato sauce
LimaLima, Ristorantino Napoletano
?Schlüterstraße 74, 10625 Berlin
?Wednesday 17-22.30, Thursday-Saturday 16-22.30
?Aubergine parmigiana, homemade chips and tomato dip
Rosso Berlin
?Helmholtzstraße 24, 10587 Berlin
?Wednesday 17-21, Thursday and Friday 11-21 (closed on Saturday)
?Traditional Roman pinsa with mushrooms and taleggio cheese
Tavernetta Azara
?Westfälische Str. 51, 10711 Berlin
?Wednesday 17-23, Thursday-Saturday 16-23
?Vegetarian focaccia with grilled vegetables, mozzarella and mascarpone on a bed of rucola with parmesan flakes
MOABIT
Mangiare Berlin
?Arminiusstraße 2, 10551 Berlin (Arminius Markthalle)
?Wednesday 17-21.30, Thursday and Friday 12-21.30, Saturday 16.30-22
?Fried pizza filled with mozzarella Fior d'Agerola, Salami and black pepper. Vegetarian option: with aubergines or wild broccoli, ricotta cheese, mozzarella fior di latte and black pepper. Vegan with artichokes or wild broccoli + wine or beer (no spritz)
[adrotate banner="39″]

RIMANI AGGIORNATO SU BERLINO, SEGUI BERLINO MAGAZINE SU FACEBOOK
[adrotate banner="34″]
https://berlinomagazine.com/wp-content/uploads/2019/07/66034940_2654194624591353_7257398538621943808_n.jpg
462
820
Sara Trovatelli
https://berlinomagazine.com/wp-content/uploads/2019/12/berlino_magazine_2019.png
Sara Trovatelli
2019-08-23 12:13:32
2019-09-19 14:44:33
72 hrs True Italian Food Festival, the biggest party of the Italian gastronomy in Berlin (and Hamburg)