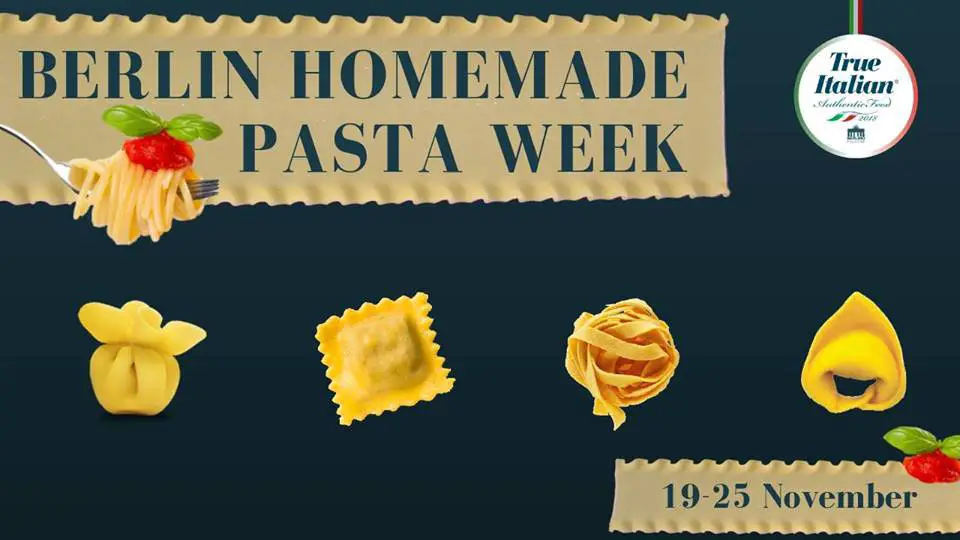 Berlin Homemade Pasta Week: enjoy the best ravioli and fresh pasta in town for only 10 €, glass of wine included
7 days, 29 Italian places, a first course of fresh pasta and a glass of wine for 10 €: a new True Italian event is coming, the Berlin Homemade Pasta Week.
Lasagne with black truffle from Norcia and porcini mushrooms, tonnarelli with cacio e pepe, fettuccine all'Amatriciana, cocoa pappardelle with wild boar-plums ragout, ravioli filled with bio Sardinian artichokes and goat-ricotta cheese topped with melted butter-mint sauce, fusilli with turnip greens and burrata, gnocchi with sausage ragout and pecorino cheese and much more… True Italian is organizing a new event to celebrate the best fresh pasta you can find in Berlin: the Berlin Homemade Pasta Week from November 19th to 25th. From Gina Bistrot to Muntagnola, stopping by Antillo and Fabbrica del gusto: all spots will offer two amazing flavour combinations to discover.
Read this article in German or Italian.
The event
For one week some of the best Italian restaurants in Berlin will offer a first course of fresh pasta (you have the choice between two really particular recipes and each portion is at least 100g) and a glass of wine or a soft drink for just 10€. The offer is valid in all Italian restaurants participating in the event (please scroll down for the full list). To enjoy these homemade pasta specialities you need just to go to one of the participating restaurants and ask for the True Italian menu. The Berlin Homemade Pasta Week is a Berlin Italian Communication's initiative organized within the True Italian project in collaboration with the Italian Cultural Institute of Berlin. The event will take place during the Italian Cuisine Week in the world promoted by the Italian Ministries of Foreign Affairs, Agricultural Policies, University Education and Research and Economic Development. Mondo Pasta is sponsoring the event.
What is homemade pasta?
Homemade pasta doesn't contain any preserving agents and is generally created by a hand process with the help of a rolling pin. The Berlin Homemade Pasta Week focuses on fresh pasta, which is a pasta cooked shortly after being prepared. There are three types of fresh pasta: one made with eggs and flour, a second one made with semolina flour and water and the last one made with potatoes. The first category includes tagliatelle, fettuccine, lasagna, spaghetti alla chitarra, ravioli and any type of filled pasta. Orecchiette and gnocchi belong to the second and the third category respectively. In Germany the average consumption of pasta is 8,5 kg per person (in Italy is about 25 kg).
The map
For the homemade pasta itinerary a map will be provided, on the model of the Berlin public transportation one, designed to illustrate all restaurants locations. The map will be divided also according to the city's main areas providing restaurants addresses, opening times and True Italian specialities. The map is now available either as PDF or in paper version as flyer in all the participating restaurants or at the True Italian office in Gryphiusstr. 23, Berlin Friedrichshain.
Download the map as PDF here.
The True Italian project
The True Italian project's aim is to create a network that promote and add an extra value to the Italian tradition in Germany. In fact, every True Italian place has a sticker with the project logo (filed with Deutsches Patent-und Markenamt) on its window proving its participation in the network. True Italian is also a dynamic platform which involves different events, tasting and cooking workshops. The project has been created and carried out over the years by Berlin Italian Communication. True Italian are all those Italian cuisine ambassadors that, starting form the choice of ingredients, prove every day the dedication to the high quality of their dishes. To be clear: when we talk about True Italian, we don't simply refer to the chef or owner's nationality, but we talk about the way they approach to the cuisine. Unique recipes and care about ingredients' quality: these are the keywords of every True Italian restaurant.
Berlin Homemade Pasta Week
November 19th – 25th 2018
Facebook event – True Italian Facebook page – True Italian website
Participating restaurants with their addresses, opening times and offered specialties
MITTE:
Caffè Focacceria San Francesco
Kastanienallee 64, 10119 Berlin
Everyday 8.30-24
Homemade bucatini with sardines (sardines, celery, raisins, pine nuts, saffron and fennel) OR Homemade maccheroni alla Norma (with tomato sauce, fried aubergines and salty ricotta)
Gina Bistrot
Zionskirchstr. 77, 10119 Berlin
Sunday-Thursday 12-16, Friday 12-21, Saturday 18-22
Homemade fusilli with turnip greens and burrata OR Homemade gnocchi with sausage ragout and pecorino cheese
Mozzarella Bar
Auguststraße 34, 10119 Berlin
Monday-Saturday 12-24, Sunday closed
Homemade tagliatelle with pumpkin and sausage ragout OR Homemade ravioli filled with chestnuts topped with melted butter and thyme
Vadoli
Oranienburger Strasse 13-14, 10178 Berlin
Everyday 10.45-23
Maccheroncini with tomato sauce, arugula, basil, dried tomatoes and fresh bio Buffalo mozzarella OR Gnocchi filled with truffle and goat cheese, topped with bechamel, tomatoes and Genovese pesto
PRENZLAUER BERG:
COME VA' VA'
Danziger Str. 144, 10407 Berlin
Monday-Friday 15-22.30, Saturday-Sunday 13-22.30
Tagliatelle with pesto rustico (dried tomatoes, peppers, zucchini and parsley) OR Homemade gnocchi with mint and pecorino cheese
Fabbrica Del Gusto
Pappelallee 36, 10437 Berlin
Everyday 11.30-23.30
Homemade triangolini filled with brased wild boar and apples topped with a pumpkin-parmesan sauce OR Homemade Culurgiones (Sardinian traditional tortelli) filled with potatoes, mint and pecorino cheese, topped with tomato sauce
La Premiata Ditta
Kopenhagener Str. 12A, 10437 Berlin
Monday-Friday 12-23, Saturday 17-23, Sunday closed
Homemade tagliatelle cacio e pepe with truffle pecorino cheese OR Homemade pappardelle all'Amatriciana (guanciale, pepper and pecorino cheese)
MITÙ Restaurant
Danziger Str. 35, 10435 Berlin
Monday-Saturday 17-23, Sunday closed
Homemade Ravioli filled with sausage and mushrooms topped with besciamella and marjoram OR Homemade gnocchi alla Sorrentina (tomato sauce, mozzarella and parmesan)
Pizzare Prenzlauer Berg
Eberswalder Str. 21, 10437
Monday-Thursday 11.30-22.30, Friday-Sunday 11.30-24
Lasagne with black truffle from Norcia and porcini mushrooms OR Lasagne bolognese (Vegan option: lasagne with vegan pesto of almonds, zucchini, vegan mozzarella and vegan parmesan +2€)
KREUZBERG:
Amici Amici
Mehringdamm 40, 10961 Berlin
Everyday 12-24
Ravioloni filled with porcini mushrooms and topped with robiola cheese and thyme OR Herbs pappardelle with deer ragout
Antillo
Marheinekeplatz 3-4, 10961 Berlin
Everyday 11-23
Homemade gnocchi alla Norma (tomato sauce, fried aubergines and salty ricotta) OR Homemade ravioli filled with porcini mushrooms topped with melted butter and thyme
InCibus
Monumentenstr. 26, 10965 Berlin
Monday-Friday 11-24, Saturday-Sunday 16-24
Homemade ravioli filled with deer ragout topped with melted butter and caramelized cranberries OR Homemade spaghetti alla chitarra with zucchini carbonara
MINI – Wine, Food and Cult Movies
Urbanstr. 126, 10967 Berlin
Wednesday-Sunday 11-23, Monday-Tuesday closed
Homemade testaroli with Genovese pesto (vegan option available) OR Homemade gnocchi with taleggio cheese sauce, mushrooms and crispy leek
Terra – Terracruda
Grimmstraße 1, 10967
Monday-Saturday 17-23, Sunday 12-23
Homemade purple gnocchi (made with vitellotte potatoes) topped with melted butter and Bio sage (100% bio herbs) OR Homemade yellow tagliatelle with curcuma, mushrooms and chestnuts (vegan option: orecchiette instead of tagliatelle)
NEUKÖLLN:
Ammazza che Pizza
Maybachufer 21, 12047 Berlin
Tuesday-Friday 12-22, Monday closed, Saturday-Sunday 12-19
Homemade ravioli filled with ricotta cheese and topped with fresh tomato, aubergines and basil OR Homemade spaghetti alla chitarra alla carbonara
Capperi
Pannierstraße 32, 12047 Berlin
Monday-Saturday 17-23, Sunday 11-23
Cavatelli with black lentils ragout topped with guanciale chips OR Cavatelli alla Norma (tomato sauce, fried aubergines and salty ricotta)
WEDDING:
S P Λ Z I O – Italian Bistrot
Torfstraße 15, 13353 Berlin
Everyday 12.00-21.30
Homemade tagliatelle with meatballs ragout OR Homemade tagliatelle with Nerano sauce (zucchini and salty ricotta cheese)
MOABIT:
Trattoria TreStanze
Dortmunder Straße 9, Berlin
Tuesday-Sunday 17-24, closes on Monday
Paccheri with squids, zucchini, white onion and white wine OR Orecchiette with mixed colorful fresh tomatoes and burrata creme
CHARLOTTENBURG-WILMERSDORF:
Bruderherz
Leonhardtstraße 6, 14057 Berlin
Monday-Saturday 17-24, Sunday closed
Homemade cocoa pappardelle with wild boar-plums ragout OR Homemade ravioli filled with bio Sardinian artichokes and goat-ricotta cheese topped with melted butter-mint sauce
Enoteca L'Angolino
Knesebeckstr. 92, 10623 Berlin
Monday-Friday 16-23, Saturday 14-23, Sunday closed
Ravioli filled with seabass topped with confit tomatoes and taggiasca olives OR Tagliolini with pumpkin and toasted almonds
Figaro WINE • FOOD
Schloßstraße 33, 14059 Berlin
Everyday 16-24
Orecchiette with sausage ragout OR Vegetarian linguine alla carbonara (with brown champignons)
Francucci Ristorante
Kurfürstendamm 90, 10709 Berlin
Everyday 12-23.30
Homemade spaghetti alla chitarra all'arrabbiata (tomato sauce, chilli and garlic) OR Homemade ravioli filled with porcini mushrooms topped with melted butter and sage
Pausa Pranzo
Tauentzienstraße 9-12, 10789 Berlin
Monday-Saturday 12-19, Sunday closed
Tagliatelle alla Boscaiola with crispy fennel sausage, mixed mushrooms, pachino cherry tomatoes, cream and truffle oil OR Gnocchi alla Sorrentina (served in a pot with tomato sauce, mozzarella, parmesan crust and basil)
Tavernetta Azara
Westfälische Str. 51, 10711 Berlin
Monday-Friday 12-22, Saturday-Sunday 15-22
Homemade ravioli filled with spinach and ricotta with sage, butter, pine nuts on a mascarpone glaze OR Homemade mushrooms tagliatelle flambè into a grana padano wheel
SCHÖNEBERG:
Lagalante Ristorante
Grunewaldstr. 82, 10823 Berlin
Tuesday-Sunday 18-22:30, Monday closed
Ceci e tria (typical recipe from Apulia made with fried pasta and chickpeas) OR Homemade cavatelli with mussels and beans
Trattoria Pizzeria LuNa
Gotenstraße 18, 10829 Berlin
Monday-Friday 12-23, Saturday-Sunday 14-24
Beetroots triangolini filled with wild boar and topped with melted butter, apple and cinnamon sauce OR Squid ink tortelloni filled with smoked salmon and topped with lobster sauce
Olio Sale Pepe
Willmanndamm 15, 10827 Berlin
Everyday 12-23
Homemade black tagliolini with cuttlefish and peas OR Homemade gnocchi filled with pumpkin and topped with saffron sauce and roasted pumpkin seeds
Prometeo
Goebenstraße 3, 10783 Berlin
Everyday 17-22
Homemade tonnarelli with cacio e pepe (cacio cheese and pepper) OR Homemade fettuccine all'Amatriciana (guanciale and tomato sauce)
Trattoria Á Muntagnola
Fuggerstraße 27, 10777 Berlin
Everyday 17-24
Homemade tagliatelle with aubergines ragout OR Homemade orecchiette with tomato sauce, salty ricotta and basil
[adrotate banner="39″]

SEGUI TUTTE LE NEWS SU BERLINO, SEGUI BERLINO MAGAZINE SU FACEBOOK
[adrotate banner="34″]
https://berlinomagazine.com/wp-content/uploads/2018/10/copertina-evento-fb-pasta-fresca.jpg
540
960
Arianna Teti
https://berlinomagazine.com/wp-content/uploads/2019/12/berlino_magazine_2019.png
Arianna Teti
2018-10-29 10:30:43
2018-11-21 18:28:30
Berlin Homemade Pasta Week: enjoy the best ravioli and fresh pasta in town for only 10 €, glass of wine included