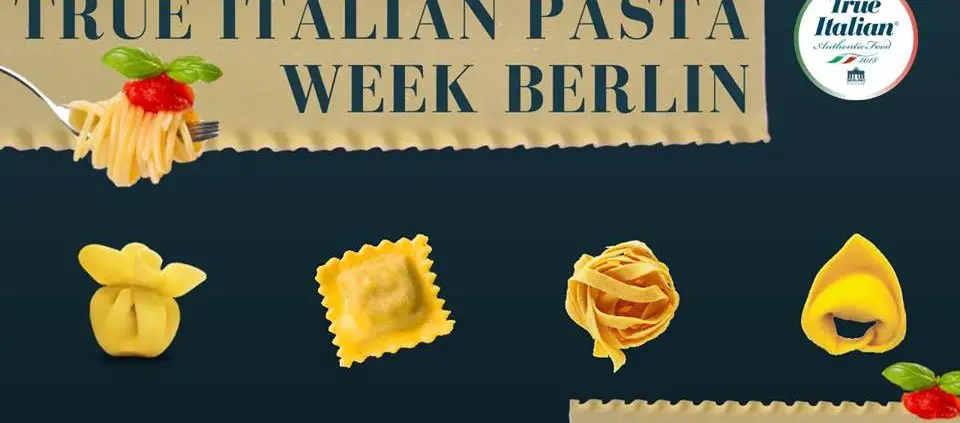 True Italian Pasta Week: enjoy the best artisanal pasta in Berlin for only 12€, drink and digestive included
7 days, 32 places 100% Italian, a pasta dish, a drink and a digestive for 12 €: the True Italian Pasta Week 2019 is coming.
Lasagne with black truffle from Norcia and porcini mushrooms, pappardelle with wild boar ragout, tagliatelle with cherry tomatoes and burrata, orecchiette with sausage and pumpkin, ravioli filled with pecorino cheese and seasoned with pear sauce and parmesan, duck ragout lasagnette and much more… True Italian is organizing an event to celebrate the best pasta you can find in Berlin: the True Italian Pasta Week from November 18th to 24th. From Francucci to Muntagnola, stopping by Marina Blu and MedEATerranean: for one week all spots will offer two amazing flavour combinations to discover.
Read this in German or Italian.
True Italian Pasta Week: The event
For one week 32 of the best Italian restaurants in Berlin will offer a first course of pasta (you have the choice between two really particular recipes and each portion is at least 100g), an Aperol Spritz, a Campari Amalfi or a glass of wine and an Averna for just 12€. The offer is valid in all Italian restaurants participating in the event (soon we will post the full list) and to enjoy these pasta specialities you just need to go to one of the participating restaurants and ask for the menu for the event. The True Italian Pasta Week is a Berlin Italian Communication's initiative organized within the True Italian project in collaboration with the Italian Cultural Institute of Berlin. The event will take place during the Italian Cuisine Week in the world promoted by the Italian Ministries of Foreign Affairs, Agricultural Policies, University Education and Research and Economic Development. Campari, Aperol, Averna, Acqua Panna, San Pellegrino, Hotel Bramante Rome and Hotel Touring Bologna are sponsoring the event.
What kind of pasta you can taste at the event
The event aims to celebrate pasta in all its shapes. Among the recipes proposed you will find the classic fresh homemade pasta, made with eggs and flour (tagliatelle, fettuccine, lasagne, spaghetti alla chitarra, ravioli and any type of filled pasta), handmade pasta with semolina flour and water (orecchiette), potato gnocchi, crespelle and some types of artisanal and top-quality dry pasta. In Germany the average consumption of pasta is 8,5 kg per person a year (in Italy is about 25 kg).
The workshop to learn how to make fresh filled pasta
Would you like to learn how to make fresh pasta yourself? In occasion of our event Pastamadre offers the perfect occasion: a workshop dedicated to fresh filled pasta, ravioli and tortelli. The workshop, taking place on November 23rd from 5 PM, will be concluded with a dinner to enjoy together the pasta you have made, including a seasonal salad and homemade sourdough bread. Good Italian wine can't miss, of course! The workshop will be in English and the price, including materials and dinner, is 49€. It's necessary to register within 19th of November by sending an email to info@pastamadre.de. Here is the link of the Facebook event.
True Italian Pasta Week: the map
For the homemade pasta itinerary a map has be provided, on the model of the Berlin public transportation one, designed to illustrate all restaurants locations. The map is now available either as PDF, as Google Maps or in paper version as flyer in all the participating restaurants or at the True Italian office in Gryphiusstr. 23, Berlin Friedrichshain.
Download the map as PDF by clicking here.
The True Italian project
The True Italian project's aim is to enhance the authentic Italian restaurants in Berlin using a sticker with the project logo (filed with Deutsches Patent-und Markenamt). True Italian is also a dynamic platform which involves different events, tasting and cooking workshops. The project has been created and carried out over the years by Berlin Italian Communication. True Italian are all those Italian cuisine ambassadors that, starting form the choice of ingredients, prove every day the dedication to the high quality of their dishes. To be clear: when we talk about True Italian, we don't simply refer to the chef or owner's nationality, but we talk about the way they approach to the cuisine. Unique recipes and care about ingredients' quality: these are the keywords of every True Italian restaurant.
True Italian Pasta Week Berlin 2019
18 – 24 November 2019
32 Italian restaurants in Berlin
12€ for a pasta dish, an Aperol Spritz, Campari Amalfi or a glass of wine and an Averna digestif
Facebook event – True Italian Facebook page – True Italian website
Participating restaurants with their addresses, opening times and specialties
MITTE
Caffè Focacceria San Francesco
Kastanienallee 64, 10119 Berlin
Monday 12-22, Wednesday-Sunday 12-22 (closed on Tuesday)
Homemade maccheroni alla Norma (tomato sauce, fried aubergines and salted ricotta) OR Homemade bucatini with sardines
Gina Bistrot
Zionskirchstraße 77, 10119 Berlin
Monday-Friday 12-17, Sunday 12-17 (closed on Saturday)
Homemade pappardelle with boar ragout OR Homemade tagliatelle with cherry tomatoes and burrata
Marina Blu
Weinbergsweg 8a, 10119 Berlin
Monday-Saturday 17-23, Sunday 16-22
Maccheroni with chestnuts, pumpkin and Taleggio cheese OR Tagliolini with cuttlefish and Piennolo cherry tomatoes on a cream of chickpeas
Mozzarella Bar & Bottega Al Contadino Sotto Le Stelle
Auguststraße 34, 10119 Berlin
Monday-Saturday 12-22.30, Sunday 13-22
Homemade tagliatelle with chestnut flour seasoned with butter, rosemary and Alpeggio cheese OR Homemade cavatelli with Italian sausage and mushroom ragout
Sagrantino 136
Linienstraße 136, 10115 Berlin
Monday-Friday 11.30-23.45, Saturday 18-23.45 (closed on Sunday)
Homemade cannelloni filled with spinach and ricotta cheese OR Orecchiette with almond pesto and dried tomatoes
WEDDING
Spazio – Italian Bistrot
Torfstraße 15, 13353 Berlin
Monday-Saturday 16-22 (closed on Sunday)
Paccheri with pumpkin and Italian sausage OR Mezze maniche with mussels and white beans
PRENZLAUER BERG
antichi_aromi_berlin
Greifenhagener Str. 38, 10437 Berlin
Tuesday-Saturday 17-23, Sunday 12-23 (closed on Monday)
Lasagne with broccoli, pecorino cheese and dried tomatoes, topped with béchamel sauce and mozzarella OR Spaghetti with meatballs in tomato sauce and rosemary
COME VA' VA'
Danziger Str. 144, 10407 Berlin
Monday-Friday 14-22, Saturday 17-22, Sunday 14-22
Rigatoni all'Amatriciana with Norcia's guanciale and pecorino romano cheese OR Tagliolini cacio e pepe
La Margherita Pizza & Fritti
Danzigerstrasse 35, 10435, Berlin
Tuesday-Sunday 16-23 (closed on Monday)
Strozzapreti alla Sorrentina (tomato sauce and mozzarella) OR Orecchiette all'Ortolana (with mixed sautéed vegetables)
Pizzare Prenzlauer Berg
Eberswalder Str. 21, 10437
Monday-Thursday 17-23, Friday-Sunday 12-23.30
Vegetarian Lasagna with homemade basil pesto, stracchino cheese, grilled zucchini, Agerola's mozzarella, béchamel sauce & 24 months aged parmigiano OR Lasagna alla Norcina with Norcia's truffles & mushroom sauce with Norcina sausage, sautéed mixed mushroom, Agerola's mozzarella, béchamel sauce & 24 months aged parmigiano; VEGAN OPTION: Plant Based homemade lasagna Bolognese with homemade "Beyond Meat™"plant based Bolognese sauce, vegan béchamel sauce, bio vegan mozzarella, bio vegan parmigiano & Sicilian almonds (+3,50€)
FRIEDRICHSHAIN
CARGO gastronomia
Samariterstraße 37, 10247 Berlin
Tuesday-Friday 12-22, Saturday 17-22 (closed on Sunday and Monday)
Orecchiette with Italian sausage and pumpkin OR Homemade ravioli filled with pecorino cheese seasoned with pear sauce and parmigiano
Medeaterranean Trip
Gabriel-Max-Straße 19, 10245 Berlin
Tuesday-Thursday 16.30-22, Friday-Sunday 11-24 (closed on Monday)
Homemade cocoa mezzelune filled with Taleggio cheese and truffle OR Homemade tagliatelle with pumpkin and porcini mushrooms
CHARLOTTENBURG
Bellucci | Ristorante & Bar
Brandenburgische Straße 35, 10707 Berlin
Monday-Saturday 12-24, Sunday 17-24
Tagliatelle with fresh vegetables and basil OR Tagliolini with cuttlefish ink, salmon and cherry tomatoes
Bruderherz
Leonhardtstr. 6, 14057 Berlin
Monday-Saturday 17-22 (closed on Sunday)
Homemade tagliatelle with Italian sausage ragout, fennel and pomegranate OR Homemade lasagna with buffalo mozzarella, aubergines and San Marzano tomato
Enoteca L'Angolino
Knesebeckstraße 92, 10623 Berlin
Monday-Friday 12-23, Saturday 15-23 (closed on Sunday)
Conchiglioni with Italian sausage and savoy cabbage OR Tagliatelle with radicchio and Montasio cheese
Figaro WINE • FOOD
Schloßstraße 33, 14059 Berlin
Monday-Sunday 13-23
Casarecce with meatballs in tomato sauce OR Taglietelle with basil pesto and toasted pine nuts
Francucci Ristorante
Kurfürstendamm 90, 10709 Berlin
Monday-Saturday 12-23.30, Sunday 17-22.30
Conchiglie with Italian sausage and friarielli OR Homemade spaghetti alla chitarra all'arrabbiata Abruzzese
Tavernetta Azara
Westfälische Str. 51, 10711 Berlin
Tuesday-Saturday 16-23, Sunday 15-22 (closed on Monday)
Lasagnette with duck ragout OR Homemade crespella filled with vegetables
KREUZBERG
Amici Amici
Mehringdamm 40, 10961 Berlin
Monday-Sunday 19-23
Homemade pappardelle with beef ragout OR Homemade pumpkin gnocchi with cheese cream and toasted almonds
InCibus
MonumentenStraße 26, 10956 Berlin
Monday 17-23, Wednesday-Sunday 17-23 (closed on Tuesday)
Homemade ravioli filled with pumpkin seasoned with butter, sage and walnuts OR Homemade maccheroni with Italian sausage, champignons and cream
MINI – Wine, Food and Cult Movies
Urbanstraße 126, 10967 Berlin
Wednesday-Thursday 16-24, Friday-Sunday 12-24 (closed on Monday and Tuesday)
Pizzoccheri with Latteria Valtellinese cheese, butter, pepper, chard and crunchy garlic OR Homemade pumpkin gnocchi seasoned with butter, sage and parmigiano
Terra
Grimmstraße 1, 10967 Berlin
Monday-Saturday 16-24, Sunday 12-22
Homemade red cabbage ravioli filled with pork knuckle in a butter foam OR Homemade savoy cabbage filled with porcini mushrooms in a ricotta and hazelnuts sauce
Tirelli's
Kreuzbergstr. 29 – 10965 Berlin
Monday-Friday 12-15.30 and 18-22, Saturday 18-22 (closed on Sunday)
Homemade ravioli filled with porcini mushrooms OR Homemade tagliolini with Bolognese ragout
NEUKÖLLN
Ammazza che Pizza
Maybachufer 21, 12047 Berlin
Tuesday-Sunday 12-22 (closed on Monday)
Homemade pappardelle with boar ragout OR Homemade cannelloni filled with radicchio and turnip tops seasoned with béchamel sauce
Barettino
Reuterstraße 59 12047 Berlin
Monday-Sunday 9-22
Fusilloni with Italian sausage ragout OR Ravioli filled with truffle and porcini mushrooms seasoned with butter and sage
DocG-Berlin
Emser Str. 120, 12051 Berlin
Monday-Thursday 18-23, Friday-Saturday 18-24 (closed on Sunday)
Homemade pumpkin gnocchi with Italian sausage and porcini mushrooms OR Homemade purple gnocchi with gorgonzola cheese, walnuts and truffle
SCHÖNEBERG
Ristorante Café Aroma Photogalerie
Hochkirchstraße 8, 10829 Berlin
Monday-Saturday 17-23, Sunday 11-23
Orecchiette with speck, cherry tomatoes and marjoram OR Tagliatelle with porcini mushrooms
Lagalante Ristorante
Grunewaldstraße 82, 10823 Berlin
Monday-Sunday 18-22.30
Homemade orecchiette with braciole ragout (meat roulades with parmigiano, parsley, spicy salame and tomato) OR Mixed pasta with potatoes, smoked provola cheese and escarole sauce
Pizzeria LuNa
Gotenstraße 18, 10829 Berlin
Monday-Saturday 12-24, Sunday 16-24
Strozzapreti with porcini mushroom sauce OR Strozzapreti with Italian sausage and mushroom ragout
Prometeo
Goebenstraße 3, 10783 Berlin
Monday-Saturday 12-22, Sunday 15-22
Orecchiette with turnip tops OR Homemade gnocchi with radicchio, walnuts and gorgonzola cheese
Trattoria Muntagnola
Fuggerstraße 27, 10777 Berlin
Monday-Sunday 17-23
Homemade lasagna with salmon and béchamel sauce OR Homemade lagane with leek and chickpeas
https://berlinomagazine.com/wp-content/uploads/2019/10/copertina-True-Italian-pasta-week.jpg
540
960
Irene Diamanti
https://berlinomagazine.com/wp-content/uploads/2019/12/berlino_magazine_2019.png
Irene Diamanti
2019-10-29 17:00:43
2019-11-19 17:17:26
True Italian Pasta Week: enjoy the best artisanal pasta in Berlin for only 12€, drink and digestive included