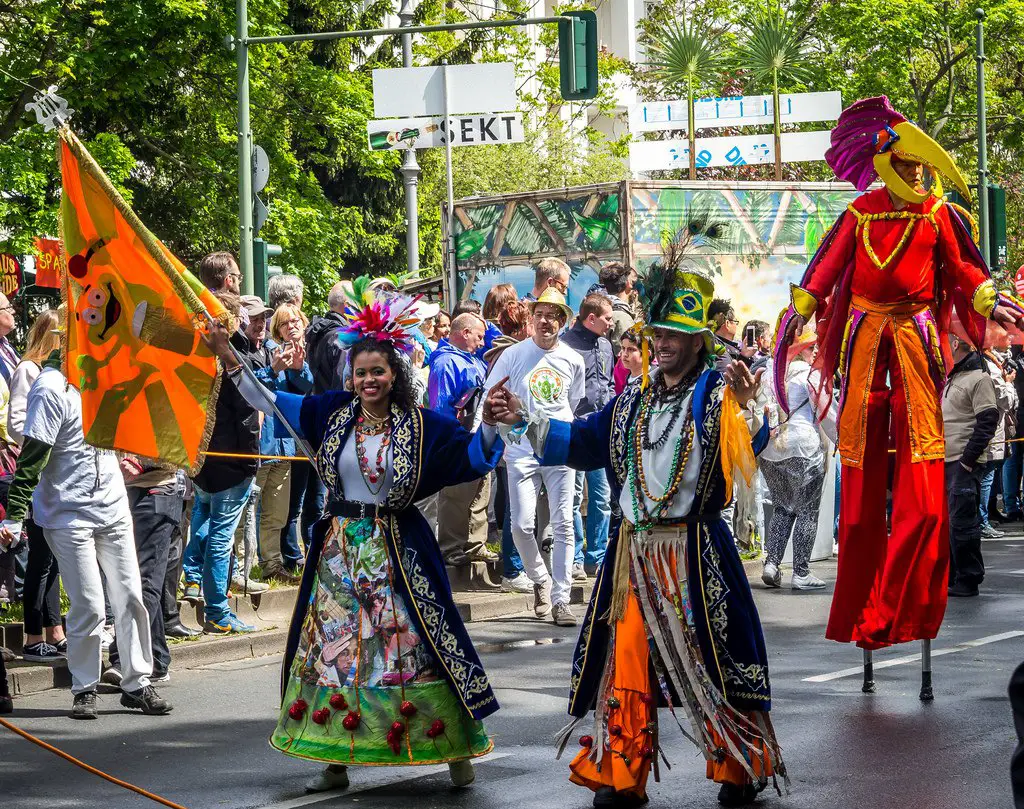 The updated day by day guide to the events in Berlin for June 2017.
Summer time has finally arrived here in Berlin and the city is full of Open Air events, festivals, picnics and bbq in every green corner, outdoor cinema, vintage markets… take a look here for the guide day by day to choose what is the best event for you!
EXHIBITIONS, FAIRS AND FESTIVAL
During this month you can't miss the events in the Martin-Gropius-Bau:
Until 11th June there is the Wiederentdeckte Moderne I by the architecture Friedrich Kiesler ;
Until 5th November Der Luthereffekt 500 Jahre Protestantismus in der Welt;
Until 3th July Juergen Teller. Enjoy Your Life!
From 2nd to 5th June, like every year in Berlin, the Carnival of Cultures, celebrates the multicultural soul of the city. Four days to give visibility to different cultures and will finish on Sunday in Kreuzberg with the street parade where thousands of dancers, musicians and artists perform in front of about a million people from all over the world.
With the good weather, the Oberbaumbrücke will be a real open air museum. An art mile where both professionals and young talents are given the chance to present their art in the categories paintings/graphics, sculptures and photography. The Open Air Gallery aims to stimulate the dialogue between the artists and beholders.
After 8 years the International German Gymnastics Festival is back to Berlin this year, from 3rd June to 10th June. There will be lots of shows and performances in 28 different sport categories.
10th June and 11th June at Tempelhof Airport will take place the seventh and eighth round of the all-electric Formula E Championship. You could buy the tickets at booking offices on the day of the event or on the Formula E's website.
16th June to 16th July starts the largest folk festival: the German-French Fair. It wants to reproduce the typical french atmosphera with funfair rides, live music and many delicacies such as tarte flambée, Thuringian rostbratwurst and garlic baguette.
17th and 18th June will run along Berlin The Velothon Berlin. It's the second largest bicycle race of its kind in Europe.
As every year, to celebrate the beginning of the summer, on 21th June there will be La Fête de la Musique. The city will be full of musicians, bands and live music around the streets for free.
48 Hours in Neukölln is an artistic event from 24th to 25th June. Within 48 hours about 300 cultural institutions and societies display the diversity of Neukölln's artistic potential.
From 30th June to 2nd July will take place the Bergmannstraßenfest (Festival at Bergmannstraße): a three-days Open Air festival in Kreuzberg, will offer international food delicacies, works of art, handmade items and much more.
EVENTS GUIDE DAY BY DAY
Thu 1st June
Today until 4th June begins the Sardisches Filmfestival Berlin: four days to celebrate the best contemporary films produced by Sardinan directors.
From 1st June until 5th June Carnival Fever Entertainment presents the biggest Berlin Carnival Weekender ever.
From 7 PM to 11 PM Eddie Vedder live with the special guest Glen Hansard in Zitadelle Spandau.
Fri 2nd June
From today until 15th June at 8PM begins the World Press Photo Exhibition 2017 at Willy-Brandt-Haus.
Sat 3rd June
At 7 PM Sardisches Filmfestival Berlin is proud to present "Le favole iniziano a Cabras" by Raffaello Fusaro.
From 2 PM until 6 PM there will be a Walk of Peace to share Love and Peace all together.
3rd June and 4th June the Exberliner's 15th Birthday Party at Haus Schwarzenberg. More informations here.
Sun 4th June
From 5.30 PM until 7.30 PM the first Ludovico Einaudi's open air concert at Waldbühne Berlin.
From 2 PM until 10 PM Watergate celebrates its 15th anniversary at the SAGE beach, a cool and open air location with a lots of dj and also H.O.S.H., one of the most important acts from the Diynamic house well-known for delivering countless sensational sets at the Watergate club.
Sardisches Filmfestival Berlin and CinemAperitivo presents "La Stoffa dei Sogni" by Gianfranco Cabiddu and a debate with the director and aperitivo.
This Sunday will take place the biggest Carnival of Cultures street parade; a mix of dancers, musicians and artists from all over the world.
Mo 5th June 
From 6 PM at Klunkerkranich the 5th annual Funk Freaks Meeting Berlin.
From 11 AM until 10 PM at Jugendkulturzentrum Linse the Klamottentauschmarkt, a second hand market, to promote the sustainability and the consumerist society.
From 7 PM until 11 PM the R&B artist Miguel will perform at Huxleys Neue Welt, click here to buy the tickets!
Tue 6th June
From 8 PM until 10 PM the concert of the great Italian artist Giorgio Canali at Prachtwerk Berlin.
From 6 PM at Bohnengold, as every Tuesday, it's possible to play ping pong in a friendly environment with music and food. Here the official event.
From 9.30 PM until 11.30 PM the screening of the movie "A United Kingdom" (English/ German sub) in a open air cinema at Freiluftkino Kreuzberg.
Wed 7th June
From 11 PM at Bohnengold, the new Wednesday, I'm in Love season is going to start, with pop, electronic, indie and house music.
From 7 PM to 11 PM at Birgit&Bier, Baum Haus Comedy Showcase, the open air terrace will be open from 2 PM but the show will take place at 8 PM and the entry costs 10€.
Thu 8th June
From 8th June to 11th June starts the Torstraßen Festival 2017,an open air music festival with a lots of famous dj. Tickets avaible here, on Saturday the entrance will be free.
From 10 PM until 2 AM at Birgit&Bier there will be the second Full Moon Rave – Dance me to the Moon.
From 8 Pm until 11 PM the l trio All We Are (Richard O'Flynn Irlanda, Guro Gikling Norvegia e Sänger Luis Santos dal Brasile) si esibiranno live all'Auster Club. Biglietti disponibili qui.
Fri 9th June
The Urban Spree Summer Session opening party starts at 2 PM with free entry until the morning after. More details here.
For those who is tired to dance in a Club and want to enjoy the great weather, this Friday you will do it at the Freiluft Rave.
3 days nonstop to celebrate the 8 Years Suicide Circus Birthday. More info here.
Sat 10th June
From 10th June to 11th June at 6 PM there will be the biggest FULL MOON PARTY at Haubentaucher. You can buy the ticket, that includes a lo of things and also the original full moon t-shirt.
From 8 PM until 11 PM the live concert of Wise Guys at Admiralspalast Berlin.
Sun 11th June
From 12 AM to 6 PM at Markthalle Neun, you could taste some good ice-cream (and much more…) thanks to this event organized by Büro für kulinarische Maßnahmen and Slowfood Berlin.
From 10 Am until 7 PM at Straßenbräu for those who love the brunch and for those who doesn't know yet what actually this word means, you could find out this Sunday to the Simply the Rest – Brunch & Event.
From 3 PM to 11 PM at Holzmarkt25 the live performance of Fat Freddy's Drop Open Air.
Mon 12th June
From 7.30 PM until 11 PM  the Linkin Park live concert at Mercedes-Benz Arena. Here the tickets.
From 7 Pm to 10 PM at Haus der Kulturen der Welt  reading, talks and discussions about the meaning of fear. This event Dictionary of Now #7 – Fear will be with simultaneous translation English/German for 5/3 €.
From 8 PM until 11 PM at Astra Kulturhaus Berlin, Machine Gun Kelly live concert.
Tue 13th June
From 8 PM until 11 PM at Kindl-Bühne Wuhlheide the System Of A Down live concert.Tickets available here.
From 7 PM until 6 AM at Minimal Bar, a night with Electronic Beats,Ping Pong & nice Drinks. Here all the infos.
From Tokyo to New York, the Peruvian and Greek producer, singer, songwriter and DJ  Sofia Kourtesis will be embarking on a travel at Chalet Club, what she called All Night Long *The Divine Comedy.
Wed 14th June
From 11.59 PM until 12 AM at Arena Club SEX&ART night.
From 10 PM until 2 AM at Süss War Gestern, techno all night long with DJ Moritz & Friends. Free entry.
From 7 PM until 2 AM at Promenaden Eck, Halbzeit mit Gaamer, a music lover and record collector who spends most of his time in Berlin looking for inspiration, digging and playing records. Minimal and house music.
[adrotate banner="37″]
Thu 15th June
From 10 PM until 12 AM al Salon zur Wilden Renate la serata Bordel Des Arts; per la line-up clicca qui!
From 10 PM until 12 AM  at Salon zur Wilden Renate the night of Bordel Des Arts; Click here for the line-up.
From 9 PM until 10.30 PM GRILLEN IM KOPF, a performance inspired by a monologue "L'Orologio è Rotto" by Nora Cavaccini – an Italian writer in Berlin – just published both in Italian and German.
Friday 16th June
From 11 PM until 2 PM at KitKat, the Apokalipstick, here the line-up and the concept.
From 8 PM until 12 AM at Yaam, the Ramadan Food Festival "Fastbreaking from all over the World".
From 16th June to 18th June, will take place "Mary Jane Berlin" the biggest German Cannabis exhibition with more than 150 national and international exhibitors.
Sat 17th June
From 11 PM until 7 AM at Lofthus Hall, House of Love, a celebration of house music in all of its forms. From deep- to disco-, lofi- to tech-, Chicago to London, and everything else with a 4/4 beat that will move your feet.
From 17th June to 18th June at 5 AM at Badeschiff Berlin to enjoy together the good weather with music and the outdoor swimming pool.
From 11 PM until 6 AM at OHM, the special night Going Good with Nummer, Brian Not Brian & Sal.
Sun 18th June
From 12 AM to 6 AM at Else the Live At Robert Johnson – Lifesaver 3 Tour.
From 4.30 PM util 10 PM at Waldbühne Berlin the  PxP Festival 2017.
Mon 19th June
Today until the 25th June starts the Street Photography Workshop at PhotoWerkBerlin. Here all the details.
House of Waxx as every Monday at Tresor with Eluize (Night Tide/ Berlin) Tallmen 785 (Hotflush/ Berlin) and Elie Eidelman (Mensch, JackOff/ Berlin).
From 11 Pm to 7 AM at KitKat the Electric Monday. Here the details.
Tue 20th June
From 8 PM until 11 PM at Columbian Halle the Devendra Banhart live concert.
From 7 PM until 06 AM at Minimal Bar the live performance of Matteo Corrao.
Wed 21th June
Today starts the Fete de la Musique and like every year there will be lots of events in every corner of the city. Then it will continue till the night in the most famous Clubs such as Tresor, Musik & Frieden, Wabe, Birgit.
Thu 22th June 
From 10 PM until 11 PM at Olympiastadion Berlin, Depeche Mode live concert. Here the tickets.
From 11 PM until 10 AM at Suicide Circus Rituals Hosted by Balas & Liminal.
From 9 PM until 3 AM at Repeat the second edition of "listening sessions": a very intimate setting where you could hear artists playing their favorite tracks. Here the line-up.
Fri 23th June 
From 24th June to 25th June at 6 PM at Spreewerkstätten there will be the URBAN FIT DAYS Berlin 2017.
From 23thJune at 4 PM to 24th June at 3 AM at Urban Spree there will be the Berlin Midsommar Festival 2017.
From 23th June at 11:59 PM to 24th June at 11:00 AM the Kosmonat countryard will host a very interesting tecno music night with a special line-up.
Sat 24th June
From 24th June to 25th June at 10:00 PM you'll have the chance to enjoy the sun at Berlin 030 thanks to the event Grillen und chillen in Berlin. 
At 2 PM in Teufelsberg for those who loves Yoga, you will have the chance to take part in the concert of Janin Devi, André e Stefan Datt while you do Yoga.
At 4.30 PM will take place a Black Lives Matter protest  and the month-long program is composed of various workshops, film screenings, panels, poetry-events, city tours, concerts and parties.
48 Hours in Neukölln starts.
Sun 25th June
From 8 PM until 11 PM at Waldbühne Berlin the Kings of Leon live concert.
From 8 PM until 11 PM  at Cassiopeia live performance of the Trap Them band.
Second day of 48 Hours in Neukölln.
Mo 26th June 
From 6 PM until 10 PM at The Ballery the exposition by Bettina Gawronsky – Solo Exhibition.
From 9:45 PM until 11:45 PM at Freiluftkino Friedrichshain the film screening I am not your Negro.
Last day of 48 Hours in Neukölln.
Tue 27th June 
From 10 PM until 2 AM at Mein Haus am See, The Unknown presents the new artist Fusy.
From 8:30 AM until 6:15 PM at Heinrich-Böll-Stiftung a debate about the new renewable technologies Baustelle Energiewende / Work in Progress: Energy Transition.
Wed 28th June 
From 7 PM until 11 PM at Huxleys Neue Welt , the Jimmy Eat World live concert.
From 8 PM until 11 PM at Musik & Frieden, techno night with Gavlyn & DJ Hoppa.
Thu 29th June  
From 8 PM until 11 PM at Max-Schmeling-Halle Berlin the Blink- 182 live concert, here the tickets.
From 8 PM until 11 PM at Badehaus Berlin the live performance of Kikagaku Moyo.
Fri 30th June 
From 12 AM until 11 PM at Watergate Pete Tong , Matthias Meyer , Ruede Hagelstein (live), Dennis Kuhl + tba.
From 30th June at 6 PM to 2nd July at 6 PM at Wartenberger Hof – Veranstaltungshaus , the Berliner Grill & BBQ Festival 2017.
From 30th June to 2nd July there will be the Bergmannstraßenfest.
[adrotate banner="34″]
SEGUI TUTTE LE NEWS SU BERLINO, SEGUI BERLINO MAGAZINE SU FACEBOOK
Foto © "Carnival of Cultures 2016, Berlin" © Sergey Galyonkin – CC BY-SA 2.0 
https://berlinomagazine.com/wp-content/uploads/2017/05/26426153403_c1de6e7eaa_b.jpg
809
1024
Federica Segarelli
https://berlinomagazine.com/wp-content/uploads/2019/12/berlino_magazine_2019.png
Federica Segarelli
2017-05-29 11:24:12
2017-07-27 10:00:14
June 2017 events guide in Berlin day by day