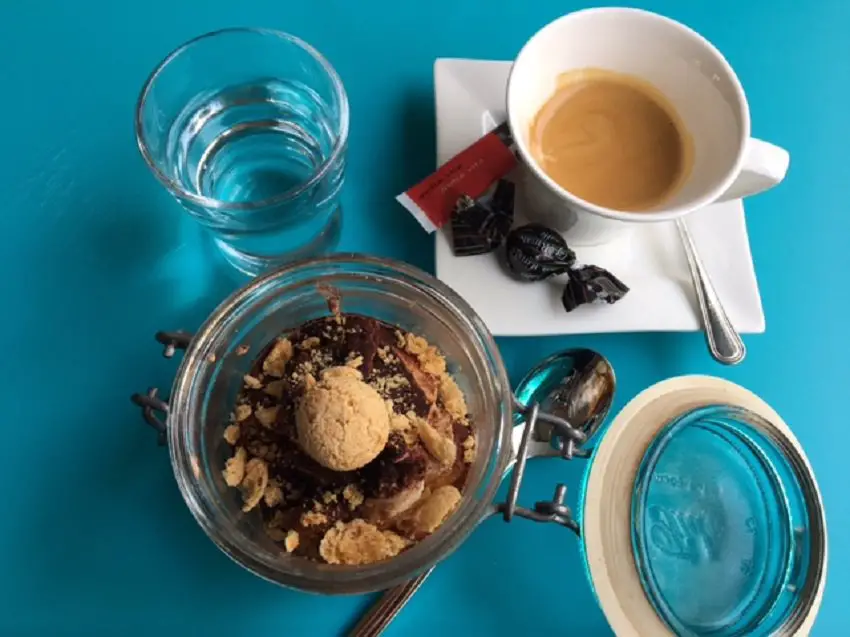 The sweetest week in Berlin is coming on the 20th-26th November with the Italian Guilty Pleasure Days.
For breakfast, coffee-break or dessert, who can say no to a moment of sweetness? Cookies, cakes, pies, chocolate, Tiramisù and ice-cream are some of the most known and appreciated Italian sweets. But if you want to discover and taste the best of Italian patisserie do not miss the first "Italian Guilty Pleasure Days", the sweetest week in Berlin.
Read this article in Italian or German.
The event
For the fixed price of 4€, you will have the chance to taste a dessert and an Italian espresso, a cappuccino or a hot chocolate. Among the specialities you can find typical Italian desserts like Cannoli, Cantucci or Torta Caprese, but also reinterpreted recipes like Mixed berries tiramisù, Amaretto tiramisù or raw vegan panna cotta. In order to try one of the different specialities the only thing that you will have to do is going to one of the participating restaurants and order the event speciality. All these places will also offer their regular menu dishes. For 2€ more in every participating place you can buy a little jar of Amarena cherries or topping from our sponsor Fabbri.
The map
The Italian Guilty Pleasure Map will help you to organize this delicious sweet tour. It follows the Berlin map and shows all the locals participating in the event, their address, opening hours and specialties.
Click here to download the map!
The organizers
The event is organized by Berlin Italian Communication within the network True Italian and in collaboration with Istituto Italiano di Cultura di Berlino. The event is part of the Week of the Italian Cuisine in the World 2017, promoted by the Italian Foreign Ministry and Ministry of Food and Forestry Policies. Sponsor of the event is Fabbri, an Italian leader company for sweet products since 1905.
The True Italian project
True Italian is a network created to promote the Italian tradition in Germany through different events. The restaurants and cafés that participate to the projectcan be recognized thanks to the True Italian logo (which has been registered at the Deutsches Patent- und Markenamt).
Italian Guilty Pleasure Days
From the 20th to the 26th November 2017
trueitalian.top – Pagina Facebook – Evento Facebook
List of the participating restaurants and their offers
MITTE
Max-Beer-Straße 33, 10119 Berlin (U2 Rosa-Luxemburg-Platz)
Mon 12-23, Tue-Fri 09-23, Sat-Sun 10-23
Milk chocolate mousse with cinnamon candied pears, cocoa biscuit and orange sauce + cappuccino, espresso with steamed milk and cocoa or handmade Italian hot chocolate
KREUZBERG
Graefestraße 11, 10967 Berlin (U8 Schönleinstraße)
Everyday 8-19
3 small pastries + coffee (take away)
Grimmstraße 1, 10967 Berlin (U1/U8 Kottbusser Tor)
Everyday 12-23
Bavarese with persimmon, apple, lavander and hazelnut crumble + coffee
Kreuzbergstr. 29 – 10965 Berlin (U7/S Yorckstr.)
Mon-Sat 10-22, Sun 16-22
Almond biscuits + glass of PassitoTuran from the Latium region
NEUKÖLLN
Kienitzer Str. 116, 12049 Berlin (U8 Leinestr.)
Tue-Fri 14-19, Sat-Sun 10-19, closed Mondays
Pears and walnut tart + coffee
Reuterstraße 59 12047 Berlin (U7/U8 Hermannplatz)
Everyday 9-24
Mixed berries tiramisù + coffee
PRENZLAUER BERG
Erich-Weinert-Straße 3, 10439 (U2/S SchönhauserAllee)
Mon-Sat 10.30-19, closed Sundays
Cocoa pâtesablée, pumpkin and persipan (bitter marzipan), chocolate and maldon salt ganache + coffee
Danziger Str. 23, 10435 Berlin (U2 Eberswalder Str.)
Tue-Fri 9-18, Sat-Sun 10-19, closed Mondays
Tiramisù with a sponge cake base, whipped cream, mascarpone, cooked egg, lady fingers with coffee and marsala zabaglione + coffee
Zelter Str. 6, 10439 Berlin (S PrenzlauerAllee)
Tue-Fri 10-18, Sat-Sun 10-19, closed Mondays
Orange flavoured vegan semifreddo + coffee
Danziger Str. 49, 10435 Berlino (U2 Eberswalder Str.)
Tue-Fri 12-19, Sat 12-18, closed Mondays and Sundays
Caprese cake from Capri with Sicilian white almonds and dark chocolate from Tuscany + original Neapolitan espresso
Rhinower Str. 10, 10437 Berlin (U2/S SchönhauserAlle)
Everyday 8-20
Slice of cake of the day + Cannolicchio (mini cannolo with Sicilian craft waffles, sheep's ricotta cheese, Avola almonds and chocolate drops) + espresso or Cappuccino
Eberswalder Str. 21, 10437 (U2 Eberswalder Str.)
Mon-Thu 11:30-23, Fri-Sun 11.30-23.30
Caprese tart with Venezuelan chocolate and Sicilian Almonds (original gluten free recipes) OR Double chocolate Woltz cake (vegan) + Espresso Quarta
Danziger Str. 16, 10435 Berlin (U2 Eberswalder Str.)
Everyday 12-23
Raw vegan Panna Cotta + coffee
PANKOW
MamaArt Berlin Art & Italian Food
Heynstrasse, 33, 13187 Berlin (U2/S Pankow)
Tue-Thu 11.30-21, Fri 11.30-22, Sat 15-22, Sun 15-21
Hot chocolate with whipped cream + selection of chocolate praline
CHARLOTTENBURG
LimaLima Café-Bistro, Ristorantino
Schlüterstraße 74, 10625 Berlin (U2 Ernst-Reuter-Platz)
Tue-Sat 13-22, closed Mondays and Sundays
Tiramisù with dried amarettos, coffee and Amaretto di Saronno + coffee
[adrotate banner="34″]

SEGUI TUTTE LE NEWS SU BERLINO, SEGUI BERLINO MAGAZINE SU FACEBOOK
Foto "Tiramisù with dried amarettos, coffee and Amaretto di Saronno + coffee" © LimaLima
https://berlinomagazine.com/wp-content/uploads/2017/10/LimaLima-1.jpg
637
850
Berlino Magazine
https://berlinomagazine.com/wp-content/uploads/2019/12/berlino_magazine_2019.png
Berlino Magazine
2017-10-25 13:48:53
2017-11-09 17:35:30
Italian Guilty Pleasure Days: try the best Italian desserts during the sweetest week in Berlin