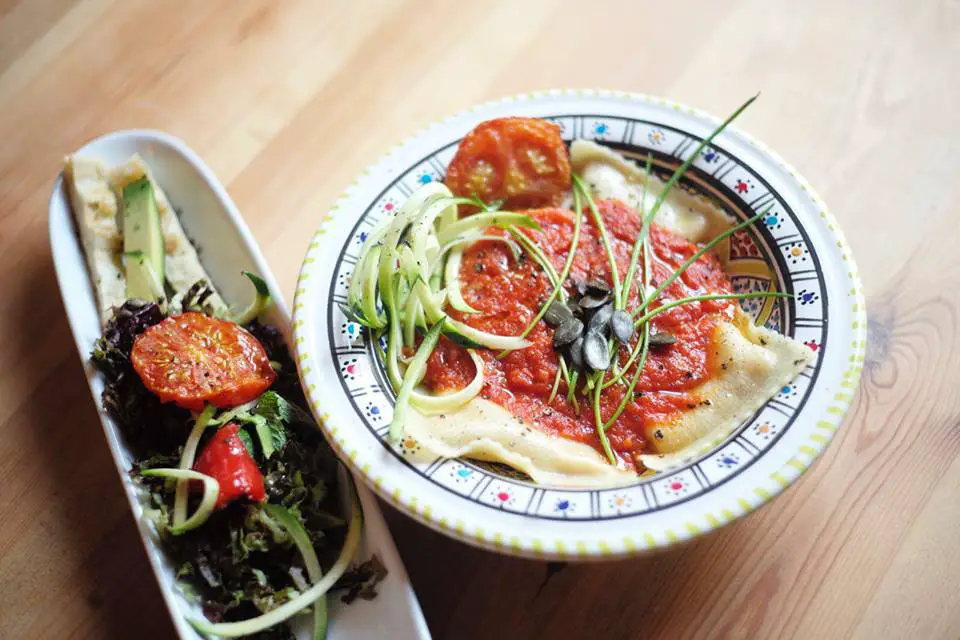 An Italian-African Sunday Brunch in Berlin: a truly (and tasty) anthem to multiculturalism.
In Prenzlauer Berg you can find a unique gastronomic mix of two geographically distant cultures. Key word: Ataya Café.
Ataya Cafè is a place where the Italian and African – Senegalese to be precise – cuisines meet. Being its main course quality, Ataya has become one of the most popular ethnic cafés in Berlin. Indeed, their Sunday buffet brunch can only be described as a real festival of flavours.
The Italian-Senegalese brunch menu by Ataya Café
Each Sunday, you can get the great chance to try a buffet in which penne all'arrabbiata lie next to Mafe (Senegalese vegetable stew with peanut cream), where Yassa (Senegalese mix of veggies) as a side dish for pizza. The offer also includes home-made hummus, cous cous with grilled vegetables, salads, pastel (spicy vegetables bundles), soups, Saï-Saï (black-eyed peas stew), riso joloff (spicy red rice), and many other recipes including pasta, curry manioca, fried yum, spinach and a delicious chocolate cake. The buffet is all-you-can-eat for a fair price of 14€. "You can stay there as long as you wish, even after brunch time (11.30 – 3.30 pm). We never force our customers to leave, because we like to think that people could really enjoy the teranga – which means welcome in Wolof" explains Elisabetta, one of the two owners of Ataya. Senegal is also known as "the country of teranga", after all. To sum up: good food, nice location, the right attitude towards customers… what are you still waiting for?
PS: you can check out the famous brunch on Saturdays too, it is both buffet or à la carte, vegan and vegetarian!
About Ataya Café
Ataya Café is run by Elisabetta and Bachir. She is a Sardinian chef and a naturopath reflexotherapist as well ("it is always about health"), whereas he is a Senegalese musician grown up in France. They met each other in Cagliari during one of his tours and after few years of developing the idea and planning about how to make it real, they came to Berlin with their two children to finally realise their dream: the Ataya Café. "The eye on the future and the multiculturalism of Germany's capital city has always attracted us. After all, it could not be otherwise given our extraordinary union. After thinking long we have decided not to open just an Italian or an African restaurant, but to create a whole new concept combining the two of them, experimenting something new while focussing on ingredients quality, offering a wide variety of vegan dishes". Pretty difficult to understand it from a Berliner point of view, isn't it? "Great things can be achieved only when you are true to yourself. We opened in Summer 2016 and step by step we are winning over our audience".
What has been said about Ataya Café
The tastiness of their lunch and brunch menus has been very much appreciated by the local press; the restaurant was the runner-up in the 2016 Mit Vergnügen's ratings of the best restaurants in Berlin where to have a vegan breakfast; Exberliner has instead appreciated the warm and colorful atmosphere and reported it on its magazine. Many good reviews about it have been published on Goodgoal as well as I heart Berlin Ataya is one of the best Cafés in Berlin.  We confirm what has been said before: Ataya Café is place you don't want to miss.
Buffet brunch at Ataya Café
Zelterstraße 6, 10439 Berlin
Every Sunday from 11.30 am until 3.30 pm
Price: 14€
Ataya Café
Open 7/7 from 10.00 am until 7.00 pm
https://berlinomagazine.com/wp-content/uploads/2018/01/Ataya.jpg
640
960
Marta Evangelista
https://berlinomagazine.com/wp-content/uploads/2019/12/berlino_magazine_2019.png
Marta Evangelista
2018-01-23 18:07:08
2018-01-28 08:59:05
An Italian-African Sunday Brunch in Berlin: a truly (and tasty) anthem to multiculturalism.