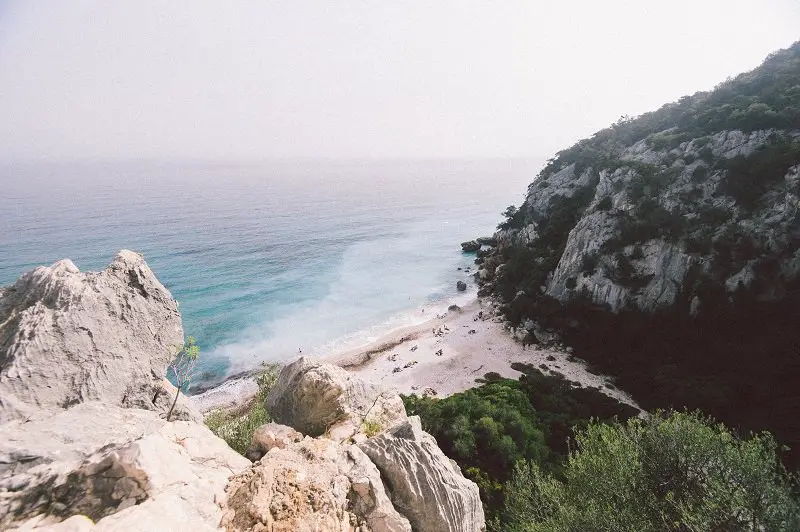 A night of traditional cuisine and cinema to celebrate Sardinian culture
On the last date of the Berlin Travelling Film Festival, between cinema and traditional cucine, we will discover the atmosphere and flavors of Sardinia: all of this is the Sardinian Day.The festival takes place at the cinema and bistro KINO on the Maybachufer, between Kreuzberg and Neukölln. Sunday evening (2nd December 2018) will be entirely dedicated to sardinian culture and traditions which include a presentation of the event by the directors, followed by a short documentary and a docu-film about Sardinia, both in Italian with English subtitles. All of this will be followed by a delicious dinner based on typical Sardinian dishes. The price for the evening (film and dinner) is €15.
Sardinian Day: two beautiful documentaries about Sardinia
During the Sardinian Day you will have the chance to watch "Born of Stone" (original title: Nato dalla Pietra), 15min-documentary directed by Emilio Bellu in 2016, followed by "Cabras, Where Fables are Born" (original title: Le Favole iniziano a Cabras), shooted in 2015 and directed by Raffaello Fusaro. Both films will be screened in italian with english subtitles. Born of Stone is a documentary dedicated to the life and works of the famous sculptor Pinuccio Sciola who was able to create a fantastic sculture known as "pietre sonore". On the other hand, the documentary film Cabras, Where Fables are Born represents a discovery trip of Sardinia through the eyes of musicians, poets, artists, actors e and native people.
[adrotate banner="34″]
Sardinian Day: the dinner
At the end of the screening you will have the opportunity to taste the traditional sardinian dishes. A buffet will be arranged by the Berlin Sardinian Club (Sardisches Kulturzentrum Berlin), where you will find Pane Carasau, Pane Guttiau (two typical Sardinian types of bread) and a wide choice of cheese such as pecorino sardo stagionato (pecorino cheese), Fiore Sardo di Gavoi (a special type of pecorino) and ricotta speziata affumicata ( smoked spiced ricotta). Everything will be combined with Sardinian honey and grapes. Moreover salsiccia from Campidano and another one with mirto leaves (two types of sausages), Sardinian oil, olives, sardinian artichokes in oil, wiled cardoons, dried tomatoes… But it's not over yet: among desserts you will find Saba bread, Tonara nougat, Tilicche, Sospiri, Sardinian Amaretti and almonds Gatenau.
The Travelling Film Festival: a trip into the gastronomy and film culture of five different countries
Sardinian Day is the last one of five events during the Berlin Travelling Film Festival. The festival takes place from 28th november to 2nd december 2018 at the IL KINO cinema in Berlin and it leads the guests into a trip through the gastronomy and film culture of five different countries. Every night is dedicated to a different country, and the festival opens with Croatia followed by United Arab Emirates, Moldova, Serbia and Sardinia.The price is 15€ and includes the film screening followed by a traditional buffet dinner inspired by the protagonist country of the night. All the screenings will be also introduced by a short embassy delegate's presentation.
Domenica 2 dicembre 2018
IL KINO, Nansenstraße 22, 12047 Berlin
19:00 Introduction
19:15 Screening
21:00 Typical Sardinian dinner
Ticket 15€ (buy it at KINO or online here)
[adrotate banner="39″]


SEGUI TUTTE LE NEWS SU BERLINO, SEGUI BERLINO MAGAZINE SU FACEBOOK
[adrotate banner="34″]
Immagine di copertina: © Photo by Florian Bernhardt on Unsplash
https://berlinomagazine.com/wp-content/uploads/2018/11/florian-bernhardt-383564-unsplash.jpg
532
800
Euridice Comuzzi
https://berlinomagazine.com/wp-content/uploads/2019/12/berlino_magazine_2019.png
Euridice Comuzzi
2018-11-30 19:03:53
2018-11-30 19:34:16
Movie night and food to celebrate Sardinia in Berlin