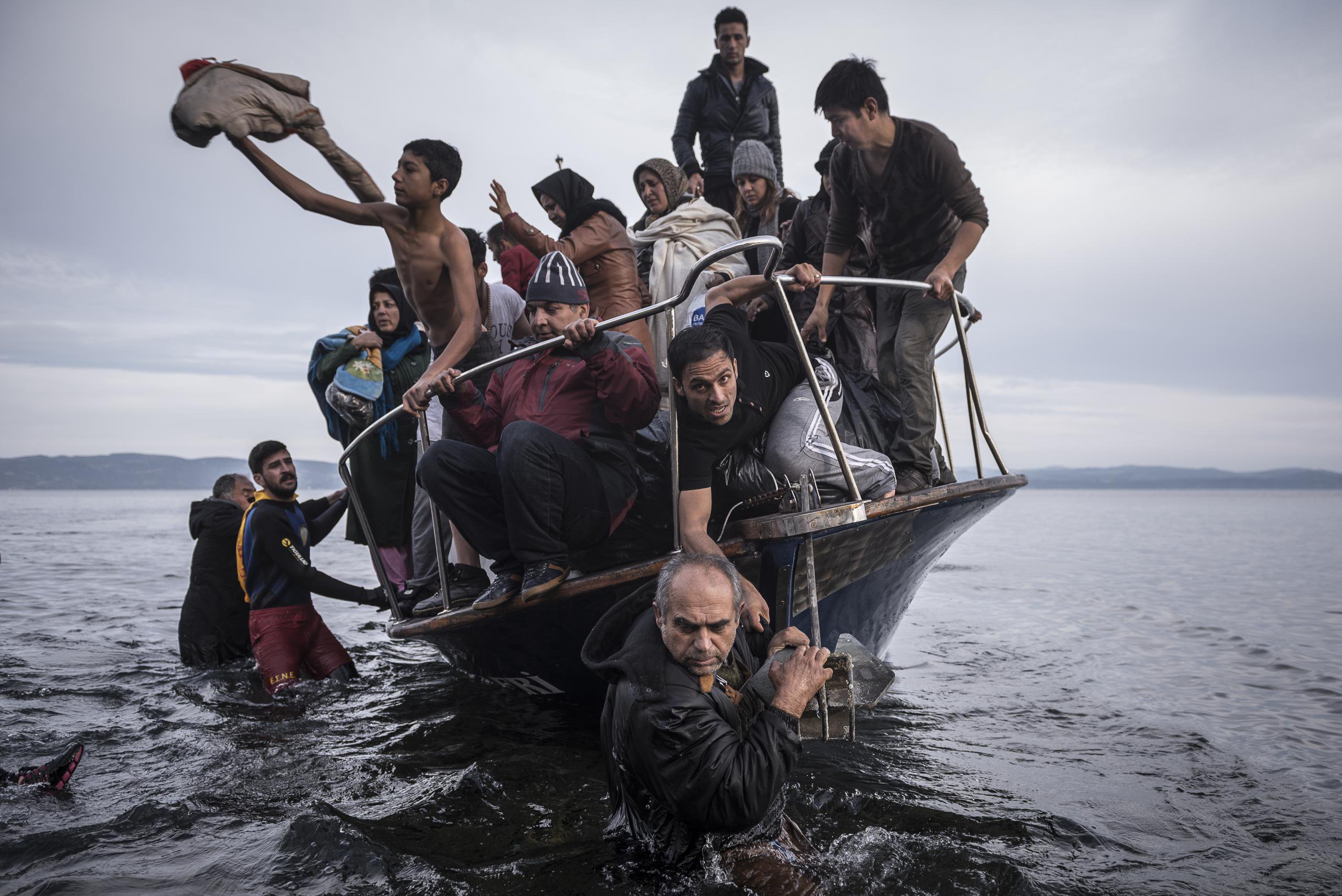 10 eccezionali foto del World Press Photo 2016, in mostra gratis a Berlino
Un gruppo di rifugiati arrivano su un'imbarcazione di fortuna sull'isola greca di Lesbos. Lo scatto è del russo Sergey Ponomarev, è datata 16 novembre 2016 ed è stata pubblicata sul New York Times. È una delle foto premiate quest'anno con un dei  World Press Photo Awards, i più prestigiosi premi di fotogiornalismo al mondo. La mostra che li raggruppa tutti è ora in tour tra i cinque continenti: 100 città, 45 paesi e un pubblico di circa 4 milioni di persone; sono questi i suoi numeri. Prime tappe della mostra sono state Poznan in Polonia e a Siviglia in Spagna lo scorso 27 aprile. Poi Roma, Lisbona, Minsk, Amburgo, Zurigo e, ora, fino al 26 giugno 2016 è visitabile alla Willy-Brandt-Haus di Berlino.
Le categorie del contest. Dal 1955, anno in cui l'organizzazione no-profit dall'omonimo nome è stata fondata, il concorso, oltre a selezionare la fotografia vincitrice del World Press Photo of the Year, determina altri vincitori nelle seguenti categorie: 'General News', 'Spot News', 'Sports', 'Contemporary Issued', 'Daily Life', 'People', 'Nature', 'Long-Term Projects – Individual', 'Long-Term Projects – Group'. Dallo scatto del fotografo australiano Warren Richardson intitolata 'Speranza di una nuova vita' e che ritrae un neonato in procinto di essere preso in braccio da un rifugiato siriano che ha già oltrepassato una recinzione che divide la Serbia dall'Ungheria vicino Röszke, allo sciatore ceco Ondrej Bank immortalato da Christian Walgram, vincitore del primo premio singolo per la categoria 'Sports'. In mezzo la crisi dei migranti, manifestanti nella Place de la Nation a Parigi dopo l'attacco terroristico al giornale satirico Charlie Hebdo, un medico che spalma un unguento sulle ustioni di un giovane combattente del sedicente Stato Islamico in un ospedale ad Al-Hasaka, una regione a nordest della Siria controllata dai Kurdi. Ogni anno guerre, crisi, situazioni difficili ma soprattutto la libertà di espressione uniscono ogni singolo scatto.
Scatti sempre più interattivi. Oltre a poter seguire sui social Facebook, Twitter ed Instagram il profilo 'World Press Photo', è possibile utilizzare l'ashtag #WPPh16 e usare il proprio smartphone 'interagendo' con le singole foto. Grazie ad un code disponibile su ogni descrizione, il visitatore potrà ascoltare direttamente il fotografo parlare del suo lavoro/i, vedere le complete foto-storie, conoscere i dettagli tecnici delle fotografie e accedere alle descrizioni delle stesse in nove lingue diverse.In attesa di vedere i prossimi vincitori, la mostra continuerà il suo 'viaggio' fino al prossimo gennaio 2017 quando le migliori foto del 2016 saranno esposte in Israele, a Tel Aviv presso il Eretz Israel Museum.
World Press Photo 2016
fino al 26 giugno (domenica 5 giugno sarà chiusa)
da martedì a domenica dalle ore 12:00 alle ore 20:00
presso la Willy Brandt Haus,
Wilhelmstraße 140
10963 Berlino
ingresso gratuito
10 Foto e storie del World Press Photo Awards 2016 
Photo: © Sergei Ponormarev, Zhang Lei, Adriane Ohanesian, John J.Kim, Mario Cruz, Francesco Zizola,  Kevin Frayer, Warren Richardson, Matic Zorman
https://berlinomagazine.com/wp-content/uploads/2016/06/tvfynn2lmieoo47ge9t4.jpg
1709
2560
Maria Michela D'Alessandro
https://berlinomagazine.com/wp-content/uploads/2019/12/berlino_magazine_2019.png
Maria Michela D'Alessandro
2016-06-04 10:34:48
2017-07-27 10:32:22
10 eccezionali foto del World Press Photo 2016, in mostra gratis a Berlino