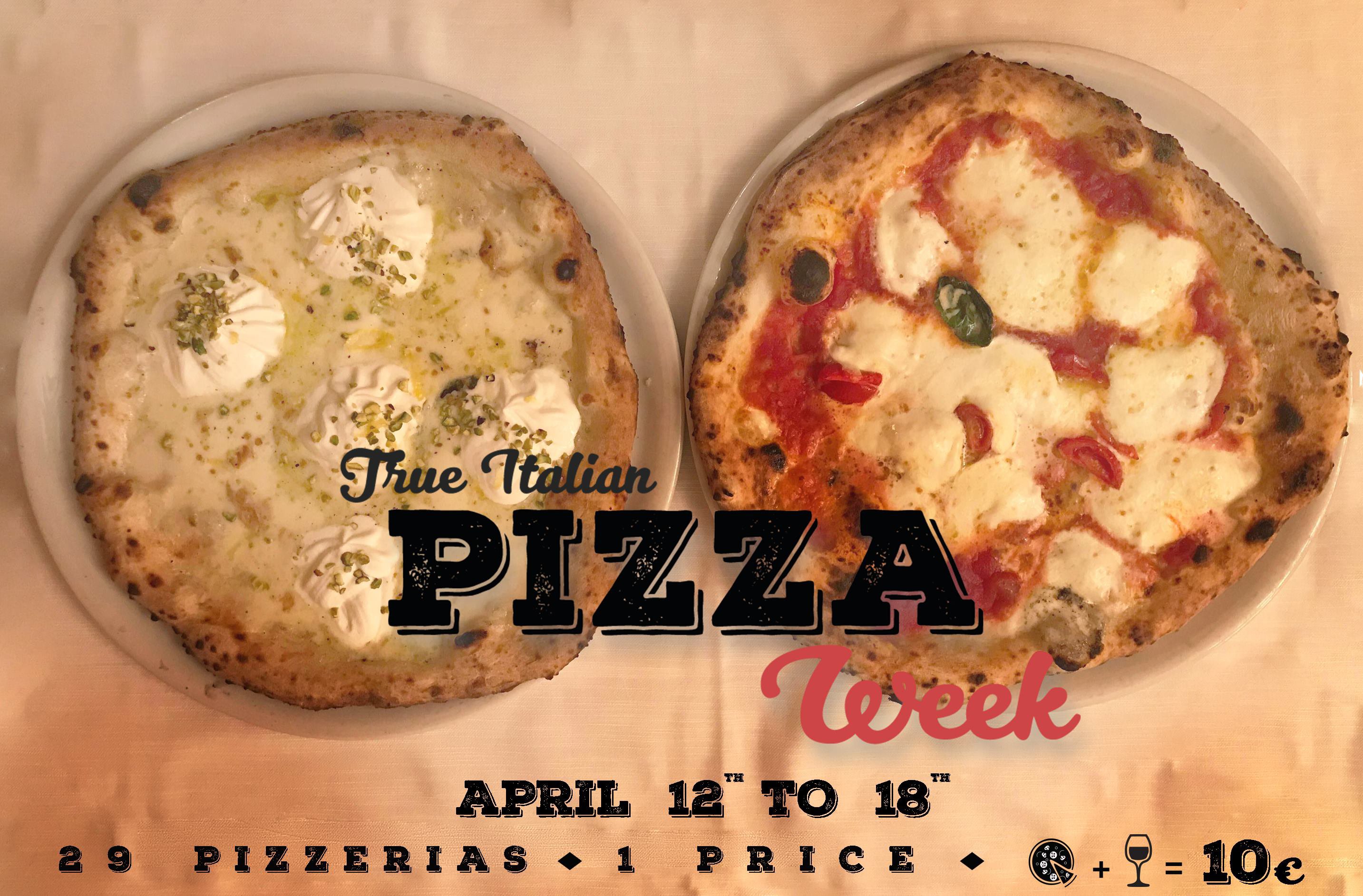 True Italian Pizza Week Berlin, one week to taste a pizza and a drink for only 10€ in one of the 29 best pizzerias in town
More than 25 pizzerias, one week, one fixed price: True Italian Pizza Week Berlin is a celebration of the best and authentic pizzas in Berlin.
Margherita, marinara, napoletana, capricciosa, quattro stagioni, ham and mushrooms, vegetarian: no matter what's on the top, pizza is the proper symbol of the Italian cuisine. True Italian Pizza Week Berlin aims to honour one of the symbols of the Italian gastronomic culture with a special initiative involving the best pizzerias in the German capital.
Read this article in Italian or German.
The event
True Italian Pizza Week Berlin will take place from April 12th to 18th in all of the 29 participating restaurants (please scroll down to discover all pizzerias and their pizzas on offer). Here you can ask for the event menu: you will have the chance to taste authentic Italian pizza (choosing between two kinds – vegetarian options available) and match it with a beer or soft drink paying just 10€. Following in the footsteps of the other True Italian events (like 72 hrs True Italian Food, which will take place this year from September 27th to 30th), the event wants to promote the variety and excellence of genuine Italian food in Berlin. 
Our partners
True Italian Pizza Week will be organised in collaboration with the Italian Cultural Institute of Berlin and Pizza Schule. We are happy to have as partners also the the Municipality of Naples and the Skyhouse hotel, which will offer a 3-days-stay in Naples to the winners of the photo contest we are organizing for the event (discover how to participate here!). Sponsors are Blade/Birra Moretti, Acqua Panna/San Pellegrino, Centro Italia, Enoteca Enzo and SR Gastrogeräte. The event's media partners are Buongiorno Italia, Berlin Loves You and Berlin Amateurs.
The map
During True Italian Pizza Week's 7-day festival, Berliners will be provided with a city metro map in which the stations are replaced by the pizzerias taking part with their pizza offer. Furthermore, the map can still be used after the event: the True Italian selection of the best Italian pizzerias in Berlin can be useful for those interested in trying the wide Italian gastronomic offer in the city at anytime of the year. The map is available in all participating restaurants and in our office in Gryphiusstr. 23 in Friedrichshain. Or you can download it as PDF at this link.
True Italian Project
True Italian is a network that aims to preserve authentic Italian restaurants found in Berlin through its brand (registered in the Deutsches Patent und Markenamt, the German patent and trademarks office), as well as a number of other initiatives and events held throughout the year. The project is pursued by Berlin Italian Communication/Berlino Magazine, a point of reference for the Italians and all those passionate about Italy who find themselves in Berlin. True Italian is made up of all the ambassadors of Italian cuisine who, starting from the produce selection, show their passion for spreading the culture of "good eating". When we talk about True Italian, not only do we focus on the chef/owner's nationality but also on their approach to food. Creativity in the recipes and high quality ingredients: these are the key focus points for True Italian restaurants.
What makes a pizza "True Italian"?
First thing first, pizza is a healthy food. If pizza is made following the Italian tradition, it is prepared with a certain amount of yeast and it has many hours of rising time (from 9 to, in certain cases, 72 hours). If after eating a pizza you feel very thirsty or bloating, it means that there was too much yeast or the dough has not risen enough. Unfortunately it's not possible to understand it from the flavour, it's just a matter of digestibility. A True Italian pizza is light, tasty and made with high quality products only. This is the principle of every restaurant involved in the True Italian Pizza Week.
Let's celebrate pizza's variety
True Italian Pizza Week offers a deep insight into different kinds of pizza existing in Italy. For example you will find in the event pizzerias making the traditional Neapolitan pizza (soft dough, thick border) like Malafemmena, Prometeo and Monella as well as historical Italian restaurants in Berlin like Muntagnola and Francucci who really made a study on the dough finding the perfect mix among different flours to get a light and fragrant pizza. You can also find Pizzare, which everyday uses modern techniques to realize the perfect pizza, Rosso Berlin, which offers the typical crunchy pizza ("pinsa") from Rome, or Luisa Kocht with its typical Neapolitan fried pizza. You can find the complete list of the pizzas on offer here below.
True Italian Pizza Week Berlin
12th – 18th April 2018
Facebook event – Facebook page – True Italian website
Participating restaurants, addresses, opening times and offers
In each place one of the two pizzas on offer + drink for 10 €
SCHÖNEBERG
Ristorante Café Aroma Photogalerie
Hochkirchstraße 8, 10829 Berlin
Monday-Friday 18-24, Saturday 17-24, Sunday 11-24
Pizza with mozzarella, Taleggio cheese and radicchio OR Pizza with tomato sauce, mozzarella, Italian sausage and chicory
Hauptstraße 85, 12159 Berlin
Monday-Friday 16-23:30, Saturday-Sunday 12-23:30
Pizza with tomato sauce, mozzarella, fried aubergines and basil OR Pizza Diavola (tomato sauce, mozzarella and spicy salami)
Fuggerstraße 177, 10777 Berlin
Monday-Friday 16-23:30, Saturday-Sunday 12-23:30
Pizza with tomato sauce, mozzarella, fried aubergines and basil OR Pizza Diavola (tomato sauce, mozzarella and spicy salami)
Goebenstraße 3, 10783 Berlin
Everyday 17:30-22
Pizza Norma (tomato sauce, mozzarella, aubergines, salted ricotta and basil) OR Pizza Margherita (tomato sauce, mozzarella and basil)
NEUKÖLLN
Maybachufer 21, 12047 Berlin
Tuesday-Sunday 11:30-22:30, closed on Monday
Pizza Burina (mozzarella, mushroom cream and guanciale) OR Pizza Ortolana (tomato sauce, mozzarella and grilled mixed vegetables)
Pannierstraße 9a, 12047 Berlin
Tuesday-Sunday 18-23:30, closed on Monday
Pizza Bufala (tomato sauce and Buffalo mozzarella) OR Pizza Ortolana (tomato sauce, mozzarella, courgettes, aubergines, radicchio)
Weichselstraße 17, 12045 Berlin
Everyday 18-24
Pizza Tropea (tomato sauce, mozzarella, caramelised red onion from Calabria, Pecorino Romano cheese, arugula) OR Margherita Sbagliata di Pepe in Grani (mozzarella. tomato sauce and basil cream)
Selkestraße 27, 12051 Berlin
Everyday 12-24
Pizza with smoked Provola, red onions, mushrooms, speck OR pizza with Buffalo mozzarella, cherry tomatoes, arugula, parmesan
Pannierstraße 6, 12047 Berlin
Everyday 14-23
Pizza Caprina (tomato sauce, mozzarella, radicchio, speck, walnuts and goat cheese with honey) ODER Pizza Etnea (tomato sauce, mozzarella, champignons, pistachios, dried tomatoes, parmesan)
PRENZLAUER BERG
Danziger Str. 144, 10407 Berlin
Everyday 13-22:30
Pizza L'Ignorantona (mozzarella, Norcia sausage, browned guanciale with black pepper, porcini mushrooms and Pecorino Romano cheese) OR Pizza Zitellona (mozzarella, tomato sauce, porcini mushrooms, courgettes, aubergines and julienne sweet peppers) – Pizza Zitellona also VEGAN
Danziger Str. 49, 10435 Berlin
Thursday, Friday, Saturday 12-21, Tuesday and Wednesday 12-19, closed on Monday-Sunday
Fried pizza with Buffalo mozzarella, San Marzano tomatoes and Pecorino Romano cheese OR Fried pizza with Buffalo ricotta, Neapolitan salami and parmesan
Eberswalde Str. 21, 10437 Berlin
Everyday 11:30-23
All Italy in 1 Pizza (1/3 Campania: tomato sauce, mozzarella and Pachino cherry tomatoes, 1/3 Siciliana: aubergines and Salsiccia Norcina, 1/3 Lombardia: gorgonzola cheese and spinach) OR Pizza Melanzane Parmigiana Classic (Napoli sauce, mozzarella, basil pesto, deep-fried Sicilian aubergines and 24 months aged parmesan) – VEGAN + 3€ / GLUTENFREE + 4,5€
Lychener Str. 2, 10437 Berlin
Everyday 18-22
Pizza Ortolana (tomato sauce, mozzarella, aubergines, courgettes and sweet peppers) OR Pizza Diavola (tomato sauce, mozzarella, spicy salami and olives)
KREUZBERG
Kreuzbergstraße 71, 10965 Berlin
Everyday 12-24
Pizza Nostrana (mascarpone, Parma ham and baked potatoes) OR Pizza Rustica (tomato sauce, mozzarella, arugula, dried tomatoes, parmesan and pine nuts)
Grimmstraße 1, 10967 Berlin
Monday-Friday 17-24, Saturday-Sunday 12-24
Pizza Carbonara (cheek lard, bio scrambled eggs, pecorino cheese and grounded pepper) OR Pizza Fiore (turmeric pizza dough, asparagus, fingerling potatoes and Calendula flowers) – also VEGAN
FRIEDRICHSHAIN
Libauer Straße 10, 10245 Berlin
Monday-Friday 17-24, Saturday-Sunday 12-24
Pizza Parma (tomato sauce, mozzarella, Parma ham, arugula and parmesan) OR Pizza Ludovico Einaudi (tomato sauce, mozzarella, brie cheese, gorgonzola cheese, pine nuts and truffle oil)
Frankfurter Allee 33, 10247 Berlin
Monday-Friday 9-19:30, Saturday 10:30-19:30, closed on Sunday
3 pizza slices: 1 with Soppressata (a typical sausage from southern Italy), mozzarella, tomatoes and black olives, 1 with porcini mushrooms, potatoes, parsley and mozzarella, 1 with courgette, mozzarella and Gorgonzola
Niederbarnimstraße 13, 10247 Berlin
Everyday 12-24
Pizza with mozzarella, smoked salmon, bottarga, chives and brie cream OR Pizza with mozzarella, scamorza cheese, Italian sausage, pumpkin and black truffle shavings
MITTE
Italian Restaurant Malatesta am Gendarmenmarkt, Berlin
Charlottenstraße 59, 10117 Berlin
Everyday 16-18
Pizza Sfiziosa (mozzarella, potatoes, porchetta and rosemary) OR Pizza Primavera (tomato sauce, mozzarella and asparagus)
Ackerstraße 23, 10115 Berlin
Everyday 12-24
Pizza with mozzarella, Brussels sprout cream, apple, olives and spinach OR Pizza with mozzarella, rosemary-flavoured beet, sunflower seeds and goat cheese
MOABIT
Helmholtzstraße 24, 10587 Berlin
Monday-Friday 11-20, Saturday 16-20, Sunday 11:30-16:30
Authentic "Pinsa Romana" with taleggio cheese and mushrooms OR with tapenade sauce, tuna fish and Sicilian salted ricotta
CHARLOTTENBURG
Ristorante & Vinobar CaliBocca
Schlüterstr. 30, 10629 Berlino
Monday-Friday 17-24
Pizza Partenopea (tomato sauce, mozzarella, spicy salami from Calabria, walnut and parmesan) OR Pizza with gorgonzola, spinach and apple
Kurfürstendamm 90, 10709 Berlin
Everyday 12-23
Pizza with aubergines, Buffalo mozzarella and basil OR Pizza Marinara with tomato sauce, Spanish anchovies and aromatic olives
Mommsenstraße 36, 10629 Berlin
Monday-Saturday 12-22, closed on Sunday
Pizza Parma (tomato sauce, mozzarella, Parma ham, parmesan and arugula) OR Pizza Tonno (tomato sauce, mozzarella, tuna, onion and black olives)
Kurfürstendamm 51, 10707 Berlin
Everyday 12-18
Pizza Vegetariana (mozzarella, "friarielli" and salted ricotta) OR Pizza with tomato sauce, mozzarella, spicy salami from Calabria and arugula
Kantstraße 75, 10627 Berlin
Everyday 11-23
Pizza Bud Spencer (tomato sauce, mozzarella, Kidney Beans, carne salada, Montoro onion, parmesan, basil) OR Pizza Salami Delight (tomato sauce, mozzarella, salami, peppers, Montoro onion and basil)
TEMPELHOF
Burgemeisterstraße 74, 12103 Berlin
Tuesday-Sunday 17-23, closed on Monday
Pizza Capricciosa (tomato sauce, mozzarella, cooked ham, artichokes, champignons and olives) OR Pizza Italia (tomato sauce, mozzarella, mascarpone, cherry tomatoes, Parma ham and basil)
Tempelhofer Damm 104, 12099 Tempelhof, Berlin
Tuesday-Sunday 11:30-24, closed on Monday
Pizza Bufala (tomato sauce and Buffalo mozzarella) OR Pizza Marinara (tomato sauce, mozzarella, seafood and garlic)
WEDDING
Utrechter Str. 31, 13347 Berlin
Everyday 18-23
Pizza Porcini (mozzarella, garlic, parsley, porcini mushrooms, parmesan and green chili) OR Pizza with tomato sauce, mozzarella, arugula, cherry tomatoes and pecorino cheese
—
Wir bedanken uns bei unseren Partnern:
[adrotate banner="39″]
https://berlinomagazine.com/wp-content/uploads/2018/03/28942155_10214100423858257_1833512217_o.jpg
1885
2866
Berlino Magazine
https://berlinomagazine.com/wp-content/uploads/2019/12/berlino_magazine_2019.png
Berlino Magazine
2018-03-19 13:59:55
2018-04-20 13:43:13
True Italian Pizza Week Berlin, one week to taste a pizza and a drink for only 10€ in one of the 29 best pizzerias in town