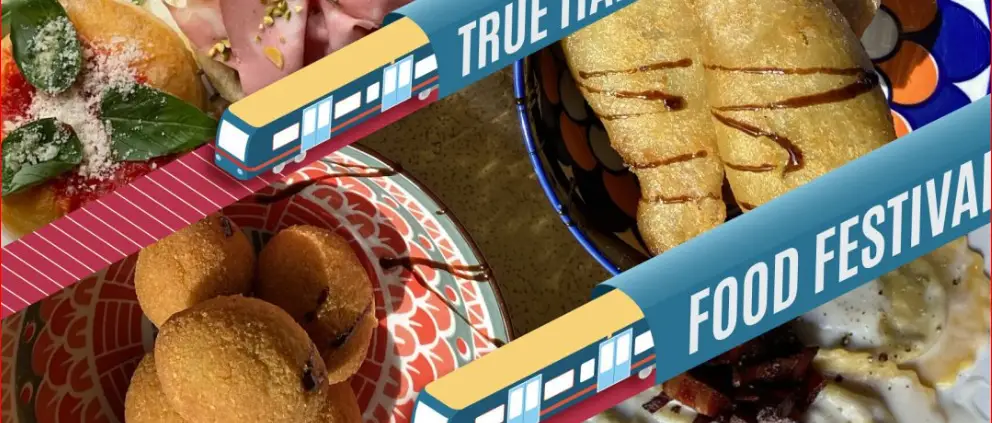 72 hrs True Italian Food Festival 2023, the greatest party of the regional Italian cuisine in Berlin
72 hours, 41 Italian restaurants in Berlin, 9€ for a small portion of a selected Italian specialty, a drink and a sweet treat: this is the seventh edition of the 72 hrs True Italian Food Festival!
Sicilian arancini with porchetta, Neapolitan impepata di cozze (peppered mussels with bread croutons); Piedmontese baked tomino; Roman deep-fried anchovies with stracciatella cheese cream; Venetian sarde in saor (sweet and sour sardines)…
These are just some of the delicacies that you will be able to savour together with a cool drink (depending on the venue it may vary between Sarti Spritz, wine, beer or non-alcoholic) and, from this year, also with a wafer for a sweet conclusion! All this for just €9, from 29 March to 1 April, in 41 selected Italian restaurants in Berlin: this is the 72 hrs True Italian Food Festival.
Read this article also in Italian or in German.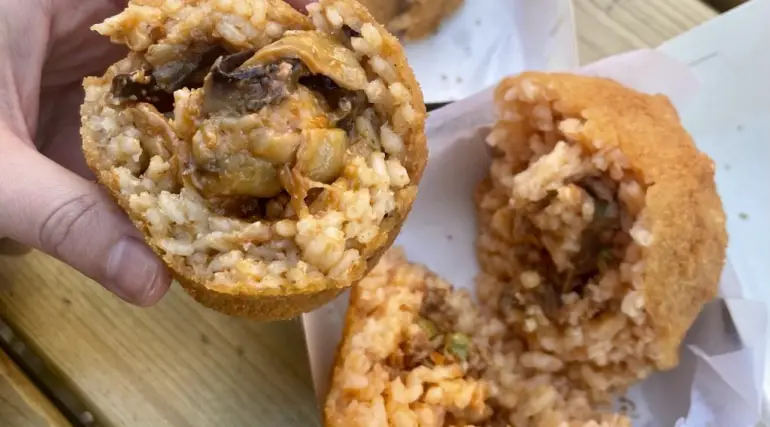 The event is organised by Berlin Italian Communication as part of the True Italian project. Partners of this edition are Sarti Rosa, Crodino, Babbi and Hotel Life Source.
72 hrs True Italian Food Festival, the map
To guide you through the various places and streets of Berlin, we have created the 72 hrs True Italian Food Festival Map, a map based on the Berlin underground cartography in which all areas of the city are visible and the respective participating establishments are located. Inside you will also find for each restaurant its address and the speciality offered.
The map is available as a downloadable PDF and on Google Maps. A few days before the event, it will also be available as a printed version inside the participating restaurants or at the True Italian office in Gryphiusstr. 26, Berlin Friedrichshain.
72 hrs True Italian Food Festival, the Instagram contest
But the curiosities to discover are not finished! This year, too, we invite you to participate in the Instagram contest. How to join? All you have to do is visit at least one of the participating restaurants during the event, take a photo and post it on your Instagram profile by 11 p.m. on 1 April using the hashtag #72hrstrueitalian, tagging the @trueitalianfood profile in the photo and putting the restaurant of the pictured speciality as the location.
Our jury will choose the 10 most original, beautiful and creative photos, which will then be put to the vote on True Italian's Instagram profile on Monday 3 April. Up to win there are 3 fantastic prizes:
a three-night stay two people in a splendid hotel in Bergamo, Italy's Capital of Culture 2023;
a shopper with Babbi products containing a box of delicious classic and dark Deluxe Viennesi and a box of vanilla and hazelnut Waferini Romagna;
a bottle of Sarti Rosa, so you can enjoy a refreshing aperitivo in the comfort of your home.
Don't miss this great opportunity and dare to secure a winning picture! You can find more information at this link.
 

Visualizza questo post su Instagram

 
The True Italian Project
The True Italian network aims to preserve and promote Italian restaurants, bistrots, bars and food trucks in Germany that represent the authentic Italian culinary tradition. To make them identifiable, they are awarded a trademark (registered with the Deutsches Patent und Markenamt and the EUIPO). Adhering to the True Italian label means offering high-quality ingredients prepared to create dishes that carry out the authentic Italian tradition.
The 72 hrs True Italian Food Festival will be followed by other successful events such as the Berlin Ice Cream Week (20 to 26 April 2023), the Italian Street Food Festival Berlin in June, the True Italian Pizza Week in September and the True Italian Pasta Week in November.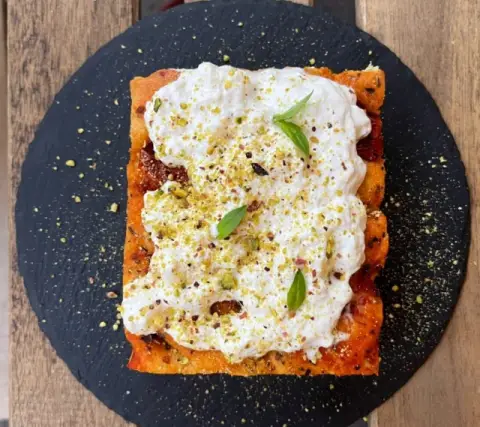 72 hrs True Italian Food Festival Berlin 2023
From 5 pm on Wednesday 29 March to the evening of Saturday 1 April
In 41 selected Italian restaurants in Berlin
List of participating restaurants with addresses and specialties offered
All restaurants offer vegetarian alternatives
The symbol ? indicates a naturally vegan speciality or the presence of a vegan alternative
MITTE
?Rosa-Luxemburg-Str. 31, 10178 Berlin
?Three vegetarian bruschette of the day (tomato, caprese or fresh grilled vegetables) + a glass of wine + a Babbi wafer
?Tucholskystr. 36, 10117 Berlin
Offer available from 12pm to 7pm
?Superfood minisandwich: whole grain bread, fresh avodado, homemade basil pesto and roasted almonds?+ Sarti Spritz + a Babbi wafer

?Weinbergsweg 24, 10119 Berlin
?"Saltimbocca Napoletani": homemade Neapolitan sandwich with Tyrolean speck, caciocavallo cheese, and oil marinated aubergine or with green pesto, tomatoes and buffalo mozzarella + Sarti Spritz + a Babbi wafer
?Max-Beer-Str. 33, 10119 Berlin
?Tigelle, Sardinian pizzetta (small puff pastry pizza) or Tuscanian focaccia served with confit tomatoes and gorgonzola ice cream with basil caviar ?+ Sarti Spritz + a Babbi wafer
?Rathausstr. 5, 10178 Berlin (Rathauspassagen)
?Arancino with ragout or arancino with artichokes?+ Sarti Spritz + a Babbi wafer
?Friedrichstr. 105, 10117 Berlin
?Rigatoni carbonara with cauliflower pesto and parmesan focaccia + a glass of wine + a Babbi wafer
?Fehrbelliner Str. 24, 10119 Berlin
?Focaccia with potatoes, green asparagus, roasted onions and crème fraiche + Sarti Spritz + a Babbi wafer
Lovebirds – Contemporary Pizza
?Rosenthaler Str. 3, 10119 Berlin
?Slice of pan pizza with five-grain flour, lemon zest, stracciatella cheese, licorice-flavored asparagus and crispy puffed rice and salami Milano (vegetarian option available) + beer + a Babbi wafer
?Weinbergsweg 8a, 10119 Berlin
Offer available from 5 pm to 7 pm
?Fried sea bream fishballs with saffron mayonnaise + Sarti Spritz + a Babbi wafer

?Auguststr. 34, 10119 Berlin
Offer available from 12pm to 7pm
?"Ciambotta Lucana": two Lucanian mini sandwiches, one filled with vegetables and one with salami?+ Sarti Spritz + a Babbi wafer

Portamivia – Bottega Alimentare
?Fromet-und-Moses-Mendelssohn- Pl. 2, 10969 Berlin
?Calabrian antipasti plate + a glass of wine + a Babbi wafer
PRENZLAUER BERG
?Danziger Str. 144, 10407 Berlin
?Bruschetta with Norcia sausage and mascarpone-pistachio cream + Sarti Spritz + a Babbi wafer
?Schönhauser Allee 185, 10119 Berlin
?"Pizza alla glassa palermitana": slice of pizza with beef-potato stew and cheese + a mocktail with Crodino+ a Babbi wafer
?Kollwitzstr. 89, 10435 Berlin
?"Impepata di cozze": peppered mussels with bread croutons + a glass of wine + a Babbi wafer
?Stargarder Str. 39, 10437 Berlin
?Arancino with ragout or with spinach and mozzarella or with aubergines?+ Sarti Spritz + a Babbi wafer
FRIEDRICHSHAIN
?Samariterstr. 37, 10247 Berlin
?Apulian focaccia with stracciatella cheese from Andria and chopped pistachios + Sarti Spritz + a Babbi wafer
?Neue Bahnhofstr. 25, 10245 Berlin
?Homemade canestrini with ricotta and pistachio pesto + a glass of wine + a Babbi wafer
?Gabriel-Max-Str. 19, 10245 Berlin
?Homemade pumpkin and pistachio gnocchi on a bed of purple cabbage?+ Sarti Spritz + a Babbi wafer
?Simon-Dach-Straße 39, 10245 Berlin
?"Frittatina di pasta": pasta fritters with sausage and broccoli or alla Norma (with aubergines), or seaweed zeppoline (small deep-fried dough balls, vegan option) ? + Sarti Spritz + a Babbi wafer
?Stralauer Pl. 30-31, 10243 Berlin
?"Pettole pugliesi": small fried dough balls with ricotta cream, sea salt, pepper and lemon zest + Sarti Spritz + a Babbi wafer
?Scharnweberstr. 46, 10247 Berlin
?"Pane e panelle": sandwich with panelle (Sicilian chickpeas flour fritters)?+ Sarti Spritz + a Babbi wafer
?Wühlischstr. 12, 10245 Berlin
?Fried anchovies with stracciatella cheese cream or fried aubergine balls? + Sarti Spritz + a Babbi wafer
KREUZBERG
Amici Amici – Sicilian Street Food
?Mehringdamm 40, 10961 Berlin
?Arancino with meat, fish or vegetables + Sarti Spritz + a Babbi wafer
?Forster Str. 5, 10999 Berlin
?Baked tomino (cheese from Piedmont) with speck on a slice of roasted bread?+ a glass of wine + a Babbi wafer
?Monumentenstr. 26, 10956 Berlin
?Apulian-style fried aubergine balls with pecorino and mint + Sarti Spritz + a Babbi wafer
?Spreewaldpl. 5, 10999 Berlin
?Aubergine parmigiana + Sarti Spritz + a Babbi wafer
?Grimmstr. 1, 10967 Berlin
?The Green Polenta (baked polenta with organic "Sicilian" avocado and sun-dried tomatoes) ? or the Porcino Polenta (polenta crisps with dried porcini sauce and parmesan) or the Classic Polenta (baked polenta and Fontina cheese + a glass of wine + a Babbi wafer
?Lausitzer Pl. 10, 10997 Berlin
?Mixed antipasti plate?+ a glass of wine + a Babbi wafer
?Friesenstr. 21, 10965 Berlin
?Mixed antipasti plate (vegan option available)?+ a glass of wine + a Babbi wafer
TEMPELHOF
?Burgemeisterstr. 74, 12103 Berlin
?"Crespella": Italian savoury crêpe with ricotta, bresaola, parmesan and arugula + Sarti Spritz + a Babbi wafer
NEUKÖLLN
?Reuterstr. 59, 12047 Berlin
?Mixed antipasti plate with cold cuts, cheese and mixed vegetables (vegetarian or vegan option available)? + Sarti Spritz + a Babbi wafer
?Weserstr. 208, 12047 Berlin
?Three vegetarian bruschette of the day (tomato, caprese and fresh grilled vegetables) + a glass of wine + a Babbi wafer
?Nansenstr. 22, 12047 Berlin
?Arancino with ragout or vegan arancino? + Sarti Spritz + a Babbi wafer
?Böhmische Str. 14, 12055 Berlin
?"Pizza alla pala": slice of Roman style pizza with fennel, cherry tomatoes, mozzarella and parmesan or pizza alla pala with fennel and cherry tomato? + Sarti Spritz + a Babbi wafer
SCHÖNEBERG
?Fritz-Reuter-Str. 7, 10827 Berlin
?Aubergine rolls with fiordilatte from Agerola, homemade tomato sauce and homemade creamy bechamel sauce + Sarti Spritz + a Babbi wafer
?Goebenstr. 3, 10783 Berlin
?Montanara (small fried pizza) with tomato, mozzarella, parmesan and basil or frisella with cherry tomatoes? + Sarti Spritz + a Babbi wafer
?Grunewaldstr. 78, 10823 Berlin
?Arancino with porchetta, primo sale cheese and saffron or arancino with vegetables, both served with mixed vegetarian antipasti + Sarti Spritz + a Babbi wafer
?Gotenstr. 18, 10829 Berlin
?Trilogy of homemade bruschettas: sausage and broccoli, scampi on a spicy avocado cream, cherry tomatoes and buffalo mozzarella bocconcini on basil pesto + Sarti Spritz + a Babbi wafer
CHARLOTTENBURG
?Knesebeckstr. 92, 10623 Berlin
?Sarde in saor (sweet and sour sardines) + Sarti Spritz + a Babbi wafer
?Schlüterstr. 74, 10625 Berlin
?"Tris Campano": courgette flower stuffed with provola cheese, Neapolitan arancino and aubergine ball + Sarti Spritz + a Babbi wafer
?Windscheidstr. 22, 10627 Berlin
?Canederlo (large gnocco from Trentino) with spinach, cheese or beetroot + Sarti Spritz + a Babbi wafer
https://berlinomagazine.com/wp-content/uploads/2023/03/TRUEITALIAN.png
618
992
Ludovica Trentini
https://berlinomagazine.com/wp-content/uploads/2019/12/berlino_magazine_2019.png
Ludovica Trentini
2023-03-13 16:50:05
2023-03-29 18:21:07
72 hrs True Italian Food Festival 2023, the greatest party of the regional Italian cuisine in Berlin